Porsche 911 Turbo – Can you say "Whoosh!"?
By Jim Bray
May 14, 2007
Zero to 60 in 3.7 seconds. 480 horses @ 6000 rpm. 460 lb.-ft. of torque from 1,950 - 5,000 rpm. A claimed top speed of 193 miles per hour.
You think this might be a fun car to wind out on a back road?
Me, too. When I went to pick up the test car Porsche was silly enough to entrust to me, I was afraid to get inside the cockpit lest the drool put permanent stains on the leather interior. But ease the butt in I did, surrounding myself with the fastest, most expensive car I've had for a test session so far.
Yikes! Put the key into the Porsche-typical left-mounted ignition and give it a twist and that siren song of Porsche's famed six cylinder engine resonates in the ears, a seductive sound at the worst of times but positively intoxicating when the whine of the turbo is added. That sound probably adds twenty grand to the price of any Porsche by itself.
My tester, painted in Speed Yellow (a bright shade they should call "speeding yellow" because in this car you'll exceed the posted limit practically before you even turn the key), was a well-optioned version of the 911 Turbo. Besides the incredible amount of standard equipment, it included heated, adaptive sports seats that even offer adjustment for the side bolsters, the Sport Chrono Package Turbo, electronic logbook, trunk-mounted six disc CD changer and – perhaps most important – ceramic composite brakes that have so much stopping power you only have to contemplate stopping and the car stands on its nose.

Well, nearly…..
From the outside, the car is instantly recognizable as a 911, which is always a good thing. But it ups the appearance ante over the "garden variety" Carrera with, among other things, a lower chin spoiler (one that's guaranteed to scrape the ground when entering many parking lots), handsome 19 inch Turbo wheels, air intakes behind the doors and behind the rear wheels and an integrated spoiler that not only looks great but the top section of which raises and lowers automatically (and manually via a button inside for when you really want to flaunt it) to help keep the car grounded as the speed rises.
The heart of the 911 is the famed 3.6 liter flat 6 cylinder engine with VarioCam Plus variable valve timing and lift. In its most sedate form, as offered on the base 911, this engine puts out a more sedate 245 horses (the S model ups the oomph ante to 355 horses), but when the folks at Porsche slap on the Variable Turbine Geometry, which channels the exhaust flow into the turbines via electronically-adjustable guide vanes, you get that outrageous 480 stallions and 460 lb.-ft. of torque that hurl the Turbo forward as if it were being launched from an aircraft carrier's catapult.
If that isn't enough, the optional Sport Chrono Turbo (which also adds the ability to adjust the car's lighting, wipers, A/C and door locking parameters to suit your personal preference) provides a temporary over boost that jacks up the maximum torque to 505 lb.-ft. between 2,100 rpm and 4,000 rpm. This is designed to satisfy those who always wanted to know what it feels like to be shot out of a cannon.
This is serious acceleration and it means that Porsche forgot one vital piece of equipment that really should be standard: a built in radar detector. This car is blindingly fast, so fast that its performance is really wasted in real world driving. Sure, you can blow the doors off the pimply-faced kid in the gussied up Sunfire who thinks he wants to race you, but you can do that in a Cayman. This car cries out for some wide open spaces to stretch its legs – at which time you'll be rewarded handsomely as long as you aren't caught by those folks who sit at the side of the road with radar guns rather than cruise the highways looking for incompetent drivers.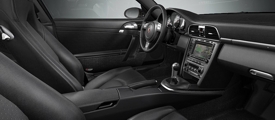 That prodigious power gets to the wheels, all four of them in this case (thanks to the Turbo's standard full time all wheel drive with Porsche Traction Management) through a slickly shifting six speed manual transmission (an optional Tiptronic automatic is available) with a clutch that, though a tad heavy, works with the short throw stick beautifully.
Power is only part of the sports car equation, of course: it's of little practical use if the car keeps going straight when the road gets twisty. So it should come as no surprise that the 911 Turbo's underpinnings are up to the task. Up front, the Turbo features an independent suspension with MacPherson struts that use forged aluminum control arms, coil springs, a stabilizer bar and "negative steering roll radius". The rear-engined rocket's rear end is reined in via an independent LSA multi-link suspension with stabilizer bar, coil springs and self-stabilizing toe control (though what your toe is doing back there when it could be pushing the gas pedal toward the floor is beyond me).
Then there are the electronic drivers' aides such as Porsche Stability Management (PSM), Automatic Slip Regulation (ASM) and Porsche Active Suspension Management (PASM), all of which help contribute to the legendary sportiness and handling of the car.
The standard brakes are 6-piston monobloc aluminum-fixed caliper ventilated discs up front and 4-piston monobloc aluminum-fixed caliper ventilated discs at the rear, with ABS of course. The optional ceramic composite brakes of my tester bring the car to a safe stop almost before you think to push the pedal and the "speed yellow" color of the calipers lets everyone know you spent the extra dough on them, making the applause from awed onlookers even louder.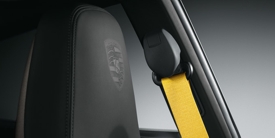 I'm not kidding about the applause. On more than one occasion I had bystanders (or "bydrivers") point, wave, or give thumbs up as they disappeared in the rear view mirror. Naturally, I assumed they were admiring my boyish good looks until one of them hollered "Nice car" loud enough for me to hear it over the engine. I was shattered.
The interior is classic Porsche, which is also a good thing. It's a lovely place to spend quality time and if there were an on board biffy they'd have had to pry me out of the car at the end of my all-too-brief test.
My test car's exterior color carried over to the interior, with Speed Yellow trim on the center console and Speed Yellow seat/shoulder belts that clashed jarringly with my wardrobe and forced me to wear sunglasses just to control the brightness.
The instrument panel is clean and easy to read. Five large analog gauges rest neatly right in front of the driver, augmented by digital displays. As it should, the tachometer sits in the center of the cluster, with the onboard computer display (including digital speedometer) in its bottom section.
Visibility is great and though the outside mirrors are quite small, you don't lack for rear view coverage. If you do want to shoulder check, the windows are large enough and well-placed enough to facilitate it easily.
The seats are great, a tad tight for those who may be broad of back, but they hold you in nicely for the twisty bits. My tester's power adjustments worked well, cupping me into the seat as if I were stitched there. The manually tilting/telescoping steering wheel feels perfect, and all the center stack controls fall nicely to hand.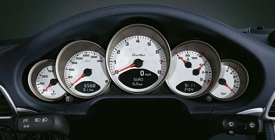 The rear seats are the same cruel joke they are in other 911's, and are suitable only for toddlers, quadruple amputees, or people you don't really like. My son wriggled into the back to see how he'd fit and once there he couldn't get the front seat back returned to its normal position. His total time back there was about ten seconds. That doubled my time back there.
It's a great storage area, though, especially since the seat backs fold down to form a shelf while also hiding objects you may have stuck on the seat cushions.
The standard Bose Surround Sound System offers excellent sound, though since it fills the cabin with two channel stereo fudged into five channels, it's really a simulated surround sound system. And that's okay. It has plenty of power and the audio reproduction is first rate. A car this high end really should offer DVD-Audio and/or SACD capability, though, with real surround sound.
The standard sunroof is small, but big enough for this particular cabin, and is perfect for city driving. And unlike some other "cozy" vehicles, it slides inside the roof rather than over the top. Once you get the speed up (and you know you will!) you'll want it closed lest you go deaf from the wind noise. It's undoubtedly better for the aerodynamics, too.
The 911 Turbo is wholly impractical, but boy is it a car and a half! Its power is enough to make a madman out of a milquetoast, and is obviously more than you really need (since the Carrera S' 355 horses are more than adequate). But then again, who really needs a car that's this fast, this expensive, this sophisticated and this much fun in the first place?
Pick me! Pick me!
The Porsche 911 Turbo starts at $122,900 U.S./$170,700 Canadian. My well optioned tester would run about $142,000 U.S./$196,000 Canadian.