Pontiac's Compact Crossover Gives Good Vibes
By Jim Bray
September 20, 2008
Pontiac's little wagon is back, with new looks, new features and new power. It's a nice car, too, roomy and reasonably fun to drive.
I got my first taste of the new Vibe at a GM-sponsored event in Vancouver, British Columbia, this past spring. A bunch of we media types were sent on a scavenger hunt designed to keep us busy and entertained in a fleet of new Vibes that (coincidentally, I'm sure) were painted as rolling billboards for the car and the event.
I liked the car then, even though I only got to drive it for about half a day and in unfamiliar territory, and I looked forward to spending some quality time in the Vibe to get a better feel for it.
Which I did, recently, in a spiffy Salsa red Vibe AWD I used as my daily driver for about a week. And, as I had expected to, I liked it a lot. It's a vehicle that's easy to live with, and should continue to be so over the long term.
I mention the long term because, when it comes to Pontiac Vibes, I have a secret weapon I can use as a resource. My best friend is on his second Vibe currently and both cars have served him very well. He was quite interested in the new model as well, and we parked them side by side before heading out to put both through their paces in a head-to-head comparison.
Parking them side by side revealed a few things, mostly minor, about the new model's sleeker, smoother skin and more muscular-looking body style. While both are instantly recognizable as Vibes, and are both approximately the same size (give or take a bit), the new model looks like it means business more than the old one (which was no slouch in the looks department).  
The rear license plate holder on the new model has been moved from the hatch to the bumper (where it should be less prone to developing a rattle after successive slams of the hatch) and the taillights have been redesigned with a more transparent look than before.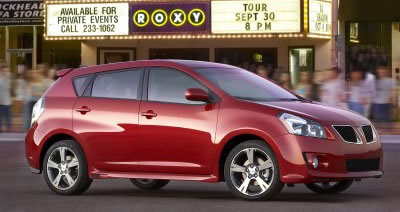 The hatch now raises higher than before, but the glass no longer opens separately. I thought that was an oversight with the new model, but my buddy said it he rarely opened the glass by itself, so perhaps GM was right in making this change. It may keep you from hauling some extra long and thin stuff in the Vibe but, considering how much room there is inside anyway (especially if you fold the front passenger seat forward as well), it may not be a big deal.
Each of the three Vibe models - base, AWD and GT - are distinguishable from one another with their own styling cues. The AWD, for example, comes with a standard roof rack while the GT has larger fog lamps and a lower-fascia air intake.
My all-wheel-drive test car had the larger, 2.4 liter DOHC four cylinder engine that's rated at 158 horsepower and 162 lb.-ft. of torque. While standard on the AWD and GT versions, it's optional on the base model. I recommend it if you're looking for a Vibe: it packs plenty of poop and if you plan to stuff your Vibe to its capacity, you'll probably appreciate the extra energy.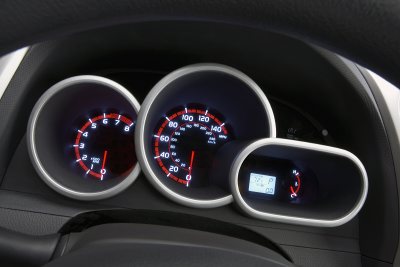 The base engine is a 132 hp/128 lb.-ft. 1.8 liter DOHC four matched to a five-speed manual transmission or the optional four-speed automatic my AWD sample had. Four speeds are so 1990's these days, where up to eight speeds can be had if you want to pay the price, but it shifted smoothly and well.
GM says the new engines offer the same fuel economy as their less powerful predecessors.
If you want to split the difference between manual and automatic, base or GT Vibes, the larger engine can be had with a new, five-speed electronically controlled automatic transmission with pretend manual mode. Alas, my test unit didn't have this.
All Vibes come with a MacPherson-strut front suspension and the GT gets an integrated tower-to-tower damper. Base Vibes have a torsion-beam rear suspension, while the AWD and GT's get a more responsive bum that has a multi-link independent suspension.
Vibes of every variety also come equipped with four wheel disc brakes with ABS and traction control. The electric power steering system makes for good steering feel and, according to GM, enhanced fuel economy since there's is no engine-driven power steering pump.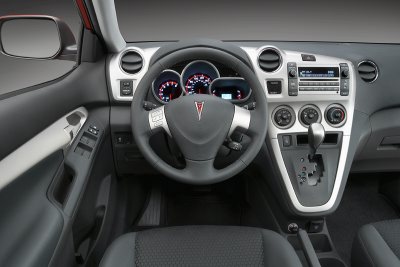 Inside, the new Vibe has been redesigned but manages to keep the same "Vibe feel" as its predecessor, which is not a bad thing. The instruments are mounted deeply into the dash and are straightforward and legible. Seats are adjusted manually but are comfortable and more supportive than some bosses I've worked for and it was easy to find a good driving position. The steering wheel tilts and telescopes and features duplicate radio controls.
The materials are low-gloss, with varied grains and "satin-metal" accents. The knit-fabric seats look and feel good (GT's get leather seats as standard equipment, along with a three spoke steering wheel). Standard stuff also includes a 115-volt, three-prong auxiliary power outlet and active front head restraints.
The standard audio system is a four speaker AM/FM radio with CD. XM satellite radio is integrated – as it should be – though the display is a little truncated for my taste.  An auxiliary audio input jack is also standard.
My test unit had the optional (standard on the GT) premium Monsoon 320 watt, seven speaker system that includes MP3 capability and has a subwoofer mounted in the hatch. Sound quality is very good, though not really audiophile quality.
The door pockets aren't as large on the new Vibe; they're more like glorified cup holders now than actual "map pockets".
Electronic vehicle stability control and tire pressure monitoring systems are now standard on the Vibe, as are six air bags.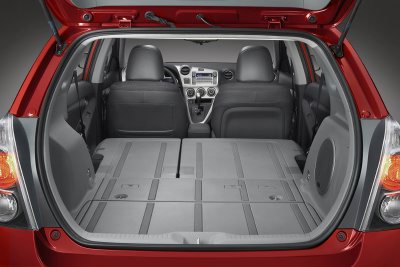 One reason to look at a Vibe is its storage space, which includes a 60/40 split/fold rear seat that folds flat. The cargo area includes rubberized floor strips so stuff won't slide around. Vibes with the bigger engine get a "rear cargo management system" (it's optional with the base engine) that includes a bunch of hooks and compartments divided by cargo nets and which folds flat into the floor when you aren't using it.  
I've always liked the Vibe and the new one ups the ante over the old one in looks, performance and economy. Hard to argue with an arrangement like that.
The Pontiac Vibe starts at about $16,000 (U.S. and Canadian) for the base model. The 2.4 liter AWD starts at about  $21,000 and the GT will set you back about $22,000 U.S./$25,000 Canadian before options.
Copyright 2008 Jim Bray
TechnoFile.com