Nissan Quest – one "Haul" of a Vehicle
By Jim Bray
In the epic quest to create the perfect minivan, Nissan's entry offers a lot, from a great engine to plenty of room for people and/or stuff.
And for 2007, Nissan has tweaked the Quest in numerous ways the company thinks will make the van even more attractive to customers.
I drove the 2006 Quest and found it a decent vehicle that performed well and offered a lot of standard features. It still drove like a minivan, but what minivan doesn't? And what's wrong with that anyway? You want a sports car, buy a sports car. Just don't expect to haul an armoire in it.
But recently I had a chance to put the 2007 model through its paces in a real world test that was perfect for gauging the Quest's mettle as a transporter, thanks to an intercity trip hauling enough tech gear to choke a horse, except we didn't leave room for the horse.
The Quest passed with flying colors, despite center seats that don't quite fold flat to the floor.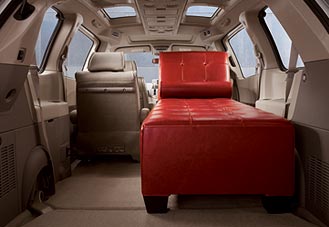 For the '07 model year, Nissan has redesigned the Quest's grille, front bumper, door handles, aluminum alloy wheels and roof rails. Inside, the interior has been tweaked considerably, including second and third row seats that work better than last year's, an updated instrument panel and even an available SkyView glass-paneled roof that, unfortunately, my test unit didn't have.
Stowing the rear bench seat of the '06 model was difficult for me to fathom, requiring a trip through the owner's manual before I could accomplish it. This year, Nissan has made it a lot easier and I managed to fold the bench flat into the floor on my first attempt just from checking out the labels on the seat itself. The seat folds nicely into a depression just inside the tailgate, the headrests flipping down to facilitate the folding without having to remove them.
And while the second row of captain's chairs doesn't fold completely flat, which may affect the buying decision of some potential owners, our hauling test showed them to be flat enough for applications such as hauling large boxes of electronic equipment, tools and the like. As with the rear seat, you don't have to remove the headrests to fold the seats floor ward, but in this case it helps.
One area that doesn't appear to have been upgraded is the front seats. They're okay, but I found the driver's seat rather narrow and tippy, making it feel as if was going to get thrown against the door during cornering. The cushion is comfortable, though, and the cloth seats on my tester also included bun warmers that came in really, really handy during the extreme cold snap we endured when I had the Quest.
The central dash pod is smaller than last year's, protruding less into the cabin, and that's a good thing. And the instrument panel is now in front of the driver, where it belongs, rather than in the middle.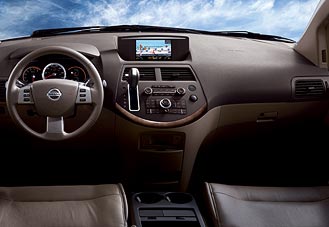 In Quest of power….
The heart of the Quest's performance is Nissan's excellent V6 engine, a fine power plant that's shared across the corporate line in various versions that include the Nissan 350Z and the Infinitis G and M (35).
The power plant features four valves per cylinder, sequential multipoint electronic fuel injection and variable valve timing and is rated at 235 horses @ 5800 rpm with 240 lb. ft of torque @ 4400. This is more than adequate.
The front drive Quest features a five speed automatic transmission with overdrive you can shut off via a button on the shift lever. There's no manual setting, but this is after all a minivan. Shifting is smooth. My only real quibble about the transmission isn't even about the transmission per se: the placement of the shift lever on the dash caused some angst when I knocked it accidentally when reaching for the windshield wiper controls, slipping it into neutral. It also blocked the fan controls a bit.
Suspension is independent with struts up front and an advanced multi-link rear, with stabilizer bars at both ends. This helps make the Quest fairly nimble for a minivan.
Brakes are vented discs with ABS all around, and you also get brake assist and electronic brake force distribution. Stopping power is good, with good pedal feel.
The Quest's steering is power-assisted rack and pinion and the steering wheel of my tester contained audio and cruise control buttons.
The traction control works well, as I discovered on our snowy and icy roads. The Quest was as stable and predictable on slippery city streets as it was on blustery and drifting highways, making for a pleasant driving experience over all.
The outside rear view mirrors are big, and heated, and provide a good view behind. I complained last year that the dashboard reflects in the windshield under bright sunlight, but, since we had no bright sunlight in my blizzardy time with the '07, can't comment about whether or not that has been addressed.
Other handy features include a power right hand passenger door (though I don't know why they wouldn't offer power for both sides, other than the space the extra button would take on the key fob) and a power rear liftgate, both of which are marvelous when you approach the vehicle with arms laden with stuff (as long as you have the key fob out of your pocket!) My tester also had rear sonar parking assist, which is always a nice touch and which is actually more practical than a rear back up camera.
Like what you see here? Shop at TechnoFile's TechnoMart!


Another thing I like about the Quest is its nifty radio preset system. With most vehicles I've tried, you can store radio stations in memory organized by AM or FM (and you often get multiple "banks" of AM and/or FM presents). Nissan gives you the best of both worlds: any button can store any station from either band, and you can use multiple banks as well. There isn't a lot of quality radio where I live, so I stored my three favorite AM and three favorite FM stations in the six buttons. From then on, I could surf my favorite stations without having to change bands.
Nissan has also included such thoughtful touches as "dual zone HVAC," which in this case means front and rear rather than the more often seen side-to-side control. This is nice, though during my test it was so cold (we broke a 100 year old record) that no amount of HVAC was going to provide a shirt sleeves atmosphere. This obviously wasn't the Nissan's fault, but God's – or maybe Man's if you believe the enviro crowd.
Or maybe it was George W. Bush's fault.
Another thing I found quite interesting was the lights mounted on the Quest's front corners that come on and shoot sideways when you activate the signal lights. I'm not sure they do as good as job as rotating headlights, but they do light up the side reasonably well and may be good for freaking out pedestrians.
Nissan says the Quest achieved a 5 star safety rating, and as one might expect it includes the usual assortment of bags, belts and tethers, and active head restraints. It also has a tire pressure monitoring system I wanted to rip out of the vehicle, since during our extreme cold it whined that I had a low tire (by one PSI) for days on end. Weird things happen to machinery when things get that cold, though, and last year's tester gave me no trouble at all, so perhaps the real blame should be aimed at Person Nature. Or George W. Bush.
The Quest turned out to be an excellent choice for hauling all our accoutrements and paraphernalia to another city. It was roomy and comfortable and very nice to drive. And for what more can one ask of a minivan?
The Nissan Quest starts at $ 24,350 U.S./$32,498 Canadian for the base model; the top of the line SE starts at $33,900 U.S./$46,998 Canadian.