Nissan Maxima Gets Shiftless
By Jim Bray
Forget Nissan's "Shift" advertising slogan: the 2007 Maxima is the most shiftless version of the car ever.
That's not to say it's sedentary (far from it!), but rather that the new version of Nissan's flagship now comes standard with a continuously variable transmission that makes gears, and the shifting of them, a thing of the past.
Nissan's Xtronic CVT uses pulleys and belts instead of gears to transfer power from the engine to the wheels (the front wheels in this case) and the transmission is said to balance optimal performance with gas mileage. CVT's seem to work well and are getting increasingly popular in the marketplace.

The only thing that's strange about CVT's is that when you're driving the car and expecting gear changes (even a conventional automatic shifts gears, and you can feel it) they never come. You step on the gas and the revs climb and the car accelerates until you ease off on the gas. It's weird but it works.
If you simply must "shift," there's also a manual mode with the Maxima's version. It's best for those times you're going down hills and want to add some engine braking to the descent, though; it doesn't really add a lot of "sportiness" to the driving feel.
Motivating the Maxima is Nissan's 3.5 liter V6 "VQ" engine, in this instance putting out 255 horses @ 6000 rpm and 252 lb-ft of torque @ 4,400 rpm. This is plenty, though we're also now in an era in which the same engine (as applied to the new Infiniti G35) cranks out more than 300 horses. Different tweaking for different markets, obviously, though that also could send the message that the Maxima isn't as much of a serious a driver's car as some, including me, thought it would be.
That doesn't mean it won't do the job. It's plenty fast enough for the real world, and the multi-link independent suspension and driver's aides such as vehicle dynamic control, and traction control help to ensure the car goes where you point it without tossing you any ugly surprises.
The rest of the car's fundamentals are also right where you'd want them. Steering, for example, is engine-speed-sensitive power-assisted rack-and-pinion and the Maxima comes standard with four wheel disc brakes with ABS, electronic brake force distribution (EBD) and brake assist. Steering and brake pedal feel would both please Goldilocks: they're not too tight and not too sloppy – in fact, they're just right. And it's hard not to love a power tilt and telescoping steering wheel that extends to just where you like it.
Inside what Nissan says is an all-new interior is a comfortable, efficient cabin that coddles and cuddles customers. My tester featured nice wood trim (well, it looked like wood!), driver's seat and steering wheel/outside mirror memory, and a lovely sunroof with a control that lets you open it a bit or a lot merely by sliding a tab as far as you want.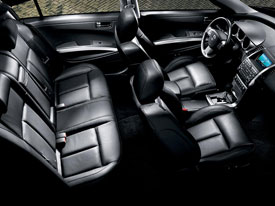 The interior is comfortable for four, the driver's seat features eight way power adjustment (four way power for the front passenger) and they're well bolstered for spirited driving. Alas, the "pretend manual" mode of the transmission is on wrong side for easy reach – you slide the lever over to the right, farther away from you, to access it.
Nearly everything else falls nicely to hand, though, from the power window controls to the stuff on the center stack. Even the center arm rest is placed perfectly. The only fly in the "reachability" ointment is the outside mirror control, which is up on the dashboard and, at least when coupled to my stubby little arms, meant I had to lean forward to tweak it, then sit back and test, and then tweak again if I'd gotten it wrong the first time. This is a common complaint with many cars, however and, since you can store the final position in memory, the Maxima minimizes the annoyance.
The audio system's good and I like the way Nissan lets you store radio station presets independently of whether they're AM or FM. The electronics are very (and easily) configurable, too. Nissan also blesses the Maxima with a dual zone automatic climate control system, remote keyless entry, and much more.
Stuff such as as automatic on/off headlights, power windows and door locks, cruise control, an auto dimming rear view mirror, illuminated vanity mirrors and most of the other stuff you'd expect from a car in this class these days are all standard. Niceties like Bluetooth connectivity, speed sensitive windshield wipers and a navigation system are optional.
The seven inch LCD screen for the navigation system is well placed, right at eye level in the center where you can glance at it quickly and get your eyes back on the road again.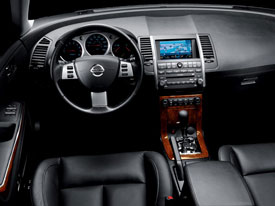 Safety items include Nissan's "Advanced Air Bag System with dual-stage supplemental front air bags, seat belt sensors and an occupant-classification sensor," driver and front-passenger side-impact air bags and roof-mounted curtain side-impact air bags to protect the head of front and rear seat occupants.
I've always liked the Maxima, though I'd never driven one before. Since its introduction decades ago, it always struck me as a handsome and sporty car, kind of a sedan version of the Z. In fact, I remember the original Maxima being advertised as being powered by the 240z's engine. Somewhere, however, the sportiness seems to have gotten watered down.
It's a really nice car, but by the time I took the Maxima back it had imparted the distinct impression of not being as much a "driver's car" as I had expected.
It's the same feeling I got from the current Acura RL. Both cars are fine sets of wheels, comfortable and high tech and no slouches in the performance department. But neither stirred my soul.
Of course, it isn't all about me (though it should be!), so I expect there will be plenty of people who love the Maxima's nice blend of performance and comfort. And they'll undoubtedly get many happy years out of it.
The Nissan Maxima starts at $28,050 U.S. / $36,998 Canadian. A fully loaded specimen will run you about $36,300 U.S. / $ 45,873 Canadian.