Is Sporty New Coupe the "Altima-te" Nissan?
By Jim Bray
February 21, 2008
Take a popular mid-sized sedan, weld two doors shut and what do you get?
Not the Nissan Altima coupe, apparently. Nissan says this attractive and sporty entry only shares its hood with the Altima sedan, and who am I to call them liars?
Regardless of how much DNA it shares with the four door Altima, the two door version is recognizable as an Altima, with genes spliced in from its upscale brother the Infiniti G37 coupe. And that is not a bad thing at all.
Nissan says the '08 Altima coupe is designed to bring emotion and sophistication to the mid-size coupe market.  I don't know about the emotion part, but it's definitely a sophisticated beastie. My test unit was loaded to the gunwales with technology, from its continuously variable automatic transmission to its tilting touch screen LCD control center inside. And it was probably as much fun to drive as a front wheel drive, CVT-equipped car can be.
The coupe features a shorter wheelbase than the sedan and it's also lower and shorter. Since it only has two doors, it's also harder to get into and out of if you're a back seat passenger, but that's par for the course with coupes.
My test unit was motivated by Nissan's ubiquitous and award-winning 3.5 liter V-6, in this version cranking out 270 horses and 258 lb-ft of torque. That's pretty competitive, though you can get over 300 horses from a V-6 these days.
If you want something a little less robust, you can order your coupe with a 2.5-litre DOHC 16-valve inline four cylinder engine that produces 175 horsepower and 180 lb-ft of torque.
Nissan says the look is inspired by jet fighters, with a strong wedge shape, fenders that merge into the hood and "iconic" taillights that look kind of like the ones on the Altima sedan, but red instead of an unusual blend of red, clear and amber.
The "truncated" two door looks like it means business, too, with a well-planted stance that showcases the fact that the car's only 80 per cent as tall as it is wide. That doesn't mean headroom is at a premium, either - unless you're a tall person in the back seat. I'm not a tall person in either seat, but I had no problems with scraping my head on the ceiling.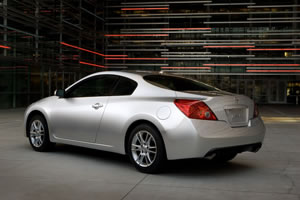 It handles well, too, which is important in such a vehicle. According to Nissan, new suspension geometry, shock absorbers with rebound springs and a lower engine placement all contribute to help eliminate torque steer. It isn't gone completely (this is, after all, still a front wheel drive car), but it was hardly noticeable during my time with the car.
The Altima's suspension has been specially tuned for use with the Coupe, with an independent strut suspension with coil springs up front and a rear multi-link independent suspension that separates the rear shocks and springs (supposedly for reduced friction). Stabilizer bars are standard at both ends. Handling is definitely spirited and I enjoyed taking the coupe through some of my favorite twisty bits - though to be fair the roads weren't great at the time so I couldn't come close to pushing the vehicle.
On the other hand, the crummy roads made me grateful for the V6 version's standard traction control. Vehicle dynamic control is optional.
The Xtronic CVT transmission of my test unit felt a tad strange (as do they all) because it never shifts and that doesn't help impart much sportiness. On the other hand, it has a "virtual" 6 speed manual mode that does a very nice job of picking up the slack.
And if you really want to row through the gears yourself, a 6-speed manual is available. I'd love to have tried that version.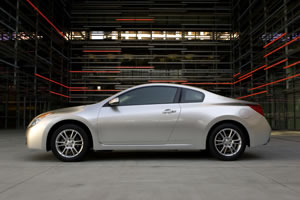 Nissan includes a "twin-orifice" speed-sensitive power rack-and-pinion steering system. Steering feel is precise, and very lights. Disc brakes with standard four channel, four sensor anti-lock braking (ABS) and Electronic Brake force Distribution (EBD) are on each wheel.
Four cylinder Altima Coupes come with 16-inch alloy wheels wearing 215/60R16 tires; V6 versions wear a set of attractive 17-inch aluminum-alloy wheels and 215/55R17 tires.
Inside, the coupe features sport-style front seats with nifty "kangaroo pouches" on the front of the cushion and inboard release levers for the convenience of rear seat passengers. You also get a hand lever-type parking brake (versus a foot release for Sedans with the CVT) for snowy parking lot enjoyment and a pretty comfortable 60/40 split flat fold-down rear seat.  
The instrument panel features a "Fine Vision" gauge display that's attractive and easy to read, and the " L-shaped" flow of the instrument panel into the centre console helps create a driver-oriented feel to the cockpit. The three vent openings up top remind me of where the triple gauges sat in my 1972 240Z, making me feel right at home and that all at peace with the world.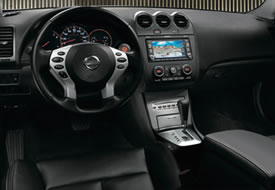 The steering wheel, with its silvery "arms" stretching to the center hub from the bottom of the outer rim, looks like it was inspired by Edvard Munch's "The Scream", but it's comfortable in the hands and offers a plethora of audio/cruise etc. controls.
Standard equipment includes heated seats and an Intelligent Key with Push Button Ignition, the latter of which lets you leave the key in your pocket or purse - a lovely feature when it works (and it does here). A power sunroof is also standard and my test unit included the optional Bose-developed audio system with nine speakers, Bluetooth Hands-Free capability, satellite radio (the subscription wasn't included, alas), rear view backup camera and dual-zone automatic temperature control.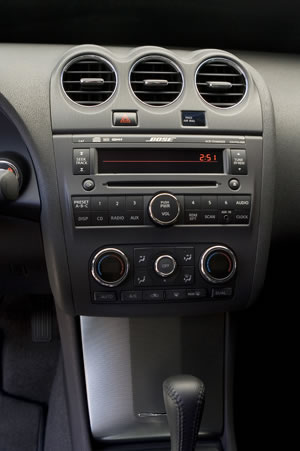 The audio system seems more impressive than it sounds, unfortunately; Bose should have beefed up the power a tad to make it really rock. The stuff is controlled from a well-placed LCD touch screen with a strange tilt feature that pushes the bottom out so it's actually harder to read. I didn't understand the logic.
But the touch screen is a great idea I wish every manufacturer would adopt. You can eliminate a bunch of buttons and knobs with such a system, if it's programmed properly.
The trunk is surprisingly big for a mid-size coupe and there's a nice and low lift over - though the opening itself is a tad, well, "trunk-ated" and that might make it difficult to load wide or high objects. And it doesn't have a handle with which to close it, so you have to press down the lid; in inclement weather such as during my review this means your hands can get all icky. 
Safety equipment includes Nissan's Advanced Air Bag System (AABS) with dual stage bags and seat belt sensors, front seat side impact supplemental air bags and side impact curtain supplemental air bags. You also get a tire pressure monitoring system (TPMS) that, as with every other one I've tried regardless of manufacturer, is useless in really cold weather when the rubber's as flexible as concrete.
All in all, a very nice and sporty coupe that's comfortable, fun to drive and full of technology. It should prove popular.
The Nissan Altima Coupe starts at $20,670/$27,798.00 Canadian. The V-6 version starts at $25,070 /$31,398 Canadian.
Copyright 2008 Jim Bray
TechnoFile.com