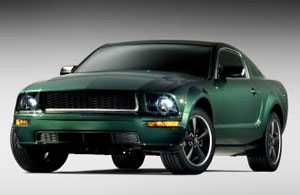 Detroit Dukes It Out on Streets, Screens
by Jim Bray
January 25, 2008
Will movie tie-ins prove to be Detroit's silver "Bullitt"?
Hollywood and Detroit have a long history of sleeping together, whether it be via movies about cars or movies that feature cars prominently. "Vanishing Point," which told the tale of a guy trying to outrun the cops as he delivered a car from one city to another, even featured a 1970 Dodge Challenger as the movie's co-star - and perhaps one of the best actors in the flick (or maybe it was typecast).
No rant about movies and motors would be complete without mentioning the many James Bond films that have showcased Aston Martins, Lotuses (Loti?), BMW's, Jaguars and other marques in supporting roles - usually drive-on parts that saw them destroyed.
Product placement such as in these examples is a marketing strategy car makers can also use to build interest in model that won't be for sale until sometime down the, well, road. Take one of the hits of the summer of 2007: the Transformers movie. That techno action flick not only featured cool-looking giant robots that could turn into tractor trailers and other nifty gizmos, it also gave General Motors the opportunity to introduce the movie going and DVD buying public to its new Camaro, the company's long-awaited return to the "Pony car" genre.
The Camaro isn't expected to hit the market until 2009, which puts it at a distinct disadvantage to Ford, which already has a very successful Mustang, and Chrysler, which is planning to unleash its new retro muscle car early next year. But by letting the producers get their mitts on an early version of the Camaro, GM not only generated some buzz - which is probably appropriate since the car played a Transformer named Bumblebee - but which could also let it take a preemptive strike against the competition by letting people know that it's on the way - and therefore hinting that interested parties should save their pennies until it debuts rather than throw them away on the competition.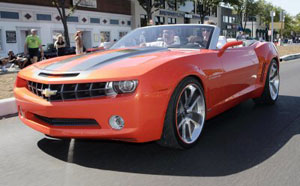 Despite that competition being limited currently to Ford's Mustang (the only real choice for people who want to take a trip down muscle car memory lane right now), a new challenger will hit the market next spring. The retro-styled Dodge Challenger SRT8 is a blast from the past that Chrysler hopes will steal sales from the Mustang just like the original did from the, well, original. The rear wheel drive Challenger SRT8 is supposed to come with a 6.1 liter Hemi cranking out 425 horsepower @ 6000rpm and 420ft.-lbs of torque @4800rpm, as well as looking very much like the Dodge Challenger that reached its own vanishing point so many years ago.
Sounds like it should be fun.
The imminent debut of the Challenger means that GM will be the last of the so-called Big Three to make it to the pony car dance - and that makes the "Transformers strategy" a pretty smart move on their part.
When it finally debuts in '09, the Camaro will be the only one of the three American muscle cars not to wear a retro suit of clothes. GM says it has used styling cues from the 1969 Camaro, which in my never humble opinion was the only decent-looking one they ever made, but it's mostly a modern interpretation of the theme, which should help differentiate it from the pack and perhaps help "transform" GM's bottom line.
And it should pack some heat. GM says it'll be available with both V6 and V8 options, the latter apparently offering a "400-horsepower aluminum small-bock V-8, a six-speed manual transmission, and a sophisticated chassis with four-wheel independent suspension."
These specs make the 300 horsepower Mustang V8 look like the 98 pound weakling in the muscle car genre, though to be fair Ford offers up-performance models such as the 2008 Shelby GT500 (now that's retro!) with 500 hp @ 6,000 rpm and 480 lb.-ft. of torque @ 4,500 rpm.
But Ford may be hearing the hoofbeats behind it, because it's about to pull off a movie tie in of its own. The new "Bullitt" version of the Mustang (available early next year) is designed to exploit, or perhaps honor, the 40th anniversary of the old Steve McQueen movie that featured one of the greatest car chases ever, as McQueen used his '68 Mustang to chase some bad dude in a Dodge Charger. Needless to say, the Mustang won that battle.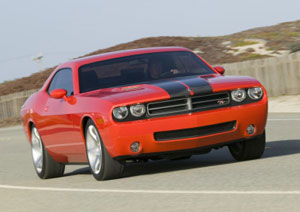 The new Bullitt version isn't as hot as the Shelby, but it's tweaked from the 300 horsepower base V8 model, with 315 horses and 325 lb.-ft., a sport tuned chassis and suspension, beefier brakes and, in an homage to the McQueen Pony car, a Dark Highland Green paint job. Ford says they even used a DVD of the movie to help them get the exhaust note just right. I hope they used a decent home theater..
The Bullitt Mustang is a limited edition horse (kind of like the eohippus was, I suppose); Ford says a production run of only 7,700 units is planned.
Whether the Mustang Bullitt will help Ford prevail against the new, er, Challengers, I cannot say at this time, of course. But it's kind of neat to see real muscle cars going head to head again. It's been a while.
Copyright 2007 Jim Bray