Mitsubishi Spyder Offers Plenty of Fun
By Jim Bray
Here's evidence that one shouldn't be afraid of spiders, especially if they're spelled with a "y" instead of the arachnophobic's usual bane, "i".
It's the 2007 Mitsubishi Eclipse Spyder, a car that is definitely not creepy crawly (like The Who's famous Boris), but is instead a real blast to take out on an open road on a warm day. It's a drop top sports coupe that offers just about as much enjoyment as you can expect from a reasonably priced front drive car.
So naturally when I got to test the Spyder it was rainy and cold, so much so that on our trek into the Rocky Mountains we had to stop and buy a windbreaker so my fingers wouldn't freeze on the steering wheel.
But you can't blame the car for that! And other than the weather, our week with the Spyder was a lot of fun.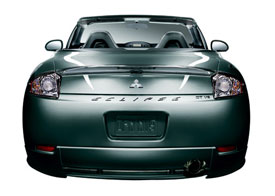 Mitsubishi calls the Spyder "an attainable high performance Grand Touring / Sports car" and that's pretty apt. Not only is the car reasonably affordable (it starts at about $25,000 U.S./ $32,000 Canadian) but it also offers comfortable space for four people, a top that disappears into its bum like magic, attractive "Ice Blue" gauges and an exhilarating experience behind the wheel.
Two Spyders are available, the GS – powered by a 2.4 liter four cylinder engine rated at 162 hp @ 6000 rpm and 162 lb‑ft of torque @ 4000 rpm – and the GT Premium with its 3.8 liter V6 engine that boasts 260 hp @ 5750 rpm and 258 lb‑ft of torque @ 4500 rpm.
Two transmissions are available: a new close ratio 6‑speed manual or an optional Sportronic sequential shift 5‑speed automatic.
I got to try the V6 with the 6-speed stick. Despite some torque steer, the car handled well, with plenty of power and a nice, light clutch that helps make the six speed stick a pleasure to throw through the gears. The bending and twisting tendencies to which convertibles can be prone, since they have no solid roof, aren't particularly evident and the car feels solid and well planted onto the road.
The Eclipse Spyder gets its handling from its independent suspension that features MacPherson struts up front and a low mount multi‑link rear with coil springs. Both ends get sway bars.
My tester rode on the GT Premium's seven spoke 18 inch alloy wheels wearing P235/45 tires. All four wheels get disc brakes (the fronts are vented) with ABS and Electronic Brake force Distribution (EBD). There's also traction control featuring a dash-mounted switch that lets you shut it off, though my wife wouldn't let me....
Steering is power-assisted rack and pinion and it offers a good feel at all speeds I tried.
The convertible top is pretty slick. Power-operated from switches on the dashboard, it folds completely out of sight inside the car's ample buttock in about 20 seconds. The company says its premium cloth construction features multiple layers including a full "headliner" – though since it's a convertible it seems more like an "opening act." It also features a glass rear window with a built in defroster.
You have to be stopped completely before the top will operate, but that's probably not a bad thing and is certainly not unique to the Spyder.
When the roof's up, the Spyder has a bit of a Porsche Speedster appearance, though it's definitely larger and more bulbous-looking – though by no means unattractive. Inside, things are nice and cozy and warm, and I was surprised to discover that the visibility out from the sides and through the small rear window was actually pretty good.
And the roof is plenty tight: we stayed drier going through a touchless car wash than I did on my first solo when I was earning my pilot's license.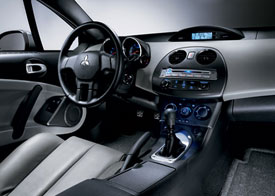 But opening up the top reveals the car's true glory, that "wind in the hair" (or "hat blowing off") sensation that's so great when you're tooling along through some nice scenery. Wind noise is pretty substantial but, though I have issues with the Rockford Fosgate audio system, it does crank up nicely enough to be heard over the call of the wild.
The sporty cabin is a nice place to be, with good quality materials and well thought out ergonomics. My tester had the standard (optional on the base model) automatic climate control, and the ancillary displays are well placed and easy to read, including the LCD in the middle of the center stack, which shows up well even when I was wearing polarized sunglasses.
The instrument panel is analog and attractive and the driver's seat features six way power adjustments (the seat back is manual, which is unfortunate since the handle is a tad hard to find). The seats are comfortable and supportive, though, and you can spend hours in them without getting "numb bum".
The outside mirrors are quite far back compared to some cars, which can seem a little strange at first, but you quickly get used to them and, being so close at hand, they work very well until your front passenger leans forward to access the glove compartment. The sport steering wheel is sized nicely, feels great in the hands and includes controls for the audio system.
The Rockford Fosgate audio system is a 650 watt unit with an in-dash 6 disc CD changer with MP3 capability. Sound comes at you from nine speakers, including an 8 inch subwoofer mounted between the two rear seats (making attempts at carrying three people back there silly) and there's sound equalization tailored for top up or top down driving.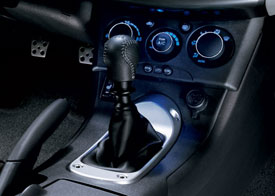 It's pretty good ergonomically, but I thought it was bass heavy and therefore somewhat boomy. Perhaps the subwoofer is a case of gilding the lily?
I was surprised by the size of the Spyder's trunk, which is quite generous considering the car's a convertible and that the roof has to go somewhere.
Safety equipment includes advanced, dual stage driver and front passenger airbags and driver's seat position occupant sensors. You also get front passenger seat occupant weight sensors and front seat mounted side-impact airbags. All seats get 3‑point safety belts, and the ones up front have pretentioners and force limiters.
A well-equipped Spyder GT Premium runs in the neighborhood of $32,000 U.S. / $38,000 Canadian.
And for that you get a lot of fun.