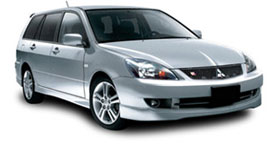 Mitsubishi Lancer Sportback Ralliart
By Jim Bray
Want an affordable family hauler with a little more fun-to-drive quotient than many such vehicles? The Mitsubishi Lancer Sportback could be just what the doctor ordered.
Station wagons went out of favor for a while, perhaps because the minivan took over the family hauler duties for many. But while minivans make terrific carriers of people and paraphernalia, most of them fall on the "practical" side of the automotive ledger rather than the "fun" side.
Maybe that's why wagons appear to be making a comeback. I drove a couple of BMW wagons a while back that were as much fun as their sedan counterparts, yet were capable of taking snowboards, suitcases, golf bags or an abundance of beer cases their sedan versions couldn't begin to hold. That's a pretty good argument for choosing a wagon over a sedan.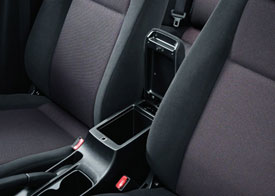 Mitsubishi to the rescue…
Likewise the Mitsubishi Lancer Sportback, the wagon version of the Lancer sedan. Despite my Canadian-spec tester being saddled with an automatic transmission, I had a comparative blast driving this wagon hither and yon. And it allowed my wife to attend farmers' markets to her heart's content, happy in the knowledge that whatever she bought she could bring home.
Okay, so maybe it wasn't all a blast.
The four door (five if you count the tailgate), five passenger wagon is available in two trim levels: Lancer Sportback LS and Lancer Sportback Ralliart. Both feature a one piece "tailgate", split/fold down rear seats and enough storage spaces to keep most people happy.
My tester was the Ralliart version, which plays on Mitsubishi's rally heritage and features a sport tuned suspension that balances handling and comfort well, leaning more toward handling than comfort.
Sportbacks feature Mitsubishi's 2.4 liter, SOHC 16 valve four cylinder engine, the Ralliart incarnation producing 162 hp @ 5750 and 162 lb‑ft of torque @ 4000 rpm, up just a smidgen from the base version. Alas, there's no manual offered (how's that for sporty?), just a 4‑spd automatic transmission, with no manual mode. It works fine, though.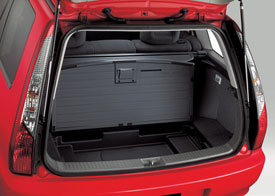 The Mits is a good looking wagon, though. Up front, the Ralliart model sports a black mesh grille and a new for '06 bumper/fascia treatment. Wraparound headlights incorporate a multi-reflector surface "for improved low beam nighttime visibility" according to Mitsubishi and the Ralliart trim level also features fog lights. The rear end's high tail lights (probably meant for when you're high tailing it somewhere!) bring to mind some Volvo wagons.
The sport-tuned suspension is fully independent with MacPherson struts up front, and a multilink rear with coil springs. Both ends get anti sway bars. Steering is power-assisted rack and pinion. Brakes are discs all around, ventilated up front, with ABS and electronic brake force distribution. Pedal feel is just fine, as is the car's stopping power.
My tester wore 16 inch alloy wheels with P205/50R all season tires. Stick a set of performance radials on it and I imagine the fun factor would go up even more.
The driving experience reminded me of the Mazda Protégé 5 wagon from a few years back (I haven't driven the Mazda 3 yet), except that the Mits is larger – though it doesn't really feel like a bigger car.
I liked the comfortable, sporty seats, especially for their good side support. They don't offer power adjustment, unfortunately, but it's easy to find the perfect driving position and, once you're there, the gauges and controls are all easy to see and to reach.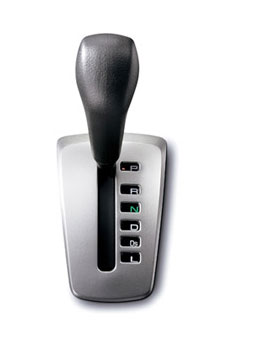 One thing that was too easy to see was the middle rear seat headrest; it blocked rear visibility via the inside mirror; fortunately, it's removable.
Another visibility anomaly reared its ugly head, too: in bright sunlight the gray plastic on the dashboard reflects in the driver's side window and partially washes out the outside mirror. I've seen this with other cars, but it seemed worse here. Still nothing unsafe, though.
The sound is very good – inside and out. The car's musical note is quite entertaining, kind of like those cars with the big tail pipes that you can hear coming from a mile away, though less annoying to old farts like me.
The audio system is very good, too. I missed having steering wheel-mounted controls, but the AM/FM/CD system, with 6 speakers, cranks out 140 watts of power. That may not sound like a lot, but power ratings can be very misleading, and I found the Mitsubishi's audio quality just fine.
Climate control is single zone and manual. Creature comforts include power windows, locks and power heated side view mirrors.
Bottom line: the Lancer Sportback is a pleasant and efficient sporty wagon that tips the fiscal scales at just under $25,000 Canadian. Unfortunately, the car isn't available in the U.S. yet, so better start lobbying Mitsubishi if you live in the Land of the Free and the idea of owning a Lancer Sportback appeals to you.