Mitsubishi Updates and Upgrades the Lancer
By Jim Bray
June 21, 2007
If imitation is the sincerest form of flattery, Mitsubishi must really love Audi, Acura and Lexus.
Mitsubishi's new, 2008 Lancer compact sports sedan has apparent homages to all three marques in its attractive exterior: the grille looks inspired by the proboscis on recent Audis, the sides look as if they were cloned from the current Acura TL and the rear end looks clearly, er, borrowed from the current Lexus IS – all of which are fine (and fine looking) cars.
Mitsubish says the new Lancer evokes the bold, dynamic lines first seen in the company's Concept-X unveiled in 2005, with a "shark-nosed front end inspired by jet fighter air intakes, a distinct wedge-like profile and crisp, taut lines." It's based on a new global platform that also underpins the new Mitsubishi Outlander SUV and, not surprisingly, will be the basis for the next-generation Lancer Evolution high-performance model.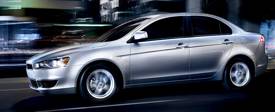 The result of all this inspiration and imitation isn't the dog's breakfast you might expect, but rather an attractive car in its own right, and one that's nearly as fun to drive as Mazda's compact sedan, the "zoom zoomy" 3, which to date is my benchmark for a fun little affordable sedan.
It isn't as much fun to be in the back seat, though. Oh, it's comfortable enough, at least for two, but for some reason a suspension that feels nice and sporty from the front seats feels bouncy rather than tight when you're in the rear. I have no idea how Mitsubishi pulled this off.
The new Lancer features a two liter, DOHC, 16-valve, Mitsubishi Innovative Valve-timing Electronic Control system (MIVEC) four cylinder engine rated at 152 horses @ 6,000 rpm and 146 lb.-ft. of torque @ 4,250 rpm, with a redline of 6500 rpm. This is plenty competitive in this market segment, and it powers this car very nicely.
My tester, which was basically a lower end unit with a few options, included the optional CVT (continuously variable transmission), which eschews gears in favor of a pulley/belt/cone type of system designed to optimize power and economy – and which usually does a pretty good job of it. CVT's are a good way to be shiftless without worrying about what the neighbors will think.
And this CVT worked just fine, though the engine/transmission combination was a tad intrusive, giving out a kind of whining noise that made me think one of my kids was under the hood.
A five speed manual transmission is standard and the top line GTS trim level adds optional paddle shifters to the CVT mix. My tester didn't have the paddles, much to my chagrin.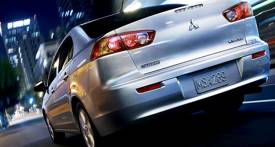 Lancer's slung by a four wheel independent "performance tuned" suspension featuring MacPherson struts up front and a multi-link rear. The front suspension of the base model is enhanced with a stabilizer bar; higher end versions get stabilizer bars fore and aft. In my "real world" driving tests, the car handled very well and offered a good "fun to drive" quotient.
My tester came with 16 inch wheels wearing P205/60R16 tires. Four wheel disc brakes, vented up front, provide the car's stopping power, and all but the base model get ABS as standard equipment (the base model requires the AC & Power package to get ABS). Brake feel is fine, and the car stops straight and true.
The interior is quite nice, with a straightforward but classy look and feel. The instrument panel is analog and easy to read, and the center stack is well laid out, with rotary HVAC controls that are real no brainers to use.
Well, I did notice that the display across the top of the stack washes out completely in bright sunlight regardless of whether or not you're wearing polarized sunglasses.

The front seats are bolstered nicely for corners, and it's easy to find a comfortable driving position. The tilt steering wheel feels good in the hands, though I wished it had ancillary audio controls mounted on it like the higher trim levels do. Steering is power-assisted rack and pinion and the feel is nice and tight.
The back seat is fine for two adults, other than the abovementioned tendency to bounce out of it when the car hits a frost heave or pot hole. A rear seat armrest also features a couple of cup holders.
My tester came with the basic 140-watt CD/MP3 head unit with 4 speakers, digital signal processor and speed compensated volume and equalization control. Alas, it's a really weak link in what's generally a pretty strong chain. The power isn't adequate (you can't even crank it to overpower road and engine/CVT noise, let alone make your ears bleed) and, while the audio quality itself is okay, the lack of oomph is a real drag.
The upside is that it's pre-wired for SIRIUS satellite radio.

Mitsubishi offers an upgraded Rockford Fosgate system and, even though my tester didn't have it, it has to be better than the anemic base unit.
Creature comforts and/or conveniences include power windows (with driver's side auto-down) and mirrors, variable intermittent windshield wipers, 12V accessory outlet, adjustable rear headrests, etc.
Safety equipment includes the usual abundance of belts and anchors, as well as advanced dual-stage front airbags with occupant seat position sensors, side-impact head protection curtain airbags (front and rear), front seat-mounted side airbags, driver's side knee airbag, and a tire pressure monitoring system that didn't give me any false alarms during my week with the Mits, which was a nice change.
The Mitsubishi Lancer is a definite step forward from the previous version, crummy stereo notwithstanding, and is a real competitor in the compact sedan market. It starts at $13,990 U.S. ($16,598 Canadian). The top-line GTS starts at $18,115 U.S. ($21,698 Canadian) and you can option it up from there.