New "Baby Benz" Blends Luxury, Comfort and Technology
By Jim Bray
March 13, 2008
Mercedes-Benz' C class is the most affordable of the German carmaker's sedan line, but that doesn't mean it feels like an entry level vehicle.
It is, after all, a Mercedes. And that means even its lower end cars are upper echelon in the grand scheme of things. So it is with the new C.
My test unit was the Canadian spec C300 4Matic, which is the mid-level C (C230 and C350 variants are available), and we spent a very pleasant week together. It isn't perfect by any means, but it's a nice ride despite any warts.
Chief among the "verrucas" is another incoherent interface that uses buttons and a cursor control-type of knob to take functions that could be straightforward but which now send you scrambling to the owner's manual to figure them out. Other than that, there's little to complain about here.
Mercedes-Benz says the fourth generation C300 (which starts at around $32,000 in the United States and $41,000 in Canadian livery) has a greater emphasis on agility, safety and comfort than before, and with "a sportier flair." It's nearly four inches longer and two inches wider than its predecessor, with a nearly two inch longer wheelbase.
The manufacturer says the new C-Class included the industry's first use of a digital prototype, allowing "the first road-worthy prototypes to accelerate through a 15-million-mile road test program in record time." They used this "virtual prototype" to refine the model's crash safety, chassis behavior, aerodynamics, ride comfort and even climate control - presumably freezing and heating virtual guinea pigs instead of making real humans suffer.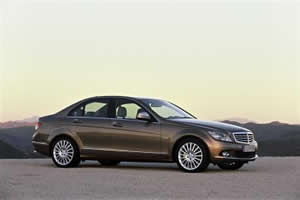 It's a good looking car, too, with an interesting combination of lines and surfaces that appear athletic and luxurious at the same time. The Benz brethren, in their media info and on their websites, emphasize the C class's sportiness, pointing out such things as a revised suspension and steering they say helps make the sedan "noticeably more agile." 
In the "no charge" sport package my test unit wore, Mercedes' famous three-pointed star has been moved from the hood to the middle of the aggressive new front grille, where the "driving challenged" can no longer use it to aim the car. The sport package also includes deeper front and rear aprons, under-door rocker panels, twin-spoke 17-inch wheels, sport shocks and springs and a lower ride height.
Inside, the package includes a three-spoke steering wheel and aluminum or birds eye maple trim, an instrument cluster with a titanium-colored background and rubber-studded aluminum pedals. It's quite cool.
I didn't drive the last version, but this new one seems to tip the sport/luxury balance clearly toward luxury, at least unless you press it.
The C300 comes standard with a 3.0 liter V6 rated at 228 horsepower and 221 lb. ft. of torque. It works well, and sounds very nice, but I daresay people wanting "sport" will probably be happier with the C350's 268-horsepower 3.5 liter six.
One thing that's quite sporty is the suspension, at last as it's tuned for the sport package. It feels more like a BMW than a Lexus, and imparts a nice "cat-like" feel.
My sample came with Mercedes-Benz' 7G-TRONIC seven speed automatic transmission, which is smooth and quiet (a six speed manual is available on the rear wheel drive model). Benz says the tranny can skip up to three gear ratios when it downshifts - going, for example, from seventh to fifth or sixth to second, which is nice when you want quick acceleration for passing, etc..
Mercedes says the transmission adapts to changes in road grade (delaying up shifts on ascents to give more climbing power and speeding up downshifts on descents when you want to use engine braking), and claims it also adapts to your driving style. A button on the center console lets you choose Sport or Comfort shift modes. Comfort makes for soft shifts and relatively low speed shift points, while Sport mode moves the shift points to higher engine speeds and makes them faster and crisper.
Manual mode is even better, making the drive much more interesting
My C300 4Matic also featured fulltime four wheel drive that can vary torque distribution between the front and rear wheels, though it has a rear bias normally and that suits me just fine.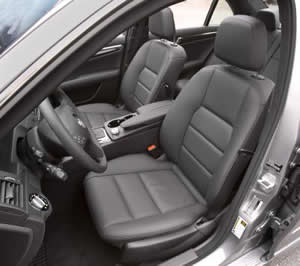 Deep Skin..
While the new C isn't quite as graceful-looking as the previous model, the slightly more "boxy" appearance (which, to be fair, it isn't that boxy) allows for a world class greenhouse that gives excellent visibility all around.
Getting into and out of the sedan is nice and easy, thanks to large front door openings, straight front edges of the B pillars and a new rear seat cushion shape. The seats are very comfortable, ideal for long trips.
New models generally bring new standard equipment these days, and the C-Class comes out of the box with such stuff as a power sunroof, eight-way power front seats with lumbar support (the C350 gets 10-way power front seats with memory and a power steering column), two-zone automatic climate control, 17-inch wheels, bi-xenon headlamps, Bluetooth connectivity and a central controller with a display screen.
Alas, that central controller and display screen drove me nuts. It's yet another example of a German carmaker seemingly competing to have the most hair-tearing experience while operating functions such as the radio. My test unit didn't have the full LCD screen that comes with the navigation system; instead its more truncated display is minimalist (not necessarily a bad thing), but which still requires a console-mounted knob/controller and/or steering wheel-mounted buttons.
Mercedes-Benz seems to be competing with BMW and Audi to see which company can create the least functional interface.
Here's how simple it makes things: to eject a CD from the changer, first you have to press the Eject button on the audio system and then you have to move your hand back to the knob/controller to tell it which disc to eject. 
Geez.
When they do give you buttons, they mount them inefficiently. Source buttons (CD, Radio, Phone, etc.) are to the left of the CD slot, nicely at hand for the driver. But the numeric buttons are on the passenger side, which makes it a long reach for changing radio presets or dialing the phone.
You can also change radio presets via the steering wheel controls, but only by taking your eyes off the road long enough to scroll through choices on the digital display in the middle of the speedometer, a display which also lets you access such info as odometer, range, oil level, distance, time traveled, average speed, fuel economy, phone and audio system information such as radio station, CD track or MP3 playlist.
 The mostly analog instrument cluster is clean and attractive, though.  
My test unit had the optional 450-watt harman/kardon LOGIC7 Dolby Digital/DTS 5.1 discrete multichannel surround sound system, and it rocks. The amps have enough power to drive the speakers beautifully, with no noticeable distortion and excellent sound and balance.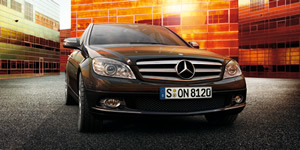 The Multimedia package includes a MusicRegister feature that lets you rip CD's to a (measly) four-gigabyte hard drive. A Gracenote database automatically identifies each track with its title, artist, album name and other information, giving the driver even more incentive not to keep watching the road.  
And though you'd probably get used to it fairly quickly, I found that mounting the combined signal light/windshield wiper stalk and the cruise control lever on the left side of the steering column was quite confusing. The signal/wiper stalk is placed at about eight o'clock, with the cruise controller at about 10 o'clock, and on more than one occasion I found myself activating the cruise control when I was trying to signal a turn.  
The washers work well, though; I got a nice shower when the sunroof was open. And I loved opening the sunroof: it's big, and with manageable road noise that didn't inflict any of the headache-inducing "whoof, whoof, whoof" you get from some sunroofs.
While I might argue the "sports sedan" aspect of the new C could use a little more sport and a little less confusion inside, it's a very nice vehicle nonetheless - just as one would expect from Mercedes-Benz.
The C300 Sports Sedan starts at $32,425 U.S./$41,000 Canadian.
Copyright 2008 Jim Bray