Mazda SUV A Tribute To Days Gone By
By Jim Bray
January 9, 2008
Mazda's Tribute small SUV is one case in which the manufacturer's famous "zoom zoom" slogan doesn't quite apply. It's probably because the vehicle is a victim of time - it's from an era now past.
Webster's Unabridged dictionary defines "tribute" as being synonymous with "recognition, commendation, eulogy," though perhaps the last item is a tad unkind (or at least slightly premature).
But maybe only a tad unkind or premature. During my week with the Tribute, which is a vehicle I've liked since first driving it about seven years ago, I kept wondering why Mazda still makes it. After all, its CX-7 and CX-9 "Crossover SUV's" make the older Tribute seem distinctly long in the tooth, despite the company proclaiming that it's redesigned for 2008.  
I thought maybe they were keeping the Tribute around to offer a more off-roading solution for the market segment that needs such utility - and maybe they did. But if so, remember to order your Tribute with the optional all wheel drive package.
Motivating the Tribute is either a 2.3 liter four cylinder engine or the three liter DOHC 24-valve 6-cylinder power plant of my test unit, the latter of which boasts 200 horsepower @ 6000 rpm and 193 lb. ft of torque @ 4850 rpm. Compare that with the CX-7's 244 turbocharged horses and the CX-9's 273 horsepower and it becomes obvious where the oomph (and the "zoom zoom") is in  Mazda's SUV/Crossover family.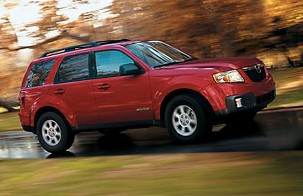 Not that horsepower is the be-all and end-all of things, of course, but it never hurts. And in the case of the Tribute, the paucity of poop contributes to the "been there, done that" feel.
The Tribute gets the power to the wheels through a four speed electronically controlled automatic transmission (the base model can be had with a five speed stick) - a four cog box in a market that's adding gears nearly as quickly as they can count them. Heck, the CX-7 comes with a six speed. 
At least the Tribute burns regular unleaded!
Still, there's plenty to like. Tribute comes with four wheel independent suspension and it offers a pretty good combination of road feel and handling, and my wife and I enjoyed driving it around our home town. This year, Mazda has added roll stability control and traction control to the Tribute, to help keep you planted on the road, just in case. Performing the urban/moderate rural duties for which most SUV's are used, it will probably do well.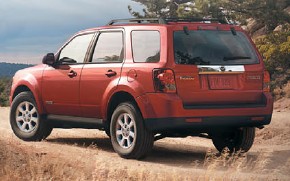 Stopping power comes from disc brakes up front and drums in the rear (another anachronism in a marketplace where four wheel discs are ever more popular) with ABS and electronic brake force distribution. Pedal feel is very nice, and the vehicle stops with confidence. Steering is variable assist power rack and pinion and it gets the job done, but without the feel of zeal you get from other "zoom zoom" Mazdas.
Tributes wear 16 inch alloy wheels with P235/70R16 BSW all season tires.
The atavistic feel of the Tribute also extends to its body styling which, while nicely freshened and looking fairly modern, is still quite bricklike and took a terrific buffeting during some howling Westerlies we had during my test week. It wasn't nearly enough to push it out of its lane, but it was certainly noticeable.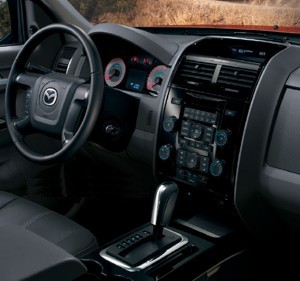 Inside is a serviceable cabin that walks a fine line between "old tech" and "new tech."  The instrumentation is straightforward and easy to read, and the center stack's controls are also well laid out and easy to operate.  The audio system is better than in some Mazda's I've driven, and includes an auxiliary jack with which you can groove to the tunes stored on your MP3 player.
The driving position is fine, the steering wheel tilts and the dead pedal is mounted just where it should be.
I like where they've mounted the outside mirror controls, on the inside of the "A" pillar where they're nice and handy (yet out of the way of unintentional usage), and the sun roof is pretty big for a company whose sunroofs in my experience are usually just a tad small to be really entertaining.
But the seats, while comfortable and equipped with bun warmers, make you feel as if you're going to be tossed out of them if you're silly enough to try cornering. The rear 60/40 split/fold bench is pretty good, though once again Mazda has missed the opportunity by not including any grab handles with which my passengers could hold on for dear life.
There's a relatively tiny glove compartment up front, big enough for the owner's manual and that's about it (well, maybe a pair of gloves, too), and it's right below a huge passenger air bag compartment that looks like it should be a glove compartment.
The vanity mirrors are cheap looking things stuck like afterthoughts onto the back of the sun visors, and they aren't illuminated.
A nice touch, though hardly a new one, is a tailgate that you can raise either all at once or by only the window section up top, which can be nice for carrying long stuff. And you can expect the usual power conveniences such as door locks, windows and the like. Safety equipment includes the usual assortment of bags, belts and latches.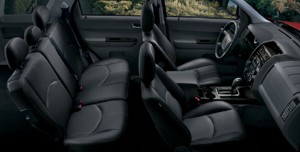 But I remember putting about 600 miles on a Mazda CX-7 not too long ago, enjoying it hugely and only finding nits to pick about it, whereas driving the Tribute I didn't have to look for nits because the overall package seems so dated.  Not bad or flawed, just no longer current.
Other than that, Mrs. Lincoln, how was the Tribute?
Well, the Mazda Tribute is still a good vehicle, one that's quite pleasing to drive and which will probably serve its owners very well. But it also shows that it may take more than a facelift to drag a vehicle back to the current state-of-the-art (or at least "state-of-the-marketplace").
The four cylinder Mazda Tribute starts at $19,535 U.S./ $23,450. The V6 starts at $22,190 U.S./ $27,150 Canadian.