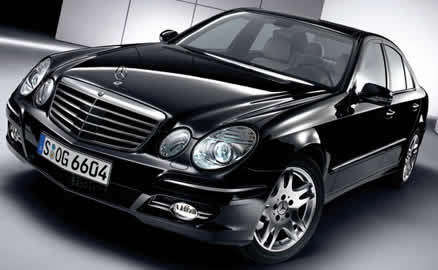 Mercedes Takes Drivers Around the Benz
By Jim Bray
June 12, 2008
Take some world class cars from one of Germany's top marques, add a day on a road course race track learning and honing your driving skills, and what do you have?
Well, besides one of my ideas of heaven, you have the Mercedes-Benz Driving Academy, which they were kind enough to invite me to on a day when the weather threatened to spoil the fun but mercifully only rained on our parade enough to show that M-B's rain sensing wipers do, indeed, work well.
I took the course in Calgary, but it's also being offered in other Canadian cities this year, and the organizers say their travelling road show will be back in the foothills city once the snow flies to help people to learn performance driving when conditions are less than optimal.
No similar U.S. program is offered currently, but if enough of you holler at the company you may convince them.
There are many such driving skills courses available at a variety of venues around the world, but one thing that makes the Mercedes-Benz driving academy interesting is that it lets you sample a dozen different items from the Three Pointed Star's smorgasbord as you learn how not to prang them and then have to slink back to the instructors, embarrassedly trying to explain "well, that's how the Mercedes Bends!"
The Mercedes-Benz Driving Academy offers four programs operated by Driving Unlimited out of Vancouver, British Columbia. There's a half day Driving Experience, the full day Advanced Driving course and Mastering Performance course I took and the aforementioned Winter Skills program. The latter will also run a full day and use all 4MATIC vehicles for rough  weather fun. Prices, in Canadian dollars, range from $395 for the half day Experience to $1595 for Mastering Performance.
That isn't cheap, but how do you put a price tag on your own safety? If you make the skills you learn at such courses a habit, you really will be a better driver.
Of course, you may find yourself having less patience for the idiots on the road.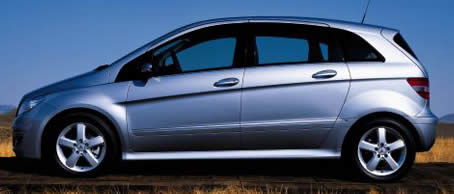 The 12 Mercedes-Benz vehicles range from the little B200 Turbo (currently unavailable in the U.S., which is a shame since it's a darn fine vehicle) to the mighty E63 and CLK63 AMG's, with models such as the C230, E320 BLUETEC diesel, ML320 4Matic Diesel, CLS550 and SLK 55AMG thrown in to keep things interesting.  Participation is limited to 12 people, and each gets reasonable seat time in every vehicle, and with each instructor.
The day kicked off with a short classroom session in which the day's activities were outlined and topics such as proper mirror and seat position were discussed. The instructors also covered the proper holding of the steering wheel and correct rearview mirror position.
I used to drive with my hands at "ten and two o'clock" on the steering wheel, but in a previous performance driving course I learned it's better to use nine and three, which gives you a full 180 degrees of steering action without moving your hands and losing your connection with where the vehicle's front wheels are pointing. This doesn't apply to slow speed maneuvers such as pulling into a driveway or navigating a parking lot, but once you get moving faster than you can walk it's a logical strategy and it works.
And keep your hands on the wheel - no driving with your arm resting on the window sill or dangling over the gear shift. Driving is a full time job.
This is one of the reasons I'm starting to love paddle shifters, which let you keep your hands on the wheel more, even though I've been a confirmed stickaholic all my driving life.  

The driver's seat should be placed so you can press the clutch to the floor comfortably and still keep your knee slightly bent; if you're driving an automatic, the seat position should let you stretch your right foot to the floor comfortably (by flooring the gas pedal - so do this with the engine shut off!), with knee slightly bent. And your hands, at nine and three o'clock of course, should be about the same level as your shoulders.
Outside mirror adjustment is a controversial area in which some "official bodies" argue that they should be set so you can just see the sides of your car. But according to both courses I've taken, the correct positioning is to move the side mirrors outward so, with the inside mirror framing the entire rear window (or as much as possible), the outside mirrors give you the rest of the view backward, to the left and right. So, looking from left outside mirrors to the inside mirror and across to the right hand mirror you get the full panorama of what's behind and beside you.
It works beautifully, though it takes a while to unlearn shoulder checking. And, to be fair, there are still a few times when I find it necessary to shoulder check, such as when using some poorly designed on ramps where you can't see what's coming unless you turn your head and look. This is by far the exception than the rule, though.
Then it was off to the two mile road course for our first session, which consisted of slaloming through (well, between) cones, to help us learn to keep our eyes focused as far ahead as possible so you have the maximum time to react to anything that may be in front of you. Interestingly, if you focus on the cones you tend to run over them, but if you focus farther down the road you can swing through them with something approaching abandon.
We also learned a technique called "Trail Braking" (also known as "Brake Turning"), where you keep the brakes applied right into a corner (about half way to the apex) instead of taking your foot off the brake and moving it back to the gas pedal as you enter the turn.  With Trail Braking, you release the brakes gently as you turn, which helps keep the front tires from losing traction.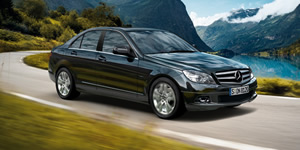 As it was explained, when you tromp on the brakes, the car tends to nose down as part of its weight shifts forward onto the front tires. Release the brake too quickly and the weight goes away too quickly, causing the front end to get lighter and the tires to lose traction. Trail braking lets you maximize the traction through the corner by balancing the weight and steering effort to the point at which you apply acceleration again (and the grin returns to your face).
It works! Or it will once I've practiced it more in the real world.
Once we'd slalomed and Trail Braked for while we started doing laps, and this is where the day got really fun.
There was no passing allowed, unfortunately, which meant the speeds of our little groups of four were limited to those of the slowest in the group, but despite that we still got to put in a few quality laps that were an absolute blast.
Not surprisingly, each of the 12 cars felt different, and that enhanced the learning experience because it gave each of us a broader range of situations in which to drive. For example, the little B-Class (one had manual transmission and one had a CVT) were far more fun than a "mini-wagon" like that should be allowed, feeling just a tad tippy but handling like a thoroughbred in spite of that. And the three C-class samples were quite different from each other: the "low end" C230 cornered beautifully but was, well, comparatively leisurely on the long straight sections; the C300 I had found relatively uninteresting when I reviewed it a few months ago sprang to life when given a six speed manual transmission and a race track (though I still have issues with its interior) - and the C350 added welcome power as well as the handling stability of all wheel drive.
And that's just the "baby Benzes!"
The E63 AMG, which combines awesome performance with extreme comfort and convenience, is a glorious-sounding BEAST. Even the big CLS 550 was a blast on the track, more fun than a large four door luxury sedan should be.
And I may have fallen in love with the SLK (especially the SLK55 AMG, even though it's an automatic). This little sports coupe is simply marvelous. 
I mention the variety of models because, despite it being a Mercedes-Benz event, the course isn't really about the cars. It's about optimizing the performance of the most important part of a car: that infamous nut behind the wheel.
I recommend courses such as this Mercedes-Benz Driving Academy highly. Not only do they teach you proper driving techniques and how to optimize your vehicle's performance, they also give you confidence in yourself and your abilities. It really works.
If every driver took at least one such course I believe the quality of drivers on the roads would go up and the carnage on our highways would go down.
It's past time that governments and insurance companies started offering incentives to encourage people to take such courses - perhaps even requiring one to produce a certificate from a recognized course before qualifying for a driver's license.  
In the meantime, it's about as much fun as you can have in the front seat of a car.
Note: The Mercedes-Benz Driving Academy is scheduled next for Vancouver, British Columbia: The Driving Experience takes place July 12, 2008, at the British Columbia Driving Centre, and the Mastering Performance course outlined here is set for July 15 at Mission Raceway Park.
Copyright 2008 Jim Bray