Lincoln MKS – Sedan in Sync
By Jim Bray
November 22, 2008
Lincoln's new full size sedan is packed with all kinds of nifty features and offers good performance. But is it enough to bring in new customers to the famous brand?
I don't know. What I do know is that after a week driving the all wheel drive version of the MKS I found myself a tad underwhelmed.
It was the little things, because when it comes to the big things, this car seems to have it right. It's attractive, has more than enough power, is comfortable and comes with enough creature comforts to comfort most creatures.
According to the Lincoln literature, "MKS offers the largest selection of comfort and convenience technology features of any other luxury sedan in its class, including: Adaptive Cruise Control, Intelligent Access with Push-button Start, next-generation SecuriCode Keyless Entry, Adaptive HID headlamps with Auto High Beam, Rain-Sensing Wipers, Forward Sensing System, Rearview Camera System and Easy Fuel capless refueling."
Some of those features are truly useful and/or handy. Other interesting and welcome features include rain-sensing wipers, front sensors and a rear view camera.
I liked the MKS' exterior, which is classy and modern without being in your face or excessively "avante garde". This, according to Peter Horbury, executive director of Design, The Americas, is no accident. "Lincoln design has always been more discreet, exuding a kind of understated luxury," he says, "and we've designed this luxury sedan understanding that the Lincoln owner views the MKS as a reward for hard work, not simply an outward symbol of status."
Fair enough. MKS' styling is a nice compromise between boxy Lincolns of years past and the more aerodynamic look of today.
The MKS' nose displays a very nice "double-wing" grille the company says is inspired by the 1941 Continental. The grille sweeps up like a broad smile, blending into high-intensity discharge (HID) adaptive headlamps to form a nice, "completed" look where the elements flow into each other and form an integrated whole.
Its bum features attractively detailed LED tail lamps, but the overall look reminds me of a big Saturn – not a good look to emulate, in my never humble opinion.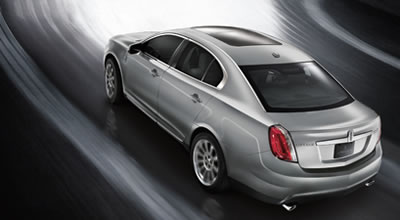 Still, beauty is in the eye of the beholder and your visual mileage may differ.
Under the surface is a 3.7 liter Duratec 24 valve aluminum V6 ULEV-II engine rated at 275 horses @ 6250 rpm and 274 lb.-ft. of torque @ 4250. This is competitive, and more than adequate. I had no trouble accelerating the MKS to my usual breakneck speeds, and passing slower vehicles created no sphincter-puckering moments.
One thing I appreciated during my test, which came during some of the highest of the recent gasoline prices, was that you can run it on regular gas.
The engine gets the power to the wheels (front wheel drive is standard) via a six speed SelectShift Automatic transmission with the usual "pretend manual" mode. I wasn't thrilled with the manual shifting, which didn't add a lot of "sports fun" to the mix, but it's there if you want it. Other than that, shifts are smooth and efficient.
The AWD system uses a system of clutches to distribute torque between front and rear wheels quickly; Lincoln says it'll send up to 100 percent of the torque in either direction.  
The MKS features a new, fully independent rear suspension designed and tuned to deliver a "perfect balance of performance, handling and comfort".
The steering is responsive, and with good feel, but I did find the suspension a tad soft – not the "wallow" soft for which some old North American cars were famous, simply more cushy than sporty. This may be appropriate for the market niche, but I like a bit more road feel to come through.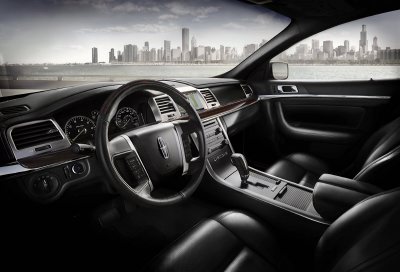 Inside the MKS is a very nice cabin. The leather seats are comfortable and supportive as long as you don't put on your "boy racer hat". The front seats are power adjustable 12 ways, with bun warmers and coolers to sweeten the deal. Rear seats, which are comfortable for two and reasonable for three, are heated (with "warm" and "broil" settings) as well.
The memory feature for the seats, mirrors, etc. works well, and you can set the memory while driving.
There's a panel bearing a Lincoln logo that joins the center stack with the console that in most cars would open to reveal an ashtray, gadget holder, auxiliary power, etc. Alas, here it's just a panel that does nothing, though to be fair, all the stuff that could have been stuck behind it is available elsewhere, including a music player jack.
The steering wheel tilts and telescopes via power, always a nice touch, and it feels pretty good in the hands. There are no paddles for shifting, which is unfortunate but not uncommon.
And of course you get the usual amenities such as dual zone automatic HVAC, leather and wood accents, power everything (including auto up/down windows up front) and an attractive and straightforward set of analog instruments with digital enhancements.
My test unit came with a lovely dual panel sunroof that lets light into front and back seating areas if you draw back the blinds, though only the front section opens.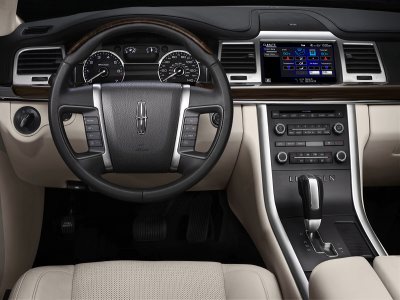 And of course it comes with SYNC, the Ford family's voice activation system that helps you control the audio, HVAC, navigation, phone (via Bluetooth), etc. I like this system more each time I try it, though I wish it would shut up more; sometimes I have trouble getting a word in edgewise, what with the system's voice prompts.
The audio system of my test unit was a THX-certified 5.1 surround system that really rocked, though I also found it a tad bassy. It features 16 speakers including a 10 inch subwoofer that, unfortunately, hangs down into the trunk, getting in the way of loading larger things.
The audio system plays DVD-Audio discs, which is a lovely touch for the few of us who have such high resolution audio discs. And it came with SIRIUS satellite radio, which I love.
The touch screen on the center console is mounted high on the center stack, which is great for visibility, though a bit of a long reach for me. The Sync system can let you touch it less often, but in my "real world" use I found it faster to reach out and touch it rather than fence verbally with the onboard droid – thanks in part to Lincoln's terrific touch screen interface.
Rear seat passengers complained that it felt closed in back there, probably because of comparatively small windows and the fact that the high-mounted stoplight hangs down behind your head. I noticed the latter from the driver's seat, too; the stop light thingy takes up some of the view rearward.
From the driver's seat, the B pillars are right by your head, which made it hard to check for other vehicles in parking lots.  And the large outside mirrors are mounted where they could cause blind spots to the front, though they aren't as bad as in some vehicles I've driven.
The trunk is big enough, but the opening is small, the floor isn't flat and that subwoofer seems like it's just waiting to get knocked off the first time you try stuffing a big box into the trunk.

The MKS features a keyless entry/push button start system, like much of the competition, but this one drove me nuts. Getting in is easy – leaving the key fob in your pocket, just touch the numbered strip on the driver's side B pillar and the driver's door unlocks. That's as it should be, but I could only unlock the other doors from either the fob or the control inside on the driver's door armrest. And when getting out, I had to lock the doors from the fob or the inside controls because I kept forgetting the code for the B pillar thingy.
I'd probably learn to remember it if I had the car longer, but why doesn't Lincoln just join the rest of the world and put a little sensor on the door handle?  
And that key fob! Its buttons are black on black and I couldn't make them out unless I put on my reading glasses. In all, it was a pretty inconvenient convenience item.
Other little things rubbed me the wrong way, too, such as chimes and bongs that my son said sounded like Super Mario Brothers. And I just don't get the Easy Fuel capless refueling, which seems like a pretty strange place to start innovating. Have Ford/Lincoln focus groups fielded massive numbers of complaints about how difficult it is to unscrew a fuel filler cap? Have fuel thieves lobbied the company for easier access to its gas tanks?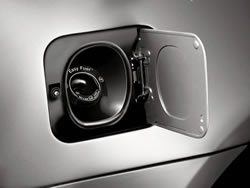 I don't know, but it seems to me that when a car company is fighting for its life there are more important things to concentrate on.
Still, the Lincoln MKS is a pleasant enough car; I just wonder if it's enough to help parent Ford considering what else is available in this market niche. I guess time will tell.
The Lincoln MKS AWD starts at $40,235 U.S./$47,799 Canadian.
Copyright 2008 Jim Bray
TechnoFile.com