Popular Lexus SUV Adds Super New Powers
By Jim Bray
Maybe they should call it RX Version 4.
Since the introduction of Version 1, the RX 300, a few years ago, the Lexus luxury SUV has seen its share of upgrading and refinement. First there was Version 2 (the RX 330) and its addition of a larger engine along with such nifty features as a power operated tailgate. Then came Version 3, the hybrid RX 400h introduced in 2005.
Now Lexus has once again upped the ante with the 2007 RX 350. The new name indicates yet more power, but this V6 engine isn't just the old one upgraded again: this time it's an all-new V6 that Lexus says improves fuel economy while upping the oomph ante.
The new power plant plants 270 horses of power onto the road @ 6200 rpm and 251 lb-ft of torque @ 4700, which is more than adequate for this type of vehicle. The double overhead cam engine uses intelligent variable valve timing to, as Lexus says, "optimize torque for quick response at all engine speeds" while improving combustion efficiency.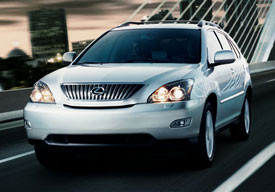 The gas pedal hooks into the engine in an electronic drive by wire manner, and this version of the increasingly popular "by wire" concept is hooked into new throttle control logic for quicker acceleration response. That doesn't mean this SUV leaps from a stop light like a Corvette, but it does mean that the power and torque is there when you want it.
The transmission is a five speed "Super Electronically Controlled" automatic that shifts very smoothly.
Lexus says the RX 350 achieves Ultra Low Emissions Vehicle 2 (ULEV 2) status, with EPA-rated fuel consumption of 19 mpg highway and 24 city.
Available in either front or all wheel drive configurations in the U.S., or as AWD in Canada, my AWD-equipped tester was a handsome and well built vehicle that was very pleasant to drive and would undoubtedly be pleasant to live with.
The AWD RX has an integrated transfer case and viscous coupling-controlled limited slip center differential that under normal conditions splits the torque 50/50 between the front and rear axles. This is not only good for handling, but also appears to help control the torque steer that's noticeable so often with front wheel drive vehicles.
When the driving gets tough, the differential sends extra torque to whichever axle has the most traction. This doesn't mean you'll be able to drive the RX up the side of an office building, but it does mean it'll offer you good stability on snowy or wet roads. There's also a "snow" setting that will undoubtedly come in really handy during winter driving.
Vehicle Stability Control and traction control helps maintain aplomb during cornering and works in conjunction with the anti lock brake system and the throttle to help correct under and over steer.
Naturally, you also get four wheel disc brakes enhanced with Electronic Brake Force Distribution and Brake Assist. Brake pedal feel is good; it takes decent pressure to bring them on strongly, but I prefer that to some vehicles that seem anxious to stand on their noses at the slightest application of foot pressure.
The RX 350 comes equipped with 17 inch aluminum alloy wheels wearing P225/65 R17 tires.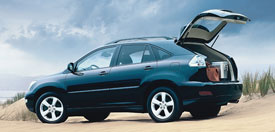 The ride is smooth and comfortable, but not floaty. The independent suspension features Macpherson struts and an anti-vibration subframe, reaction-force controlled coil springs, high damping-rate bushings, high-response gas-filled shocks and stabilizer bars.
New on the RX 350 is a tire pressure monitoring system, but I'm not sure they want to brag about that. Its warning light came on once when I was out and about, but when I checked the pressures they were fine and shortly thereafter the warning light went off again and never lightened the instrument panel subsequently. This is the second vehicle with this feature that has experienced such false alarms during my test drives.
I could only find a couple of other quibbles, one of which I thought was a fairly major piece of fuzzy design and one of which was decidedly nit picky.
The first was the sunroof controls which, from a manufacturer that prides itself on pursuing perfection, were particularly frustrating. There are two controls, one for tilting the roof and one for sliding it. Yet both controls on my tester operated both functions, which makes one wonder why the redundancy.
But what got me was that there's no obvious "default" setting that tells you when the sunroof is closed completely (or if there is I didn't find it during a week with the RX 350), so if you're about to drive through a car wash you'd best be very, very sure you aren't about to give yourself and your luxuriously appointed Lexus a high pressure shower.
The upside, I suppose is that a good hose down could save you from having to vacuum the interior.
The minor quibble was the labeling of the key fob's buttons. The lock and unlock buttons are labeled black on black – but what's more interesting is that the "lock" button also has "PANIC" printed in red right on the button itself. I had trouble reading the black on black labels, since the first time I was exiting the vehicle was in very bright sunlight and I didn't have my reading glasses, so all I could see was the "Panic" button, which I was reluctant to press lest the RX start screechin' and hollerin' to beat the band.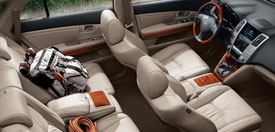 Fortunately, I screwed up my courage and pressed the button anyway, and all was well.
And if that's the extent of my complaints (and it is), it just goes to show that the RX 350 is a heckuva nice vehicle overall.
Another key fob button is really handy: it lets you activate the power open/close feature on the tail gate, which is a wonderful thing to behold when you're heading across the parking lot with your arms full of grocery bags.
Inside, as one would expect from a Lexus, it's very comfortable and luxurious. Quiet, too, perhaps thanks in part to the new windshield soundproofing that Lexus says lowers wind noise by two decibels.
There's sound insulation in the floor and dashboard, too. This lets you hear passengers better or, more pleasantly, the stereo. My tester had the standard satellite-ready 8 speaker AM/FM/6 disc CD changer system and it's a nice one. The sound quality is very good, and the disc player handles MP3 and WMA files; it also features an auto sound leveler and a nifty feature that lets you tailor the "sweet spot" to various positions including the driver's.
The RX Premium Edition's leather and wood steering wheel (which moves out of the way when you remove the ignition key) has audio and cruise control buttons on it. This particular trim package also gets you the power tailgate, wood shift knob and a wonderful high-intensity discharge headlight system that features an auto leveling system and adaptive lights that swivel to help illuminate turns and curves.
The heated leather seats are very comfortable, and you get two memory settings to ensure your optimal driving position doesn't get screwed up by some casual driver. The rear seat splits and fold down 40/20/40 to create even more hauling space; they also slide and recline.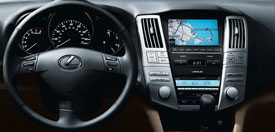 HVAC is automatic, dual zone and straightforward.
If all this stuff isn't enough for you, you can upgrade the RX even more, to include stuff like the Mark Levinson audio system that comes with a DVD system for the rear seats (and should play DVD Audio discs, at least in Dolby Digital) and displays via a 9 inch LCD screen. There's also a navigation system available that features a rear view camera that activates when you shift into reverse. This is a handy feature, though in my limited experience with such systems they're also prone to being washed out in bright sunlight.
Safety equipment in the RX includes multi-stage airbags up front, a knee airbag for the driver and large side airbags up front designed to protect the occupants' torsos, abdomen (or, as they're known in today's politically correct environment, abdopeople) and pelvises. There are also roll-sensing front and rear head/side curtain airbags and, of course, the usual complement of belts.
I don't know about the situation in your neck of the woods, but around here it seems as if you see as more RX's on the road than there are squeegee people, which is quite something when you consider the premium price of this SUV.
There are good reasons for this. One is the vehicle's overall quality and execution, Lexus hallmarks since day one. Another is that the RX is also efficient and practical, while coddling you nicely.
The RX 350 AWD starts at $39,495 U.S./$51,550 Canadian. The U.S.-only FWD version starts at $38,095.