Porsche Cayenne Turbo and Lexus LX 570 - Awesome, Times Two
By Jim Bray
March 19, 2008
They're big, brawny and luxurious - and can go nearly anywhere. But are they any good?
Well of course they are - this is high end stuff!
"They," are the 2008 Porsche Cayenne Turbo and Lexus LX 570, top of the line SUV's from opposite corners of the world. Both showcase state-of-the-art technology envisioned differently by different companies.
The Lexus LX 570 is the latest iteration of a vehicle that really began life decades ago as the Toyota Land Cruiser wagon - a fine vehicle then and a real tour de force today. The new version features a bigger and more powerful engine, more interior volume, more technology and more luxury appointments than you can shake a stick at.
It's also a huge vehicle that cuts a swath through traffic. This is definitely a "full size" SUV! And there's a lot to like about it.
The Lexus' size is matched by the 5.7 liter V8's power (383 horses @ 5,600 rpm and 403 lb-ft  of torque @ 3,600 rpm), which provides more than enough motivation to propel the nearly 6,000 pound vehicle to whatever speed suits you. Power gets to the road via a new six speed automatic transmission that delivers very smooth shifts. It also has a "sport" mode, but that's probably the only thing sporty about the LX 570.
Rather, the Lexus' focus appears to be more on its prodigious off-road capabilities. Full time four wheel drive, with "crawl control" technology, is standard, and the vehicle cruises along serenely regardless of road surface. I was cruising along on a crummy and bumpy dirt road shortly after having picked up the Lexus - a road it's best to drive gingerly - and when I looked down at the speedometer I was amazed to discover that I was tooling along, comfortably and safely, at a substantially higher speed than I had thought, with no problems whatsoever.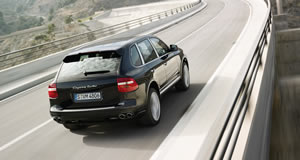 That's all the "off-roading" I did in either vehicle, but you're supposed to be able to climb every mountain and ford (well, Lexus/Porsche) every stream with them. I don't doubt it, but if I had to choose which vehicle to abuse in the boonies, it would be the Lexus, hands down.
Not that the Cayenne (Turbo) isn't a capable off-roader. But it seems to me that taking a Porsche off-roading would be as big as sacrilege as using a Kentucky Derby-winning horse to plow the back forty. Especially with the high performance tires my test unit wore.
On the other hand, the last Cayenne I drove (the '08 Cayenne S) arrived in the dead of winter and I had a chance to try its superb "lousy road" capabilities. It was a peach! I imagine the Turbo would be as good, though the roads were bare and dry when I had it and the big Lexus.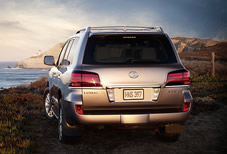 But I did get to see how the 4WD Cayenne Turbo's 500 horses and 516 ft-lb (courtesy of its "abnormally aspirated" twin turbocharged 4.8 liter V8) handle dry pavement. Holy cow!
The Porsche's gas pedal seems more like an on/off switch, with gobs of power available instantly and torque that pushes you backwards like you're being launched via solid rocket boosters.  It's quite breathtaking.
That said, I was more than happy with the 385 horses of the Cayenne S and, to me at least, find the turbo to be overkill.
But what wonderful overkill!
The Cayenne Turbo gets its awesome oomph to the wheels via a 6 speed Tiptronic auto-manual transmission. It does a great job, but it's time Porsche made paddle shifters available instead of the "toggle-ish" switches that are too far away for my thumbs to reach easily. Instead of paddles, they have silly little buttons on the back of the steering wheel that - get this - turn the lights on the auxiliary radio and such buttons on and off.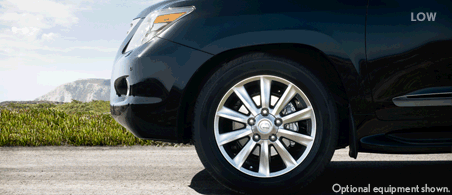 Suspended Sentence..
Both vehicles feature high tech suspensions that practically sing and dance for you. The Lexus features independent double wishbones up front, with a multi-link keister, and it comes with "4-Wheel Active Height Control and Adaptive Variable Suspension technologies" which means you can raise or lower the vehicle and partake of modes ranging from comfort to sport ("sport" being relative).
The Lexus also came with a full complement of electronic assistants (a.k.a. digital nannies), including Vehicle Stability Control, Active Traction Control, Hill-start Assist Control, Downhill Assist Control, and Crawl Control. Active Height Control (X-AHC) with Adaptive Variable Suspension (AVS) automatically adjusts the vehicle's ride height to help provide optimal vehicle performance, regardless of speed or terrain. They all combine to do a good job of making the vehicle drive and handle with minimal "bus-like" feeling, while offering wonderful smoothness and comfort.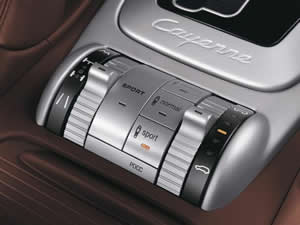 Porsche's all-independent suspension is the most catlike I've experienced in an SUV (in this case, a big cat!), and my Turbo test car came with Porsche's Active Suspension Management, a must-have on this vehicle. Optional on other Cayennes but standard on the Turbo, PASM adjusts the suspension system to changing driving styles and road conditions, offering modes from sport to comfort (and this time "sport" really means sport!). Porsche's air suspension offers height adjustment from "loading" to "special off road" (a.k.a. "better get out a ladder if you want to climb in").
My sample Cayenne was also equipped with Porsche's Dynamic Chassis Control, which includes active anti-roll bars to offset body roll in turns, thereby improving handling, comfort traction and safety.
I preferred the Cayenne's lowest driving setting ("low" - there's also a "special low" it invokes automatically when you reach 130 mph, which I never approached) and when combined with sport mode the 5200 pound vehicle hunkers down like a running back heading for a tiny hole in the defensive line. It's quite remarkable to experience handling like this from a big SUV.
For fun to drive, there's no comparison: the Porsche beats the Lexus hands down.
And that's okay; the Lexus doesn't pretend to be a sports car.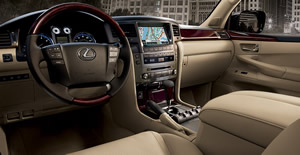 Inner Peace..
Both vehicles are full of high tech stuff inside, though the Lexus positively throws stuff at you while the Porsche is much more subtle. They're both comfortable and luxurious but, while the Porsche concentrates on the driving experience the Lexus is more like cruising along in your home theater, sans the big screen.
The LX 570 features what the company calls " the unique Lexus Spirit of Hospitality." Take this as meaning you'll be stroked well, with such amenities as four-zone independent automatic climate control system (with a full set of middle row controls), electroluminescent gauges with a multi-information display, seating for up to eight passengers, a wood and leather-trimmed steering wheel and shift knob, walnut wood interior trim, leather door trim, power tilting/sliding moon roof, illuminated running boards, front and middle row heated seats, a Lexus Premium Audio system, a hard drive-based navigation system and plenty more.
My test unit also had Bluetooth capability and voice recognition, which worked pretty well. The hands-free phoning aspect was a wonderful feature, and you can save your most-often-called numbers into the vehicle's speed dial phone book.
It also had XM satellite radio activated and auxiliary audio and power jacks on the console, where they're easy to reach and use.
Porsche's interior reminds me of their sports cars, only bigger. From the comfy, heated leather driver's seat Porsche's aggressively simple and clean five gauge analog/digital instrument cluster faces you beyond the power tilt and telescope steering wheel that's also heated automatically - a feature that came in really handy on frosty mornings, though I wished it would have turned off earlier than it did (you just can't please some people!).
The Turbo also came with leather nearly everywhere inside other than the windows.  
My test unit didn't have all of the technological toys available as options, but it had enough.  I liked the sound of the Porsche's stereo better than the Lexus; it was more powerful and clean, and it rocked.  
Both vehicles feature large outside mirrors you can fold in to create extra room when parking. And if you really want to impress your friends, you can retract and extend them repeatedly to make the vehicle look like it's wiggling its ears!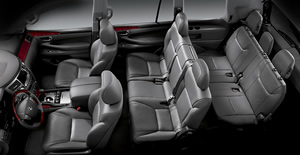 Not that I'd ever try that..
The Lexus has more room inside, including a third row of "jump seats". Alas, jump seats take up a space even when folded up, more so than if they were a bench that hides in the floor.
Both vehicles feature parking aids. The Porsche has a set of LED's front and rear that turn amber and then red as you get close to banging your bumpers. The Lexus adds a camera to its front sensors, and you  can adjust the view to cover the rear, front or passenger side, which could come in handy when you're parallel parking the big beast.
 Both vehicles also feature nifty double sun visors that let you swing one out while leaving one to cover the front windshield - a small but welcome touch.
Unfortunately, you can't really make a fair apples-to-apples price comparison between these highly capable, but decidedly different vehicles  - but for information purposes, the Lexus LX 570 starts at $73,800 U.S./$84,600 Canadian, while the Porsche Cayenne Turbo starts at $93,700 U.S./$115,300 Canadian.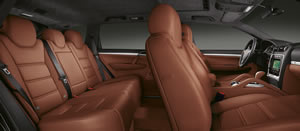 Which would I buy? Probably neither, since the Lexus is too big for my taste and the Cayenne Turbo's power would probably cost me my license. I could easily live with the Cayenne S or the hot new GTS, though, which (at a base MSRP of  $69,300 U.S./$86,100 Canadian) is closer to the Lexus' price.  
The Lexus seems the logical choice if you're looking for supreme comfort and luxury coupled with prodigious off roading capabilities. And if you want a luxurious, tall sports car that carries five people and their stuff with wild abandon, you may find a Cayenne (whether Turbo or not) with your name on it.
Copyright 2008 Jim Bray