Lexus LS 460 A Classy, Capable Cruiser
By Jim Bray
(photos by the author)
February 6, 2007
In 1989, Toyota's new Lexus division set the automotive world on its ear when it introduced its new high-end luxury sedan, the LS 400. It was a quantum leap for Japanese manufacturers in which they dared to go head-to-head with established luxury makers such as Mercedes-Benz, BMW, Jaguar, etc..
The LS 400 (and Infiniti's Q45, which was introduced at the same time) gave the established folk a kick in the pants. Since then, Lexus and its "relentless pursuit of perfection" have remained at or near the top in quality and customer satisfaction surveys.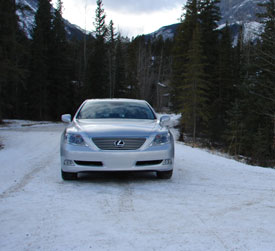 But 18 years is an eternity in the ultra competitive automobile market and while Lexus has introduced a bevy of beautiful and successful vehicles over that time, the flagship LS had never received a complete revision. Until now, of course.
The new LS 460 isn't as revolutionary as the original, though it certainly has its innovate aspects. Probably the most well-known is the ability to parallel park itself, which definitely ranks high on the "Gee whiz isn't that nifty?" scale.
I'm of two minds about this feature. On one hand, it's definitely cool (assuming it really works as advertised) and would probably be really helpful to the parallel parking-impaired. On the other hand, how much more dumbing down of people's driving ability do we need? If you can't parallel park, maybe you shouldn't be driving.
In any case, the nifty parallel parking sideshow that I was so looking forward to seeing became moot when I discovered that my test LS 460 didn't have that optional feature. I was shattered.
Not shattered enough to refuse the car, of course. I've been dying to see how the big Lexus stacks up to current competitors such as BMW's 7 series and Audi's A8, cars that can be considered benchmarks in this class.
It stacks up very well. It isn't quite as much fun to drive as either of those other sedans, though it's close enough. And it's nicer than them ergonomically, one of the reasons being that Lexus (among others) has found alternatives to those iDrive or MMI cursor control devices that some manufacturers have inflicted upon us.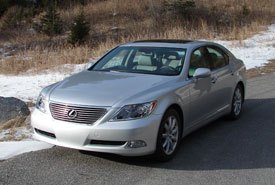 This extremely classy set of wheels reminds me of a big, super luxurious Camry, and that shouldn't be taken as a putdown: I think the new Camry looks terrific. And I have no problem if there's a family resemblance between Toyota's bread-and-butter car and their uber-sedan. Heck, the original LS was pilloried by media types for supposedly being a rip-off of the Mercedes-Benz look, but I always thought it looked more like a big, super classy Cressida of the time.
Derivative or not, has the LS has never looked better than it does now. It's elegant, yet brawny, looking as if it'll slide through the wind gracefully and silently. Sure, it's conservative, but so are most other high-end sedans – and look at what being more "avant-garde" got the nearly-forgotten Infiniti Q45.
I even like the little things, such as how they've integrated the high-mounted stoplight into the roof above the rear window, where it's nearly invisible until you step on the brake.
Powering the Lexus is an all-new 4.6 liter V-8 engine that cranks out 380 horses @ 6400 rpm (102 horses more than the previous LS) and 367 pound feet of torque @ 4100 rpm. The oomph is effortless and is delivered to the rear wheels via the world's first eight speed automatic transmission.
This innovative transmission is so smooth it's difficult to tell when it shifts, and when you want to pull out to pass it kicks down beautifully and nearly intuitively. It's marvellous: step on the gas and it seems to know what gear you need instinctively.
The car moves ahead with a lovely V-8 growl that, thanks to the car's overall quietness, is so isolated from you that you can hardly hear it unless you open a window or the sunroof. It's worth braving some wind noise to listen to the sedan's song, though.
The LS 460's independent suspension may be a tad soft for some, but I liked it; while it may not be ideal for throwing around in the twisty bits, it's its tight enough for all but the most spirited driving.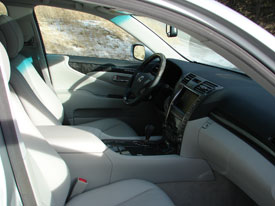 Speaking of driving, there's an excellent feel to the power steering as applied via the power tilt and telescoping wheel and the strong, four wheel, power assisted disc brakes with ABS also have just the right feel when you tromp on the pedal.
The driving compartment is efficient, attractive and well laid out. Instruments are clean and very cool, but Lexus has chosen to put some little graphics on the temperature/driving range display that, while they look kind of neat, make it more difficult to read the display. Seems like a strange priority of form over function.
But the soft leather seats are a wonderful place to spend time, especially the fronts. The driver's butt-bucket features 16-way power adjustments and a memory function; the front passenger has to rough it with only 12-way power and no memory.
Like the fronts, the luxurious rear seats also feature "bun conditioning" (heating and cooling) and offer a huge amount of legroom, even on a the "short" wheelbase version I had. I imagine that the long wheelbase version is big enough to have a hoedown back there. Backseat passengers can also take advantage of two ceiling mounted, fold-down illuminated vanity mirrors that look a little bit reminiscent of those DVD screens you can get in many vehicles.
My tester, which was the "stripped down" version of the LS (comparatively speaking), included a rear view camera but if I had my druthers, I'd dump the camera – which washes out in bright sunlight and can also be rendered useless by dirt – in favor of bumper mounted sensors, front and rear, which seem much more handy and efficient.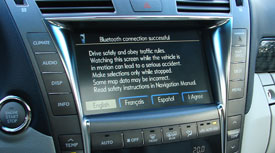 But no one asked me.
The navigation system and other LCD screen-accessed controls work well, but you can't access many of the adjustments when the car is in motion. This is undoubtedly a safety feature, and that's fine – but it makes me wonder why you still have to go through that stupid lawyer's screen when you first fire up the vehicle.
The Mark Levinson audio system offers superb sound, but the DVD-Audio playback exhibits the same problem as other "Lexi" I've driven, in that not all discs play all the audio channels properly. The steering wheel-mounted volume controls aren't placed on the front of the wheel as they usually are, but rather are kind of behind, almost where paddle shifters would be. It took a little getting used to, but I quickly learned to like them there.
I also loved the generously sized sunroof, though it was so cold during my test that we couldn't stand leaving it open for more than a couple of minutes. The controls were a little difficult to discern without my reading glasses on, but it didn't take long to learn them.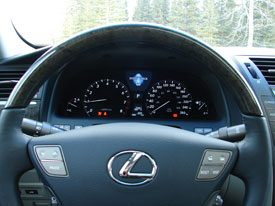 As one might expect, the only complaints about a car such as this are quibbles or differences of personal preference. For example, while it would nice if the car would play my DVD-Audio discs properly, this is a quibble that most people wouldn't quibble about since DVD-A is really a niche market.
Besides the standard and long wheelbase versions of the LS, a hybrid is going to be available sometime in the next few months. If it performs anything like the Lexus GS 450 hybrid I drove last summer, it may just be one of the fastest V8 sedans available anywhere. I can't wait to try it!
The Lexus LS 460 starts at $61,000 US/$86,400 Canadian for the standard wheelbase model. The "stretched" LS 460 L starts at $71,000 US/$98,700 Canadian. Option packages can up that ante for either version considerably.