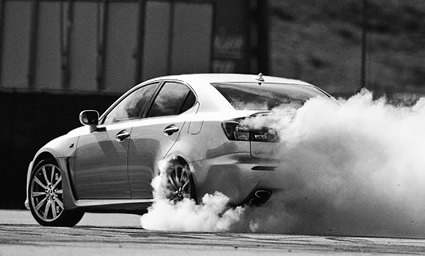 Lexus Unleashes a Beast
By Jim Bray
November 13, 2008
It's a lean, mean driving machine, yet it comes from a company whose name is more associated with luxury than sports.
The Lexus IS F (the first in a new line of "F" designated vehicles from Lexus) is a beast from the Far East, a car that combines the marque's acclaimed luxury and attention to detail with the high performance meanness of a true muscle car. The result is a vehicle that'll put a smile on the faces of people who like their car's niceness to tempered with the kind of nastiness that comes only from a high performance machine.
Lexus says the IS F "combines high performance, high technology and high style in a luxury sport sedan that delivers a uniquely Lexus interpretation of driving excitement and authentic performance." After spending a week in the belly of the beast, (a.k.a. the driver's seat of the IS F), I have to say that's a pretty fair assessment.
The IS series consists of the IS 250 and IS 350, both of which are very nice cars motivated by very nice V6 engines. I drove the IS 250 AWD when it first came out and, while I'd have liked to see more oomph under the hood, I really liked it. The IS 350 has plenty of oomph (more than 300 horses from its wonderfully torquey 3.5 liter V6), but it still feels like a Lexus in that its raison d'être seems to be sporty luxury and refinement rather than out and out exhilaration.
The IS F changes all that. You can sense just how different this version is from the instant you fire it up and hear that seductive song burbling from the back. And that's just the beginning. Compared with the other IS's, the suspension of the F has been lowered and stiffened, the brakes and the wheels (19 inch) are larger  and the fenders and wheel arches have a more aggressive look.
The company says the F's prototypes were tested extensively on race tracks such as Fuji Speedway, Germany's legendary Nurburgring, and California's Laguna Seca Raceway. I thought I had a great job, but I'm jealous of whoever got to drive the IS F on those circuits! This is by far the meanest Lexus I've ever driven, a snarling beast indeed, yet one that offers the type of well-thought-out and attractive interior that makes a Lexus one of the nicest places to spend time in a vehicle.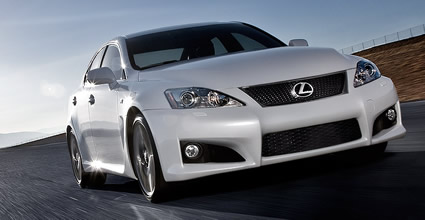 The rear wheel drive IS F gets its motivation not from a souped up V6 but from an outrageous five liter V8 engine. Developed with help from Yamaha's Formula 1 engine program, it delivers up to 416 horsepower (at 6,600, just a couple of hundred revs below red line) and up to 371 lb-ft of torque. That's oodles of oomph, and you feel it at your right foot whenever you want it.
The shifting is handled by "the world's first eight-speed sport-direct shift automatic transmission" and it has so many "gears" you may run out of road before you run out of upshifts. I love a nice stick, but if you have to have an automatic transmission, this is the one. As an automatic, it performs really well, and in manual mode it shifts better than any other "pretend manual" I've driven. Lexus says the difference is because it isn't a "pretend manual" at all, but rather a full manual mode that puts the driver in complete control.
Shifting can be done via the lever on the console or, much better, paddles behind the steering wheel. Shifts are fast and the car even blips the gas when you downshift to help match revs from gear to gear.
A nice touch is that – as with Porsche's Tiptronic transmission – you can shift manually without moving the lever into manual mode, which is really handy when you come across a twisty bit on an otherwise sedate road, or a nice off ramp: you can shift by yourself for a bit and then, when you ignore the manual mode for a while, it goes back into automatic – automatically.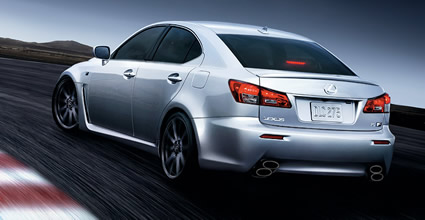 It's fascinating to watch this remarkable transmission in action, which is facilitated by a readout on the instrument panel's digital display.
I tested the IS F right after a week with a Porsche 911S, and I was fascinated by just how similar – and yet different – the drives are. The 911 is pure sports coupe, while the IS F is first and foremost a sedan, but both offer fast and furious experiences accompanied by luxurious touches.
I preferred the Porsche's instrumentation, which has an analog tachometer above a digital speedometer that lets you see at a quick glance the most important info you need while driving. Lexus' analog speedometer (the digital readout is for stuff other than speed) features small gradations I found hard to read, though the tach's big single digits for each thousand rpms was fine.
And the last thing you need in a car like this is to be unaware of how fast you're going!
The IS F driver's seat is a wonderful place to be. The seat is power adjusted, heated, nicely bolstered for cornering and faces a great steering wheel that tilts and telescopes via power. Both front seats have three memory settings but, in typical Lexus tradition, you can only access the seat memory when the vehicle is stopped and in "Park". Why can't you store the seat position while driving?  
The brakes (big, four wheel discs with ABS and all the other electronic stuff) have an on/off kind of feel, but the stopping power is awesome. My test car's brakes tended to squeal a bit, but whether it was through delight or to protest having to slow down I couldn't tell.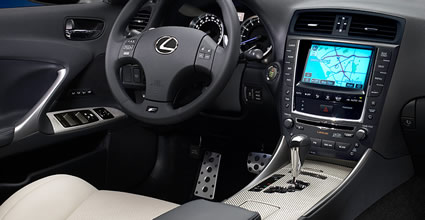 The pedal to the right, the fun pedal, presses to the floor very nicely, launching you like you're on a rocket sled.
I was surprised at how heavy the steering feels at lower speeds. It isn't "Armstrong steering" by any means, but it's stiffer than other Lexi I've driven. This isn't a bad thing: it definitely suits this car.
If you're shifting manually – and you will – the IS F beeps when the revs get close to the red line, just to make sure you don't turn that lovely piece of V8 engineering into a big piece of twisted metal, I suppose.
The audio system of my test unit was the standard Lexus one, which means it wasn't the upgraded and overrated Mark Levinson system. The base system is a fine one, with all the capabilities you'd want today (though the satellite radio service wasn't activated in my test unit), and with very good sound quality.
But I didn't care about that. I found myself turning the audio system down or off – something I do rarely – so I could bask in some of the most lovely automotive noises I've ever  heard. Yessirree, the song of the IS F is like the song of the Sirens that drove ancient seafarers to their death.
In this case, there's a gorgeous V8 rumble that begins when you press the "Start" button. It sounds like those muscle cars of old, except that the song makes it clear that this is state-of-the-art muscle rather than retro. And as you press the gas and the revs rise the tune changes from a masculine burble to a vicious snarl.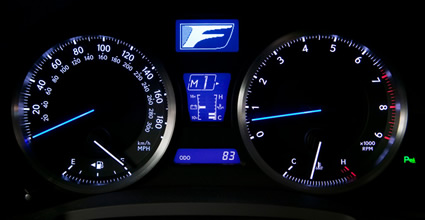 It's seductive as heck. Lexus should release a CD of the car's noises.
The IS F suspension is a very nice balance – it's smooth but at the same time by far the sportiest I've felt on a Lexus. Compared to the rest of the Lexus line it's very stiff, but that isn't a bad thing.
All four windows offer one touch up and down operation and the rear windows go right down into the doors.
About the only thing that got in the way of passenger comfort was the receptacle into which you snap the rear seat belts, which a couple of my passengers found intruded onto their buttocks. And the back seat is comparatively tight, as is ingress and egress to it thanks to rear doors that are comparatively small. Headroom and seat comfort is fine, though. Front seat access is more than adequate.
The IS F is one of the most fun sedans I've driven. Its prodigious power and overall capabilities are outstanding and at the end of my week with it I had to have the steering wheel pried from my warm, live fingers.
I loved it, even though it's just a tad small for my taste. And that makes me look forward to what I hope will be a GS-F!
Cmon, Lexus, what are you waiting for?
The Lexus IS F starts at $56,610 U.S./$64,450 in Canada
Copyright 2008 Jim Bray
TechnoFile.com