Lexus GS 450h - No Slowpoke Hybrid, this!
By Jim Bray
March 6, 2008
Love may not be quite as wonderful the second time around. But it's still pretty good!
After my second kick at the Lexus GS 450h hybrid, I wasn't drooling with lust as much as I did after my initial week of test driving it more than a year ago. It's still a fine car, a wonderfully luxurious four door sedan and probably the fastest hybrid I've driven. But the bar has moved since then and, other than some minor tweaks and extra standard equipment, the GS 450h hasn't.
It's still an excellent performer.  The total horsepower generated by the V-6 engine and the high torque electric motor is rated at 339, with torque of 267, fine figures for a modern six cylinder car even if it doesn't have the hybrid stuff added to it like a little, efficient turbocharger. And the car moves accordingly, if you want it to.
I suspect most people buying a hybrid don't want it to go like a flying rodent out of purgatory, and for those people the GS 450h will undoubtedly excel, offering gas mileage better than you'd expect from a luxury sedan such as this. If you do want to tromp it once in a while, the only way you really notice it's different from a "regular car" is via its non-shifting continuously variable transmission and the hybrid readouts and gauges on the instrument panel and center stack (which, if you're driving it like it's a sports sedan, give you disapproving looks).
From the outside, the 450h looks pretty much like a regular GS, except for hybrid logos on the sides and the bluish 450h model indicator on its bum (the other GS' wear 350 and 460 badging).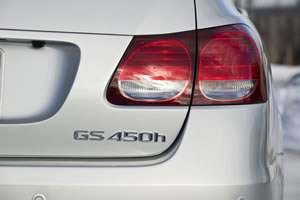 And like all GS', it comes with a long list of standard stuff, including:
Bluetooth capability
Lexus Premium Sound System with Automatic Sound Levelizer (ASL) and in-dash, six-disc CD auto-changer and 10 speakers;
automatic temperature control, dual zone air conditioning, a cabin air filter and rear seat heater ducts;
Heated and cooled, power adjustable driver and front passenger bucket seats with leather and memory;
Power door locks with the Lexus Smart Key system (though it isn't as smart as it thinks it is; on more than one occasion it got confused and I had to use the key fob to unlock it) and push button start/stop;
A power tilt/telescoping steering column with memory;
The Lexus Premium Illuminated Entry System and full lighting suite (including door courtesy lamps, driver and passenger foot well lamps, glove box lamp and trunk lamp - it's quite enlightening!)
That's only the highlights - and the hybrid ups the equipment ante by throwing in (well, adding) a woodgrain steering wheel, a multi-information display featuring a kilowatt power meter and voltmeter, 18" aluminum alloy wheels with wheel locks, and Lexus Hybrid Blue-accented head and tail lamps. Canadian spec GS 450h's also come standard with the upgraded satellite radio-ready Mark Levinson Audio system featuring AM/FM stereo/cassette/CD/DVD autochanger, 14 speakers, steering wheel-mounted audio controls, and roof-mounted "fin" antenna (more about this audio system later).
Which means there's enough equipment on the GS 450h to choke the proverbial horse.
I didn't have a chance to take the GS for one of my usual highway loops (the roads were miserable), but in my previous test I took it on a trip into the Rocky Mountains that would (and does) test the freeway and twisty bits mettle of any car. I have no reason to think the current hybrid would be any less of a blast than the older one - and a blast it was, indeed.  
The GS 450h can operate in gasoline mode, electric mode, or a combination, depending on parameters such as how far toward the floor your right foot may be pressing on the accelerator. As is usual with hybrids, the Lexus is virtually silent when you fire it up, the only signs of life being the light show you get when you press the "start" button. Shift into gear and the engine fires up, ready and rarin' to go.
Power gets to the rear wheels via the abovementioned continuously variable transmission (CVT), which also has a "sport" pretend manual mode that seems to put you into fifth "gear" regardless of your speed (at least in my urban driving experience). This is hardly sporty but is undoubtedly good for the gas mileage.
Suspension is an independent double wishbone type up front and independent multi-link in the rear. Both ends get stabilizer bars and feature Adaptive Variable Suspension (AVS). You can choose from normal or sport modes ("sport" being relative, but definitely more interesting than "garden variety") and the GS features power and snow modes as well. The snow mode works really well at adapting the car's responses to the white stuff, feeling kind of like the car has thrown out an anchor that prevents you from doing anything stupid.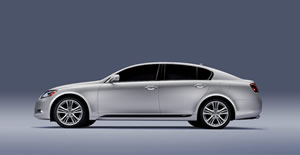 The four wheel ventilated disc brakes come with ABS, Electronic Brake Force Distribution and Brake Assist. And, in the hybrid tradition, it includes regenerative braking that sends energy to recharge the battery when you decelerate or brake.
Brake feel is great, neither grabby nor mushy.
Steering is electrically powered rack and pinion with variable gear ratios, and it also feels very good, in a luxury sedan (as opposed to sports sedan) way.
 The variable intermittent windshield wipers go a nice job of clearing the glass, though when you wash the windshield they perform one extra sweep a few seconds after you think they're done. This can be disconcerting, and sometimes counterproductive. The wiper system also has a mist feature, rain sensing technology and a de-icer system.
All four side windows are equipped with the convenient auto up and down feature and there's a nicely-sized power moon roof. 
There's plenty of storage bins and stuff, though we thought the trunk a tad tight, undoubtedly because the batteries have to go somewhere and better to take room from the cargo hold than the passenger decks.
Safety equipment includes driver and passenger knee airbags, dual stage driver & passenger airbags, side and side curtain airbags and the usual abundance of belts etc.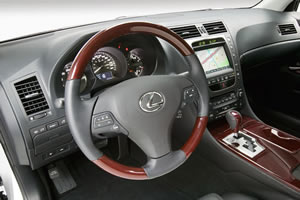 A rear-mounted video camera helps you back up safely, though (like most of them) it can wash out in bright sunlight or be covered with dirt.
The GS 450h is a fine car, worthy of the Lexus name, and the hybrid is perhaps the icing on the cake for those who appreciate such things.
Unfortunately, Lexus hasn't been pursuing perfection as relentlessly or passionately as it could in at least one area: the up-market Mark Levinson audio system. Don't get me wrong, the sound is for the most part excellent, with tight bass and crisp, clean mids and highs. But Lexus has yet to address a flaw that leaves bizarre holes in some DVD-Audio discs' playback.
This has plagued every Lexus I've driven that had the Mark Levinson system and, for example, means The Who's "Tommy" ends up like a karaoke version, with the lead vocals stripped out. I noticed holes in two other DVD-A discs I tried as well, though "Tommy" was the most noticeable by far.
Granted, not many people have DVD-Audio discs, and the format is in the process of dying out (hopefully to be replaced by Blu-ray - which no car I know of can handle yet). But every other car maker's premium DVD-A-capable audio system I've tried has played my discs fine, so there seems no excuse for this.
 Lexus' U.S. web site claims the GS 450h (pricing starts at about $55,000 U.S./ $71,000 Canadian) achieves an EPA estimated gas mileage of 22/25 mpg city/highway. The "garden variety" V6 GS 350 ($44,150 U.S. base price) gets an estimated EPA rating of 19/27 mpg and the V-8 GS 460 ($52,620 U.S. base) is claimed at 17/24 mpg.  Naturally, your mileage may (and probably will) vary.
The GS is a beautiful and luxurious car, and it's on my short list for when the lotto Gods smile on me (which is taking an appalling long time). But since my first test drive in the GS hybrid I've spent quality time with competitors such as the Audi A6, Volvo S80 and Cadillac CTS that, to me, are now more compelling.
None of those competitors offer hybrid versions as of this writing, so Lexus wins that contest hands down. But, if for no other reason than that elusive "je ne sais quoi" quality that connects one with a vehicle, the GS has dropped from its former position atop my personal "lust list".
It's funny how that happens as models age and new contenders come on the scene.
Copyright 2008 Jim Bray