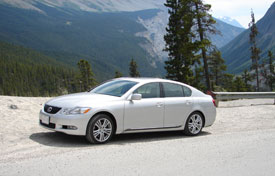 Lexus GS 450h – a Hybrid That'll Amaze You
By Jim Bray
(photos by the author)
Talk about a jaw dropper!
The Lexus GS 450h isn't just a luxurious four door sedan, it's also one of the fastest sedans I've ever driven. And it's a hybrid!
Who'd have thunk?
Not that I've driven anywhere near all of the world's great sedans, of course, but I've driven enough to know that what this Lexus hybrid is accomplishes is amazing. It goes like a bat out of heck and, while it doesn't exactly sip gas, it returns surprisingly good fuel economy as well. All while coddling you in the manner expected from a Lexus.
For what else could one ask?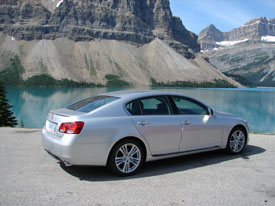 Let's talk performance. According to Lexus' Canadian website, "…the GS 450h produces well over 300 horsepower, under 6-second 0-100 acceleration, remarkable fuel efficiency and super ultra low emissions."
Now, I didn't time its acceleration nor did I measure its horsepower. But I did drive the GS 450h for a week, on city and rural roads including a trip into the Rocky Mountains that would test the mettle of any car. And if you're looking for acceleration you need look no farther. Even with four adults on board the car would pass tourists rubbernecking at the Rockies so quickly I'm surprised they didn't get out of their cars to see why they'd stopped so suddenly.
The GS hybrid couples a high-output 3.5-liter V6 engine (featuring direct fuel injection and dual Variable Valve Timing with Intelligence) with a high torque electric motor to create what the company says is power that rivals a 4.5 liter V8 gasoline engine, without raping the environment. I own a fine car with a 4.5 liter V8 gas engine, albeit a 15 year old one, and I'm of the opinion that the GS hybrid would blow its doors off.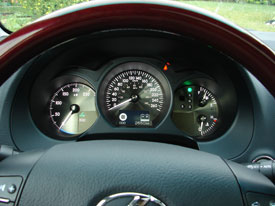 In that way, the car's quite depressing!
The GS 450h can operate in gasoline mode, electric, or a combination of both, depending on how far toward the floor your right foot may be. And as is normal with hybrids, the Lexus gets its power to the wheels (the rear wheels in this case) via a continuously variable transmission (CVT), which is the only thing that feels a bit different about driving the car compared to most other sedans.
Since the transmission has no gears and therefore never shifts, the revs just keep going up and up when you wind it out until – well, until you're going so fast you realize you'd better cool it before you lose your license.
I was so taken with the "whoosh" you get when you floor the gas pedal that I completely forgot to see if the hybrid could be driven to maximize gas mileage. That came back to bite me later, but for as long as it lasted it was a real rush!
The car needs a gauge that measures irony, though. On our mountain adventure, tooling along in the middle of nowhere in a vehicle whose very nature implies you can drive by gas pumps, we discovered much to our chagrin that you still need gas eventually – premium, in the Lexus' case. So when we came upon a road sign announcing that the next services were 90 kilometers away and the onboard computer said we had about that much worth of gas left in the tank (assuming it was right!), reality hit us with a thud and we slowed down and activated the cruise control right away.
We made it – with gas to spare, as it turns out.
The GS features independent Adaptive Variable Suspension (AVS) front and rear, with stabilizer bars, and you can choose between comfort and sport settings – which should actually be labeled "flaccid" and "tight" according to how they feel.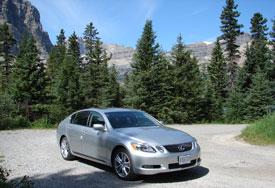 The sport setting is never so tight as to be jarring, but it's noticeably better for those who prefer a spirited ride to a floaty cruise.
To further facilitate driving ease, the car includes Vehicle Dynamics Integrated Management (VDIM), Vehicle Stability Control (VSC), Traction Control, (TRAC) and a hill assist start.
The GS' 18 inch aluminum alloy wheels wear P245/40 performance summer radials (you also get a compact spare) and the four wheel ventilated disc brakes come with ABS, Electronic Brake Force Distribution and Brake Assist. And since the car's a hybrid, it includes regenerative braking that sends energy back to the battery pack to recharge it when you decelerate or brake.
Brake feel, by the way, is nigh on perfect, neither grabby nor mushy.
Steering is electrically powered rack and pinion with variable gear ratios, and it also feels great.
The GS does a nice job of illuminating the road ahead at night, thanks to an adaptive front lighting system featuring high intensity discharge (HID) headlights with an auto leveling system and headlight washers.
The wood-trimmed interior is a wonderful place for a quartet of people to spend some quality time. The front seats feature premium leather with 10-way power adjustment, bun warmers and coolers, and three memory settings. The rear seats are wonderfully sculpted to feel like buckets and are very comfortable. We didn't try putting a third person back there, but it's probably more than adequate for short jaunts.
The driver is treated to a power tilt/telescoping steering wheel with ancillary audio/climate controls and the instrument panel is attractive and easy to read. There's also a wonderful keyless entry system that unlocks the doors and starts the car without the fob having to leave one's pocket or purse.
The hybrid GS comes with the up market Mark Levinson audio system and for the most part it's excellent, with deep and tight bass and crisp, clean mids and highs. It also features the capacity to play DVD-Audio discs, kind of. I would normally applaud this feature, since I have a couple of dozen such discs, but the Lexus system bizarrely leaves holes in the music, at least on some discs.
This also plagued the last GS I drove and resulted in The Who's Tommy sounding like a karaoke version, with no lead vocals whatsoever. This was a hoot in one way, though I probably annoyed a lot of other drivers, but it isn't what one expects from such a car.
The Bluetooth capability works fine, but I found the voice recognition system's interface difficult to program and just as difficult to use. This isn't just a Lexus thing, though, but is more like the current state of the voice recognition art and will undoubtedly improve over the next few years. In the meantime, best to forget it.
When the technology does march onward, however, voice recognition is going to be a great feature because it'll let you control a bunch of the car's features without taking your hands off the steering wheel.
Other features on the GS hybrid include rain sensing windshield wipers, automatic air recirculation climate control that detects harmful particulates and automatically changes the circulation mode accordingly. Naturally, it features dual modes with automatic temperature control and rear seat ducts.
All four side windows feature auto up and down, which is nice, and the GS 450h comes with a power moonroof. I never could get my moon to rise above it, though….
There's plenty of storage thanks to a variety of bins and stuff, and an abundance of interior lighting helps ensure you can't get lost inside the car. The nav system will help ensure you don't get lost, period, though on our trip through the boonies it got a tad confused at times – but then again, so did we!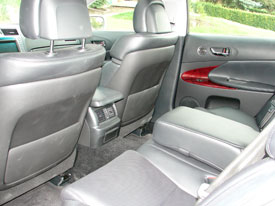 Safety equipment includes driver and passenger knee airbags, dual stage driver & passenger airbags, side and side curtain airbags and the usual abundance of belts etc.
A rear-mounted video camera helps you back up safely, though it washes out in bright sunlight.
The trunk is a tad small, undoubtedly due to the battery pack a hybrid needs, but it's big enough for a large picnic cooler and assorted travel gewgaws and should be more than adequate to haul a reasonable amount of luggage.
The Lexus GS is a wonderful car in its own right, but when you add the hybrid technology the way Lexus has with the GS 450h – emphasizing performance as well as gas mileage – you really have a tour de force.
I've made fun of the hybrid concept as much as the next person (maybe more!), writing it off as a politically correct placebo. But while that may be true for some hybrids and some people, this is one hybrid I'd buy if they fixed the DVD-Audio shortcoming (which, to be fair, won't bother most people) and were the lotto Gods to smile on my existence.
It's that good, and that much fun to drive.
The Lexus GS 450h starts at about $55,000 U.S./ $77,000 Canadian.