Lexus GS 350 – Upgrading the Relentless Pursuit
By Jim Bray
Remember the old Toyota slogan "You asked for it, you got it"? Well, it still applies – at least as far as Toyota's upscale Lexus division's mid-range GS sedan is concerned.
I liked the Italian-styled original version of the GS, but the second generation left me kind of cold. The current, third generation, is sleek and beautiful, while simultaneously managing to reek "state-of-the-art." It's gorgeous.
When the third-generation debuted for the 2006 model year, the base model GS 300 came with a 3 L V-6 engine rated at 245 hp and 230 pound feet of torque. This was the car's weakest link, taking a lot of the "fun to drive" factor out of the experience.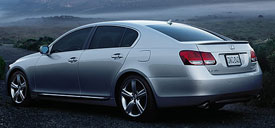 The good news is that, for 2007 Lexus said to that engine: "You are the weakest link. Goodbye." And I'm glad. As smooth and refined as that engine was, the '07 GS benefits greatly from a new 3.5 liter V-6 that pumps out a welcome 303 horses at 6200 rpm and 274 pound feet of torque at 4800 rpm. This makes a big difference. While the GS 350 still isn't a rocket, it's a much more satisfying drive.
Of course, if you really want to go for the gusto when it comes to the GS, there's another model that ups the oomph outrageously. The GS 450h takes the gasoline-powered V-6 engine and the adds hybrid technology to create a luxury sedan that so fast I very nearly went out and mortgaged the house to get one immediately after having driven it.
But that doesn't mean the GS 350, which I drove in its all wheel drive configuration, is a slouch. No, indeed. If you lean toward an entry-level version of this car, you won't find much to complain about here.
The GS' 6-speed automatic transmission still shifts like silk and has a pretend manual setting, as it should. Surprisingly, however, I found myself preferring the fully automatic setting most of the time, since the pretend manual is more pretend than manual. I'd love to see paddle shifters here.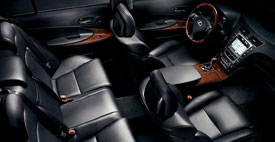 The GS' independent suspension (double wishbone up front with multi-link buttock bracing) could be a tad stiffer, but it actually toes the line between sport and comfort very well. And to add a little more satisfaction for the driver, you can switch the car between default, snow and power settings.
The 17 inch wheels look great and of course they're equipped with disc brakes and ABS. As you'd expect from a Lexus, there's also traction and stability control, and all this stuff combines to work very well.
I liked the GS' High Intensity Discharge (HID) headlights, which are auto leveling; they're bright and cover a good area. An automatic mode turns the low beams on or off according to the ambient light outside.
Ease yourself into the driver's seat and you're at home virtually immediately. The leather front seats are comfortable, heated – and air conditioned – and extremely adjustable. The car's instrumentation is well laid out, easy to read and attractive. Everything you need to touch in the car is at hand and for the most part quite straightforward.
I particularly liked the touch screen controls for the audio and climate control systems. They work very, very well.
Driver and front passenger seats each come with three memory settings, so many that you could forget which one you've programmed your seat positions into! Of course, that's a nice problem to have.
Like what you see here? Shop at TechnoFile's TechnoMart!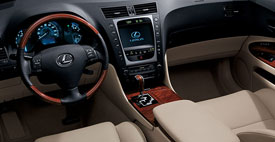 Not nearly as handy as the keyless entry system, which is really finicky. You can leave the fob in your pocket most of the time, but sometimes I would try unlocking the doors, especially when I was trying to unlock all four doors at once, and it seemed to take a devilish pleasure in ignoring my intentions. Either I do have to bring out the key and use it conventionally, or walk away from the car short distance then turn around and come back to try again. This is the exception rather than the rule with such keyless entry systems of my experience.
Of all the built in nannies, my favorite was the parking assist. My tester didn't have the optional backup camera, but that didn't bother me. Instead, the GS would sound a gentle alarm as I approached an obstacle either in front of or behind the car, and the LCD screen would indicate how far the obstacle was and what you should do to avoid it. This is a much preferable system to a backup camera, which can wash out in bright sunlight or get covered with dirt and become inoperative.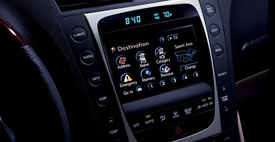 There is a quick list of some other features of the GS:
• Power moonroof
• 10-speaker audio system with steering wheel controls, 6-disc CD auto-changer , Bluetooth capability, and satellite radio compatibility. My tester didn't have the optional, Mark Levinson audio system, but the standard system is still very good.
• Power tilt and telescoping steering wheel with memory
• Headlamp washers
• Tire Pressure Monitoring System (and this one didn't give me any error messages, unlike some others I've had)
Lexus piles on the safety equipment. The bevy of belts and bags includes front seat-mounted side and knee airbags plus front and rear head/side curtain airbags, in addition to dual-stage driver and front passenger airbags.
The bottom line as far as I'm concerned for the Lexus GS 350 AWD, is that the new V-6 is just what the doctor ordered. The GS was already was a wonderful car, and now it's that much better. Sure, it's still no boy racer, but it's lot more stimulating than it was.
Besides, if you want a boy racer GS, there's always that outrageous hybrid.
The GS 350 AWD starts at $46,100 U.S./ $65,250 Canadian.