Infiniti G35x – Gunning for the BMW 3?
By Jim Bray
May 1, 2007
The car that finally put Infiniti on the automotive map is reborn for 2007, with new power, a new interior, and plenty of new stuff to excite the driver.
The G35 has been a huge hit for Infiniti and you can hardly drive anywhere these days without seeing them. I never drove the "first generation G" (there was a G20 back in Infiniti's early days, but Infiniti doesn't consider it a "G35" generation), but I thought it was a great looking car and the reviews generally placed it as close to the BMW 3 series as any Japanese sedan had come.
Full disclosure: I own an Infiniti, a first generation Q45 I rescued it from a life of neglect. It's a great car, now that its timing chain guides have been replaced (an issue with early Q's that could virtually terminate their usefulness), and I love driving it. It still goes like heck and handles better than some newer big sedans.
The new G35 sedan (a G37 coupe will come later) addresses most of my concerns about the last generation's design, with a more aggressive and less "bug-eyed" look up front and a bum that features a more harmonious look that's athletic, clean, straightforward, yet immediately recognizable. Think power and grace.
Up front, the grille is supposed to be reminiscent of Japanese swords (just what pedestrians want to see coming at them!) and high intensity discharge (HID) bi-xenon headlights are standard. A sweeping character line along the sides leads to a rear end that features L-shaped LED taillights. The trunk lid has a little spoiler with a small trunk release button integrated into it.
Standard is the "smart key/keyless start" system that's so wonderfully handy; the only fly in the ointment is that the trunk lid has no place to grab it, to open it, other than its bottom lip, which can get your hands all icky if the car's dirty or slushy.
Inside, there's less metal trim than before and that makes the car seem more friendly, less antiseptic than the last one. What aluminum-alloy trim that is there features a "Washi" (traditional Japanese handmade paper) patterning that actually looks more scratched or dirty than paper-like. But that's pretty nit picky – and you can get wood trim if you prefer.
The G35's interior also offers clear and attractive white-and-violet "Fine Vision" gauge illumination for the tach and speedo, but the red digital display between them is hard to grasp for those who require reading glasses – and one part that comes on in "reverse scan" (reading "icy", for example, in reference to outside conditions, in case the car's being driven by a blind and/or oblivious person) was impossible for me to read without my glasses.
The cabin is comfortable and classy, but a little bit snug. It isn't claustrophobic by any means but, for example, I found it difficult to reach the seat's power adjustments on the outside of the bottom cushions because of the tightness between the seat and the door.
This "added coziness" also means the glove compartment door can hit the passenger's knees if the seat isn't back far enough, and a rear seat passenger complained that the cup holders back there were too small for "real world" cups (I think she had a Big Gulp).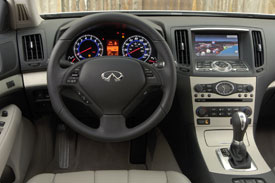 The steering wheel feels great, though, and features power tilt and telescoping – and when you tilt it the whole instrument panel moves with it. A nice set of audio controls that are intuitive by touch is mounted on one side of the wheel, with cruise control buttons on the other.
You can set the G to raise the steering wheel and/or move the driver's seat back when you get in or out, which is a thoughtful touch. I set it to only move the steering wheel, which is sufficiently convenient. My Q moves the seat back and forth when you turn the ignition on or off, but I quickly tired of "going for a little ride", which slows down your egress.

One thing I thought was a little chintzy was the windshield washers which, rather than spraying down the glass like some of the competition does, give you three little streams that spray only about a third of the way up the windshield. The overall result was that they didn't do the greatest job of cleaning the windshield.
Once, I had a warning message appear on the instrument panel's digital display telling me the G was low on washer fluid, along with an icon showing how to cancel the message. But the icon is small – I needed to put on my glasses again – and the button to which it referred was on the edge of the instrument panel binnacle, hidden behind steering wheel; I had to search for it once the car was stopped. It wasn't a big deal, but it was annoying.
The seats are leather, of course, with bun warmers up front. The front buckets are comfortable for all day driving and nicely bolstered for when the driving gets spirited. The rear seats are also quite nice for two, but tight for three.
The center stack features, from top to bottom, the LCD screen and a cursor control knob/key controller combination similar to that in the M sedan. The controls are simple and easy to use, but should be tilted downward a bit and maybe moved a tad closer to the driver to make them even easier for those stubby of arm. Below that are the audio controls, surrounding Infiniti's usual classy-looking analog clock, with six preset buttons you can program at will for AM or FM radio stations. Next is the slot for your discs, with the dual zone automatic HVAC controls at the bottom.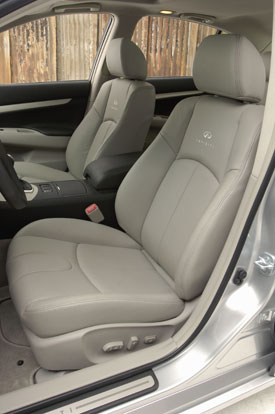 My tester, the all wheel drive G35x, didn't come with the available navigation system, "studio on wheels" audio system or rear view monitor, but that's okay – though I would have liked to try the higher end audio system. My tester's stereo sounded good, but it was a little sterile and would have benefited from some more oomph and the ability to handle DVD-A and SACD discs.
I've whined quite a bit so far, and I don't want you thinking I didn't like the G. I did; very much, and it's a wonderful car to drive. It may not be quite the ultimate driving machine that the BMW 3 series is, but it's close – and the interior, snug as it is, still beats the 3's hands down.
I'd guesstimate that driving the G35 is probably about 80-90 per cent the fun of the 3, which means it's a blast. The VQ engine, a 3.5 liter V6 that seems born to run, tosses 306 horses onto the road at 6,800 rpm and 268 lb-ft of torque @ 4,800 rpm, effortlessly.
The power gets to the G's rear wheels (or all of the wheels, thanks to the G35x's intelligent all wheel drive system) through a 5-speed automatic transmission with a good manual shift mode that uses Downshift Rev Matching to sweeten the deal. Paddle shifters are available though, alas, my tester didn't have them. A 6-speed manual is also available.
Handling is great, thanks in part to the combination of an independent, double-wishbone suspension up front and an independent, multi-link suspension in the rear. The AWD model uses an active torque distribution management system with an active center clutch that Infiniti says compromises rear-wheel drive performance only minimally on dry roads. In practice, the AWD does understeer a little, not surprisingly, but I was pleasantly surprised to discover that I could still hang out the rear end out a bit when I wanted to.
Steering is vehicle-speed-sensitive variable-assist power rack-and-pinion, and it feels just right.
The G gets its stopping power from ventilated disc brakes all around, with ABS, EBD and other acronyms operating on the car's standard 17 inch wheels (the Sport model gets 18 inchers).
Safety equipment includes the usual stability and traction control stuff, as well as the "Infiniti Advanced Air Bag System (AABS)", which includes dual-stage supplemental front air bags with seat belt sensors and an occupant-classification sensor (how judgmental!). There are also side curtain and side impact air bags and front active head restraints.
Options include intelligent cruise control, an adaptive front lighting system, a nicely sized tinted glass sunroof, satellite radio and much more.
The G is available in four models in Canada: the "garden variety" G35, the G35x AWD, the G35 Sport Model and the Sport MT with the 6-speed manual. U.S. customers can also choose from a "Journey" trim level which, among other available options, offers different wheels and tires (I think they're the ones from a Greyhound bus).
The 2007 Infiniti G35 starts at $31,450 U.S./$39,990 Canadian. My G35x AWD tester, without options, starts at $33,950 U.S./$43,390 Canadian.