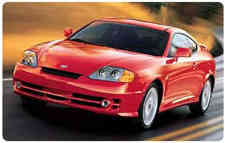 By Jim Bray
If anyone still has doubts that Hyundai is serious about being taken seriously as a real player in the automotive marketplace, their new Tiburon should dispel them.
The version of the new Tiburon that I drove for a week is not only terrific looking, it's fully equipped and, best of all, it's fast and fun to drive. It was the top of the line GS-R model (you can also get base, SE, and GT models) and if there was something Hyundai had forgotten to put in it never leapt out at me.
Now, it may not be quite as refined as competitors such as the Acura RSX Type S and Toyota Celica GTS, but those other models are from carmakers who've established their pedigrees over decades. To be fair, when Honda and Toyota were as young in the marketplace as Hyundai currently is they were a lot more down market and far less sophisticated than they are now. So by merely keeping in the same league as these other world beaters, Hyundai deserves some kudos.
And don't think I was unhappy with the Tiburon during my test. Far from it; the car's a blast to drive, plenty fast, and comfortable and plush enough to please those in the market segment at which the Tiburon is aimed.
The all new for 2003 Tiburon is lovely to look at. My "samba red" tester, besides being a radar cop magnet, lived up to the cliché that it looked fast even standing still; parked in front of my house on a slight angle that let me look down slightly at the driver's side front corner it looked terrific, evoking a little late '90's Toyota Supra in the roofline, with its Shark (Tiburon is Spanish for "shark") gill motif on the flanks adding to its overall appeal.
The new styling gets rid of most of the bumps and bulges of the previous model, yet still looks like a Tiburon - albeit a leaner, more muscular one, and that's fine with me. In short, the car looks as if it's been to the gym and, though I never had the pleasure of driving the previous model, when you drive it it feels as if it's been flexing its pecs as well.
Inside, the driver and front seat passenger are treated to comfortable and supportive buckets that bolster your sides very nicely for cornering. And since the car is a 2+2, you also get a back seat - but unless you're planning to haul nothing more than ankle biters you'd best put a "for emergency use only" label on the rear part of the cockpit. The split/fold seats themselves aren't bad, and the knee room is probably adequate for this class of car, but the fastback hatch descends from the roofline so quickly that if you're over three feet tall (well…) you're guaranteed to bash your head on the rear window.
No kidding. Hyundai even puts a warning sticker on the rear of the hatch, near the handle by which you lower it, warning you not to crack someone's skull when you close it, and in practice we found that if you didn't want to rattle your skull against the glass when you're sitting in the rear seat, you had to sit crouched forward.
So be warned.
But sports coupes aren't about rear seat room, they're about front seat fun, and in this area the Tiburon does very well. The driver is treated to full instrumentation (though I must admit that I found the gauges a little hard to read when I had my sunglasses on) and a control panel design where every knob, button or gewgaw is easily in range of a sweep of the arms or an extension of the fingers. The lone exception was the cruise control lever, which is mounted about 4:30 on the steering column - and though it's definitely nitpicky, I found I had to stretch my fingers farther than I liked in order to use it.
I also had trouble finding the "perfect" driving position, though it was no big deal. I had to put the seat up close enough to let me keep my left, clutching foot to the floor, which made the gas and brake pedals - and the otherwise wonderful left foot rest - a little too close for my liking. To be fair to Hyundai, however, the situation is exactly the same in my son's Honda Prelude, so even the big, established guys can build cars without bothering to call me up for my leg measurements.
The black interior has been called drab and Spartan by some, but I found it a nice change from the multi-hued and overly busy interiors of some cars. It isn't distracting, and it imparted a serious sports car feel rather than reminding one of a vehicle that tries to balance fun with practicality - often at the expense of both. Meanwhile, you get the usual cupholders and storage thingys, though the glove compartment is rather small, and there's a nice little storage thingy on the center console that's perfect for holding a cellular phone. And you can't complain about the sporty aluminum pedals.
The materials seem to be of good quality and the buttons, knobs and geegaws have good tactile feel, something I found lacking in Hyundai's Santa fe sport ute.
The stereo, too, is a wonderful upgrade. It's a relatively high end AM/FM/single CD unit by Infinity, including a big subwoofer in the hatch compartment, and it sounds splendid. It goes pretty loud, too, which is a good thing considering the road noise that makes its way inside when you have the sunroof open.
Powering the Tiburon GS-R (and the GT) is Hyundai's 2.7 liter aluminum alloy DOHC V6 engine, the same as found in the lovely Sonata and the Santa fe. It's a good choice; while it pumps out a comparatively modest 181 horsepower @ 6000 rpm, don't let that fool you: it's very torquey, with 177 lb.-ft @ 4000 rpm. When attached to the GS-R's standard issue, relatively shortly geared six speed manual transmission, you regularly get pushed back in the seat most delightfully. A four speed automatic "pretend manual" shiftronic is also available - but get the 6 speed!
Sixth gear is easy to find, too, which isn't always the case with 6 speeds.
On the downside, it isn't the easiest car to shift smoothly. The Acura RSX, for example, positively glides from gear to gear, while the effort required to shift the Tiburon reminds me more of a sports car from decades past. Perhaps a retro feature designed to cash in on today's retro frenzy?
Probably not.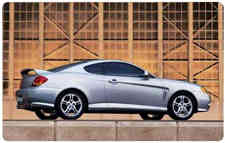 Tiburon feels just a tad sluggish from a stop, but only for a half second or so - then the revs get up to 2500 and beyond and it positively leaps forward. I found myself regularly leaving traffic behind at stop lights (well, "go lights") and am convinced that if I were to own a Tiburon the first aftermarket investment would have to be a good radar detector.
Having plenty of get up and go is one thing, and Tiburon indeed has plenty of that in its 6 cylinder version (the base models get a 140 hp/133 lb.-ft. four banger), but there's more to life than acceleration and cruising speed. Fortunately, Hyundai realizes this and has equipped the Tiburon with power assisted four wheel disc brakes fitted with ABS and traction control. Steering is power assisted rack and pinion and though it didn't impart the best road feel I've experienced it's fine overall.
The turning circle is very good as well.
The suspension in the GS-R and GT is "sport tuned" and includes independent MacPherson struts with coil springs up front and Independent Multi-link with coil springs in the rear. They combine to give a very sporty and confidence-inspiring feel, though when you go over a bump you feel it in every bone of your body. Perhaps Hyundai could have "sport tuned" it a tad less.
On the other hand, the engine emits a nice sporting growl when you prod it; it doesn't impart the same delight as, say, the Acura TL Type S, but it's also about twelve grand cheaper - and a more true sports coupe than the Acura.
We took our favorite road trip into the mountains to see how the Tiburon handles twisty bits and found it more than adequate, though unfortunately traffic prevented us from really giving the car the workout it deserves. It devours hills and its performance Michelin 215/45 ZR sport radials, mounted on pretty 5 spoke 17 inch wheels, bite into the curves very nicely.
As one might expect gas mileage suffers as your driving becomes more spirited. I didn't actually figure out my mileage, but I wasn't impressed. To be fair, however, I must mention that I had the air conditioning on most of the time I had the Tiburon (thanks to a combination of extremely hot weather and the car's black leather interior), and this not only has a noticeable effect on mileage but on engine performance as well.
According to Hyundai, the EPA rates the V6 Tiburon at 18/26 miles per gallon city/highway.
Priced at $20,500, the fully loaded Tiburon GS-R undercuts a reasonably comparable Toyota Celica GTS ($22,740+) and Acura RSX Type S ($23,670+). Will the Tiburon last as long as one has come to expect from Honda/Acura and Toyota, and will its resale value be comparable? It's impossible to say at this point, but Hyundai does offer a terrific warranty in the US (it's more comparable to the competitions' in Canada), which could take some of the uncertainty out of the buying decision.
To my eyes, and to my right foot, the 2003 Hyundai Tiburon seems like a very well-built and wonderfully performing vehicle, and so while it may not offer all the world class refinement of some competing sporty cars, it still manages to give you a lot of bang - and a lot of fun - for your bucks.