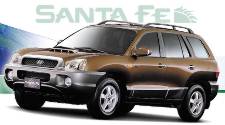 Korean SUV Gets Big Things Right
2001 Santa fe a nice SUV
by Jim Bray
The 2001 Hyundai Santa fe is no Acura MDX.
Then again, it doesn't pretend to be. The $20,499 Santa fe is priced only a bit more than half the MDX's sticker - and even the respected Mazda Tribute/Ford Escape twins are about four grand more than the Hyundai.
So how much do you sacrifice to save that money?
Not much. Hyundai has done a good job of giving you the important things you want and need, as well as most of the smaller things.
I tested the higher end Santa fe GLS, and it turned out to be quite a pleasant experience. Though not as powerful as some competitors, I had no major complaints with the Santa fe's "oomph factor," and was pleased to find full time four wheel drive, four wheel disc brakes with ABS, and most of the "necessary" creature comforts to which we've become accustomed.
Santa fe's oomph comes from a V6 engine that's surprisingly quiet (unless you really stomp on the gas, at which time it howls most appropriately) and which delivers 181 horsepower and 177 pound feet of torque. The power comes on quickly and smoothly and moves the SUV from zero to 60 mph in just over ten seconds.
That's a couple of seconds slower than the MDX and Tribute, and it means you don't really get pushed back into your seat (rats!), but in my "real world" test it was almost always adequate.
That test included city and freeway driving, and a day trip into the mountains on highways twisty and hilly. The Santa fe got us where we wanted to go comfortably and without fuss, though there was one occasion (when I pulled out to pass another vehicle while we were climbing a long, steep hill) when I would have appreciated a tad more zip.
Wind noise at highway speeds is surprisingly low.
The Santa fe's four speed "shiftronic" automatic/manual transmission tended to hunt and peck a bit, but on the whole it performed well - and the unexpected (for an SUV) "manual" mode came in quite handy on tight curves and when passing.
The four wheel disc brakes, which are enhanced with a four channel antilock system, worked fine and I should note what a pleasant surprise it was to see discs all the way around; even the Tribute has drum brakes on the rear wheels.
Handling, aided by an independent suspension and 16 inch wheels sporting a good set of Michelin tires, is pretty good (remember, this is an SUV, not a sports car!). The downside is that, because there's minimal side bolstering on the seats (and the leather is slippery), you tend to feel as if you're going to be spilled into the door - or your passenger - when you corner with any sort of élan.
Fortunately, it never happens…
Where the Santa fe could use some work is in the "little things." For instance, the buttons inside, particularly the door lock, power window, and cruise control buttons, felt very cheap and offered little tactile feel. The leather didn't appear to be of the greatest quality, either and, while the AM/FM/CD stereo sounded okay, it was ergonomically frightening.
Everything worked fine, however, so my complaint is more that Hyundai doesn't "stroke" its users as nicely as some of its competition.
It basically comes down to the interior. While the Santa fe boasts an attractive, almost sinewy exterior, the inside is plagued by plastic that looks and feels too cheap.
It's too bad, because the Santa fe performs well as an SUV and offers a comfortable and roomy cabin.
When I first slipped my bum onto those leather seats I figured they'd be a real ordeal for a long trip and, while it's true that we were happy to alight at the end of our mountain trip, it wasn't nearly the nightmare that I expected.
The rear seat is roomy for two, tight for three, and folds down to facilitate hauling bigger stuff. The tailgate opens in two ways: you can swing up the window by itself or open the entire gate.
Safety and creature comforts include dual front airbags, passenger presence detection, keyless entry/central locking, air conditioning and power everything.
Despite my reservations about the interior, the Santa fe is a nice SUV that should help raise Hyundai's profile in the marketplace.