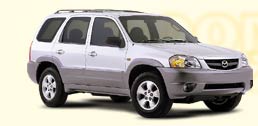 Company's First Sport Ute a Legitimate "Mazda-piece"
A Tribute to Good Design
by Jim Bray
Mazda's first time at bat in the SUV market has resulted in a home run.
The Tribute feels as at home on the mountainside as on the city streets. I know this because, while the weather (and my nerves) didn't allow for any off-roading during my week and a half with the 2001 Tribute ES, I had the opportunity to go four wheeling in one at a media junket last fall.
At that event, we were given a mountainside – you can't call it a road – on which to test the Tribute's mettle. To make a long and humiliating story short, I chickened out long before the Mazda did; in fact, the Tribute never lost a beat as it handled the mud, gravel, boulders, and inclines of what turned out to be a real torture test.
It's said that most people, don't do much off-roading in their SUV's, however, so Mazda has given potential Tribute owners a long list of benefits for city and highway driving as well.
Mazda calls the Tribute "an SUV with the soul of a sports car." I don't know if I'd go that far because, after all, it's really closer to being a family truck than a Miata. That said, however, it's a comparative blast to drive and, depending on the model you choose, has enough safety, performance, and comfort features to keep you happily barreling along for years.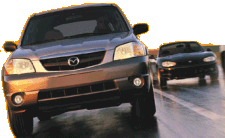 Tribute models start with a base front wheel drive DX selling for $17,750 ($19,450 for the 4WD version). Even here you get comforts like air conditioning, power windows, locks and mirrors and an AM/FM/CD stereo system. My test unit was the top-of-the-line ES V6 4WD, which sells for $23,770.
All Tributes except the base DX feature a 3 liter double overhead cam, 24-valve low emissions V6 Engine that puts out a healthy 200 horsepower @ 6000 rpm and 200 lb. Ft of torque @ 4500 rpm. This propels the vehicle with wild abandon. It "zoom zooms" away from a standing start almost like a sports car – letting you feel every rumble strip, pot hole, or frost heave almost as if it were a sports suspension.
It doesn't really feel like a sports car, though. For one thing, you sit up quite high; I was grateful for the running board/step combination on my test model because otherwise I might have needed a block and tackle to get into the driver's seat.
The inside is comfortable and roomy enough for five people and the leather seats of the ES feel nice on the bum. The front seat cushions are powered (the seat back isn't) and the steering wheel tilts, so it's easy to find a good driving position. There's a quite cavernous console storage bin between the front seats as well as a pair of cup holders, one of which can double as an ashtray.
The rear seat cushion folds forward to let the seat backs split 60/40 and fold flat, leaving a large area for hauling stuff.
The dashboard is well laid out, though I found that the very long gear selector lever (which is mounted on the steering console) made it difficult to see the rear window defogger and stereo controls when it was in "Drive."
Speaking of "Drive," all Tributes except for the entry level one feature a four speed automatic transmission. I wish Mazda offered the base model's 5 speed manual transmission right across the line, but it was not to be.
Stopping the Tribute are power-assisted ventilated front disc/rear drum Anti-lock brakes. You also get also dual front air bags, variable assist rack and pinion steering, an Anti-theft ignition immobilizer, cruise control (with steering wheel-mounted controls) and a stereo that positively thunders.
Tribute is rated at 3500 pounds towing capacity, with the tow package.
I noticed the Tribute seemed a bit prone to wind noise as I whistled along the roads, but it's easy to counter that by cranking the (optional) 6 disc CD Changer.
The Tribute and its Ford Escape sibling are getting rave reviews from a lot of the automotive press, and it's easy to see why. While it does feel a tad more truck-like than it could, that actually works to the vehicle's benefit, imparting a feeling of stability and utility to what is, after all, a Sport UTILITY Vehicle.