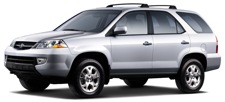 Acura SUV Hits a Bull's-eye
A Beaut of a Sports Ute
If there are "cute" utes, and "brute" utes, Acura may have created a new category called "beaut" utes.
The Acura MDX may not be the most off-road-ready of sport utility vehicles, but it could be the most perfect compromise between the various facets sport, utility, and luxury.
MDX is mid-sized, though it seems BIG when you first get in. It still fits nicely into a parking spot, however, and the more you drive it the more it seems to fit like the proverbial glove. In the end, it feels just right.
Acura tailored the MDX for "medium duty" off roading. This means it may not take you to the top of Mount Everest, but it'll get you and your family to the campsite or the boat launching ramp without hassle – and take you from home to office, mall, or soccer game in comfort and style.
I was fortunate enough to receive the MDX just before the worst snow storm of the year (a typical springtime where I live), a fabulous opportunity to try it under the conditions for which it was designed.
It was wonderful! Despite about a foot of snow, the MDX never broke a sweat. It went up and down hills, unplowed roads and alleyways, all while imparting a feeling of stability and serenity that has to be experienced to be believed. This was without even making use of its low range setting and with nary a sign of the ABS coming on.
It was spectacular.
The reason is Acura's VTM-4 four wheel drive technology. The MDX is at heart a front wheel drive vehicle, but with a computerized system that sends power to the rear wheels when it's needed. This could be when the vehicle senses a wheel's about to lose traction, or just when you've decided to boot it from a traffic light to see what it's made of.
The system works extremely well, and you never really feel it: it's just there when you need it, invisibly and efficiently.
Power gets to the road via a 3.5 liter single overhead cam VTEC V6 engine that qualifies as an ultra low emissions vehicle (ULEV). Power is rated at 240 horsepower at 5300 rpm, with torque (an even more important rating) of 245 foot pounds available anywhere from 3000 to 5000 rpm. The result of this technology is a vehicle that seems a lot faster than it should be (Acura claims a 0-60 time of under 9 seconds), yet which never allows itself to feel anything other than extremely refined and sophisticated.
The transmission is a lovely, smooth-shifting five speed automatic. From someone who doesn't generally care for automatics, this is high praise.
Stopping is provided by four wheel disc brakes with 4 channel ABS and electronic brake distribution, which also contributes to the MDX's stability. Steering is variable assisted power rack and pinion, and the thick, leather steering wheel feels great in your hands.
Which brings me to the interior. Okay, I could have done without the plastic wood and the gimmicky trip computer (which is really a major waste of dashboard space), but other than that the MDX's cabin is an extremely nice place to be. The leather front seats are about as comfortable as I've experienced in any vehicle, and they have eight way power adjustments to ensure you can easily put them just where you want them. There's also a two-setting memory for the driver's seat.
The rear wiper/washer control is badly placed, but everything else feels great. The rear wiper/washer itself isn't that great, either. The washer merely trickles fluid onto the rear window, and the wiper doesn't cover enough of the window. This won't be a problem most of the time, but since I had it during "hell week," it made a difference.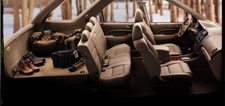 Back to the interior. The second row of seats is also leather, and quite comfortable for three people. The third row is another matter; yes, the MDX can actually seat seven, if the people in the back row are small and agile: not only is there a lack of legroom back there, but getting in and out is an trick that must be experienced to be believed.
Still, if you only need these extra seats occasionally, and for short distances, they'll be fine. The rest of the time they fold into the floor (as does the second row), leaving a huge flat hauling area.
Creature comforts abound in the MDX, as would be expected, from power everything to automatic climate control, keyless entry, a very good-sounding 6 disc CD stereo (with in dash changer), and a center console with an abundance of handy configurations, including a nifty serving tray for those in the middle row of seats.
Unfortunately, space doesn't permit more than a quick look at this remarkable SUV, so let me wrap things up by saying it's no accident that the MDX, which starts at about $34,000, is garnering all sorts of honors. I'm not really a fan of SUV's (I like sports cars!), but the longer I drove the Acura MDX the more I wanted to keep it.
It's a wonderful vehicle.