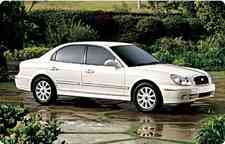 by Jim Bray
Who'd have thought that Hyundai would have the wherewithal to tackle the best selling Honda Accord and Toyota Camry?
It does, if the $18,324 Sonata LX I've been driving for the past week is any indication. This four door sedan is handsome, performs well, seems well built, and offers just about all the toys you could want.
And that's just the beginning.
Okay, it's by no means perfect. My complaints included my usual whine about the lousy ergonomics of Hyundai's AM/FM/CD stereo (though its sound's okay), and the windshield wiper/washer system was a tad anemic. To be fair, however, it turned out that most of the windshield washer problem was due to the cold weather we had; the dealership had washed the car just before I picked it up and the passenger side wiper/washer froze up and didn't work again until the temperate rose to above freezing. Even after it thawed I was disappointed in the strength of the washer stream, but they worked okay.
And that's about it for complaints (well, they didn't give me a standard transmission). Other than that I'm mightily impressed with what seems to be a fine motor vehicle that'll definitely help this Korean carmaker carve out the market niche it seeks.
The Sonata feels really solid, and it's almost as refined as the competition, for less money.
My LX tester came with the optional double overhead cam V-6, which for 2002 has been cranked up from 2.5 liters to 2.7 and now puts out 178 horsepower at 6000 rpm and 177 foot-pounds of torque. This isn't as powerful as the $24,185 Camry's or $25,300 Accord's V6s, but it does the job well.
Incidentally, the Sonata's base engine is still the 149-HP 2.4-liter four-cylinder available in last year's Sonata.
The transmission is a very smooth-shifting four speed automatic with a "shiftmatic" manual feature that lets you pretend you're driving a standard. A 5 speed manual is also available. The automatic's shifts are almost imperceptible and if you gun the car hard in automatic mode (as opposed to the simulated manual) it'll go almost to the 6500 redline before upshifting. In manual mode the shifts aren't quite as immediate as they were in the $31,000 2002 Acura CL Type S I drove a while back, but they're close enough to not make a lot of difference.
Sonata has power-assisted ventilated disc brakes with brake pad wear warning sensors front and rear, and a 4-channel anti-lock system with integrated brake and engine modulating traction control system is optional. ABS should be standard on the high end version I drove, to keep up with the competition, but my tester didn't have it. On the other hand, my week with the Sonata was on snowy and relatively slippery roads and I had no trouble living without it; the Sonata was stable and serene and the only time I lost traction was when I tromped on the gas or brakes deliberately to make it lose traction.
The Sonata features double wishbone suspension up front, and a multi-link rear; steering is power assisted rack and pinion. These specs combine to form a nicely handling four door sedan. I didn't have a chance to put it through its paces on twisty highway roads, thanks to the weather, but have no reason to think it won't be up to the task.
Inside, you're treated to automatic climate control and leather seats, the front pair of which are heated. The driver's seat is power adjusted, though mine felt a tad loose. There's a tilt steering wheel with cruise control buttons on it, full instrumentation that (fortunately) eschews the Elantra's neon-like colors in favor of more conventional night lighting.
The large trunk (which also has an interior release for use when sneaking people into drive in movies) opens wide thanks to an interesting trick with the door hinges, and the rear seat features a 60/40 split fold down capability.
Other nice touches include a hood that stays up thanks to hydraulics, heated outside mirrors, power windows and door locks with remote control key fob, and an overall pleasing body style.
And of course there's Hyundai's five year bumper to bumper, ten year power train warranty, which should help give potential buyers courage.
I couldn't get over what a fine vehicle this new Sonata is, belying Hyundai's econobox image and indicating that this company has definitely arrived.