Another Hit for Hyundai with its new Santa Fe?
By Jim Bray
January 30, 2007
SUVs may be evil incarnate to some, but that isn't stopping the automotive industry from continuing to create interesting and, in many if not most cases, increasingly efficient new versions of the species.
Enter the 2007 Hyundai Santa Fe. This isn't just an upgrade of the previous model, it's a whole new beast, bigger and more upmarket than before and with a third row of seats that was previously unavailable in a Hyundai SUV. It's quite the looker, too.
I've driven several Santa Fes is over the years, and liked them quite a bit, especially the one that was powered by the 3.5 L V-6 shared by the now-dead XG 350. It was a nice vehicle that evolved steadily over the years, from one afflicted with a cheap plastic interior to a much more competitive vehicle that held its own well in the marketplace.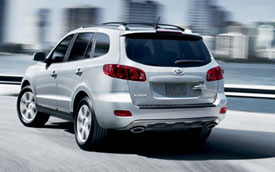 The new version takes everything they've learned over the years and puts it into an SUV that's capable of going head-to-head with just about anything in its class.
The new exterior is a big improvement over the old model, which looked kind of like a first generation Toyota RAV4 that someone had worked over with a rubber mallet. The new one continues the recent tradition of Hyundai's, offering a very clean and attractive exteriors such as personified by other Hyundais such as the Sonata, Elantra and Azera.
Hyundai says the new Santa Fe's exterior "Exudes confidence and inspires adventure." Well, I'm confident it didn't make me want to run out and buy tickets for an African safari, but I was quite taken with the vehicle's handsome exterior nonetheless. The front end excludes projector headlights, which do a nice job; other exterior touches include a roof rack, heated outside rear-view mirrors, dual chrome-tipped exhausts and a real handle to open the hatch with.
The latter looks a little clunky compared with some SUVs but, on the other hand, it gives you a nice place to grab rather than having to fiddle around above the license plate as with so many other vehicles. If memory serves, this is actually a holdover from the last model, and I appreciated them not following the herd on this.
The tailgate also swings up nice and high, but not so high that you can't reach up to bring it back down again.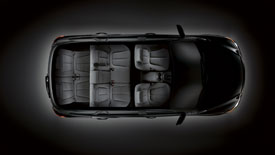 Inside, the bigger interior is comfortable and efficient. The front seats, which in my tester were leather and heated, are comfortable and supportive. The center row seat backs recline a bit and the right-hand seat folds down and flips forward to allow access to the third row of seats (a.k.a. "the nosebleed section"). I sat back there for a short trip, and it wasn't bad. I think I'd be an unhappy camper if I had to spend a couple hours back there, but for kids or hobbits or for short jaunts it's more than adequate.
Incidentally, that third row is optional. And of course you don't have to use it; it folds down into the floor to create more storage space. The second row also folds, of course for even more hauling space.
There's also a rear mounted rear air-conditioning control for the people riding in back, and vents in the B pillar for the comfort of people riding in the middle/rear.
The driver's seat of my tester featured power adjustments, though the passenger seat was manual. The steering wheel of all but the base model tilts and telescopes manually.
Controls are easy to read, well placed and backlit with a pretty blue color. The driver's side window features the auto down feature that's so popular, though I was surprised to see it didn't auto back up again - especially since the lovely big sunroof opens and closes with one touch.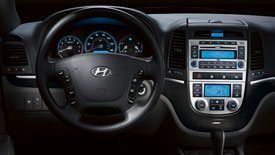 My tester featured automatic, dual zone (triple, if you count the rear area) climate control, and a six speaker, AM/FM single disc CD audio system that offers pretty good sound quality. It also has steering wheel-mounted controls.
Cup holders abound. So does power stuff, including steering, brakes (discs with ABS), windows, door locks and the like. My tester even had an auto dimming rear view mirror inside.
There's a good assortment of storage areas and cubby holes all over the place.
Two V-6 engines are available: a 2.7 L, 185 hp version and a 3.3 L, 242 hp V-6. My tester had the latter engine and it was plenty powerful, with good grunt, nice acceleration and very smooth output.
A 5-speed manual transmission is standard on the base 2.7 GL. My more upscale tester had a the dual mode, five speed electronically-controlled automatic with manual setting. Shifts were smooth; I'd have loved to see paddle shifters, but such was not the case. Maybe next year.
Santa Fe is slung with four-wheel independent suspension, and it's nicely tuned for comfort: we manage to cross over some potholes without leaving our kidneys on the floor of the vehicle.
All but the basic Santa Fe are available with all-wheel-drive (the other choice is FWD). My tester had the AWD, and it includes a locking switch on the dashboard (placed a little awkwardly, alas) that came in really handy during the blizzard we got during my time with the Santa Fe: when the driving got dicey that extra stability came in really handy, and the system worked very well, going through snowy conditions like a hot knife through butter.
Safety equipment includes dual front airbags, front seat-mounted side impact airbags and roof-mounted side curtain airbags. That's more bags and they have at my local grocery store! And of course, you get the usual bevy of belts, and to help keep you on the road so you won't need any of that stuff, there is electronic stability control and traction control.
Hyundai has really been knocking them out of the park of late, and this new Santa Fe is no exception. It's a fine vehicle, especially when you consider its price.
The entry-level 2.7 GL, front wheel drive five passenger version with manual transmission starts at just over $21,000 U.S. (about 26 grand Canadian). The top line model starts at just under $26,000 U.S./$36,000 Canadian (trim levels vary between the countries).