Hyundai's First Minivan a Winner
By Jim Bray
Entourage. According to Webster's, it's "a group of attendants or associates, as of a person of rank or importance: The opera singer traveled with an entourage of 20 people." Not the central figure, then, but the hangers on.
Well hang on! For Hyundai, the word means they're finished hanging around watching other companies sell minivans, and are leaping into fray themselves. One would think that if "Hyundai Come Lately" is going to be noticed in a market already crowded with good examples, it'll have to be really good.
Fortunately, it is. The Hyundai Entourage is big and roomy, flexible, comfortable, and even has a surprisingly good "fun to drive" quotient, something I didn't expect in this type of vehicle.
One advantage of being late to the party is that you can learn from everyone else, and it appears Hyundai has been doing its homework. Hyundai says the Entourage is longer than a Honda Odyssey, longer and wider than the Toyota Sienna and has more interior volume than the Dodge Grand Caravan.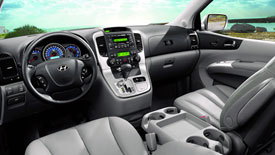 But the Entourage isn't just roomy. It's also efficient and packed with a high level of standard equipment including plenty of creature comforts and popular safety technologies such as disc brakes all around (with four channel ABS), Electronic Brake Force Distribution and Electronic Stability Control. Hyundai also tosses in anti-whiplash active head restraints and air bags that protect people in all three rows of seats.
If they were looking to get noticed, it seems to have worked: the Entourage has earned the National Highway Traffic Safety Administration's (NHTSA) highest honor - the gold "Top Safety Pick" award. Hyundai says this is the best rating ever achieved by a minivan for front and side impacts.
The front wheel drive Entourage has plenty of oomph, too. It's propelled by a 3.8 liter, all-aluminum DOHC 24-valve V6 engine that cranks out 250 horses @ 6,000 rpm and 253 lb.- ft. of torque at a low 3500 rpm. Couple that to a five speed automatic transmission with (rather superfluously for a minivan) a Shiftronic manual mode and you have a hauler that definitely hauls.
The exterior is probably about as attractive as you can get with a minivan, contemporary and mainstream without being in your face. The front end features projector beam headlights and fog lights, and they do a good job of illuminating the road ahead at night. As with most minivans these days, you get sliding middle doors on both sides, and the ones on my tester were power operated. My tester's tailgate wasn't powered, unfortunately, though that feature is available. But it's such a handy thing to have, especially when your arms are full of shopping bags, that it really should be standard on all trim levels.
On the other hand, my tester did include backup sensors in the rear bumper, which holler at you (well, gently) when you start getting close to another vehicle or abutment. This is also a really great feature, since backing up and/or parallel parking a minivan isn't one of life's great pleasures.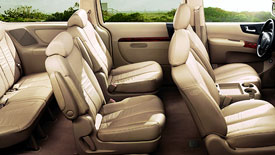 Inside, the driver's compartment is well laid out, with a comfortable driver's seat that on my tester features power adjustments accessed by buttons on the driver's door. This positioning of the controls is wonderfully convenient and easy to use: they're right at hand, so you don't have to reach down and fiddle around trying to find them.
The steering wheel is manually tiltable and features audio and cruise controls on the front (mute and cruise control on/off buttons are on the back). You can't scroll through radio presets or CD tracks from the steering wheel, though, which means you have to take a fairly long reach to the center stack.
One thing that's really cool, and that I wish I'd had when my kids were at the ankle biter stage, is a convex mirror mounted on the roof between the front seats, where a sunglasses holder is found often in many vehicles. Hyundai calls it a "conversation mirror," but I like to think of it as an "anti-sibling conflict monitoring mirror".
The second row features flexible captain's chairs that can be slid forward or backward. They also fold forward for storage or to allow for easy access to the third row. If that isn't enough for you, you can take them right out as well. They don't stow into the floor like Dodge's, unfortunately.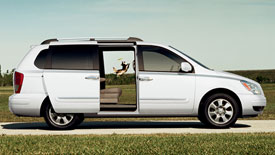 The third row features a 60/40 Split "Hyundai Hideaway" bench with "seatback shopping hooks" and can be folded easily right into the floor to create a flat storage space. I noticed a few minor rattles when the seat was folded, but it wasn't a big deal.
Center row passengers can control their own HVAC settings via ceiling-mounted knobs on the left side (right side passengers need really loooong arms!), with ceiling mounted vents, and my tester had an overhead DVD player with a pretty big (and of reasonable video quality) 10.2" LCD Screen with two sets of wireless headphones. The DVD unit's pretty flimsy, but it works well.
Another wonderful feature for center row passengers is power-operated windows in the sliding doors that go up and down just like in a real car. My tester also included powered third row "pop out" windows.
As one might expect, there's an abundance of storage areas spread through the interior.
The Entourage's ride is a tad cushy, but it handles better than I expected from a minivan and I found myself carving apexes in a most un-minivan-like manner. This is undoubtedly due in no small part to the vehicle's independent suspension (with MacPherson struts, coil springs and stabilizer bar) up front and multi-link suspension (with coil springs and a stabilizer bar) in the rear. Steering is speed sensitive power rack and pinion and it offers good road feel.
The 2007 Hyundai Entourage starts at $23,795 U.S./$29,995 Canadian with the Limited (GLS Premium in Canada) starting at $28,795 U.S./$37,195 Canadian.