Hyundai Accents the Positive
By Jim Bray
You could have knocked me down with a feather! Hyundai's entry level car, the Accent, may be just an inexpensive little econobox, but despite its low end lineage I loved it!
The new Accent is the latest major redesign from Hyundai to up the ante considerably over its previous version. The old Accent was a nice little car, but nothing particularly special, as was expected generally from Hyundai back then. But the most recent Hyundais I've driven, from the reborn Santa Fe and Sonata to the all-new Azera and Entourage, are vehicles that can compete head to head with the competition from anywhere in the world.
This Accent continues that happy trend. If you're looking at something in the Fit/Yaris ball park, this one's well worth consideration.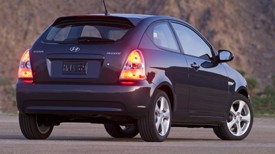 My tester was a 3 door (two door hatchback) model in Ebony Black, and from its puppy dog charming front, side character lines, and integrated rear spoiler, it's cute as a bug's ear. It's also a comparative blast to drive, which is quite surprising considering that its performance is hardly exhilarating and my tester came with an automatic transmission that epitomizes the term "slush box."
How can that be? I dunno. But I do know that after spending a week in the Accent, including the usual city driving and even a multi-hour trip to a neighboring city and back again, I was thinking that this is a car I'd buy if I were looking at this market segment.
And talk about standard features! My tester was the base model with only a few extras, yet it came with stuff like variable intermittent wipers up front, a rear wiper/washer (that really should have an intermittent setting, but doesn't), tilt steering wheel, a nearly perfectly-placed armrest on the driver's seat, tachometer (though why you need one with a generic automatic transmission is still a question for the ages), advanced dual front airbags, front seat-mounted side-impact airbags, roof-mounted curtain side-impact airbags. And more.
All for a price that starts at $10,415 U.S./ $13,495 Canadian!
The Accent's weakest link is its power, which comes from a 1.6 liter DOHC 16-valve inline 4-cylinder engine with continuously variable valve timing. Horsepower is rated at 110 @ 6000 rpm with torque of 106 @ 4500, though it doesn't feel quite that peppy when you put your boot on the gas. You can harness it with a 5-speed manual that would probably add a lot of fun and some better performance to the mix, but the four speed automatic with overdrive to which my tester was shackled tried as hard as it could to be a "fun killer".
And yet even it couldn't kill the fun of the little Accent.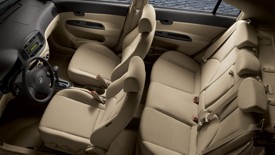 As equipped, my tester's peel outs from traffic lights were, well, leisurely. And if you're on the highway and need to pass some slowpoke, you'll have to plan your move accordingly.
But once you get the car up to a particular speed, it seems perfectly content to run all day, and it's aerodynamic enough that, unlike its predecessor, it doesn't get blown around much on the highway when in the slip stream of semi trailers.
Remember, too, that this is an entry level car; you can't expect rocket sled performance for this price.
The Accent runs on a MacPherson Strut front suspension and a coupled torsion beam rear axle that combine to give handing that, if not exactly cat like, is far better than I expected. Despite gobs of typical front drive understeer, you can still carve up corners in a manner far more sporting that you might expect from a vehicle at this place in the market.
And if that isn't enough, a sport tuned suspension is available.
Brakes are power-assisted discs up front and drums in the rear. ABS and electronic brake force distribution are available on the top trim level. Brake feel is good, neither mushy or grabby. My tester had optional wheels (well, wheels are standard, of course, but these were a little nicer than the stock ones) with some low profile tires mounted on them and this undoubtedly helped enhance the car's quite spirited handling.
The interior is roomy, comfortable, and straightforward. The driver's seat features eight way adjustments and the steering wheel tilts manually. Instruments are analog and easy to read, while the center stack's audio and HVAC controls also feature no brainer operation. The AM/FM/CD/MP3/WMA stereo features four speakers, all of which would probably love to have a little more clean power going to them than what the rather anemic head unit puts out. Sound quality's okay, though.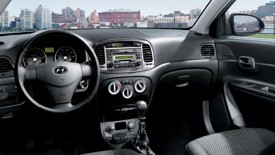 The seats of my tester featured a fabric that acts as a magnet for cat hair. I didn't take a cat into the car, but just wearing a shirt into it that had some "hirsute feline deposit" on it was enough to ensure the seats needed a shave. Other than that, however, they're very comfortable and supportive; my highway jaunt was accomplished without numb bum.
And to be fair, the "cat hair magnet" aspect isn't by any means unique to Hyundai or to this car.
The rear seat's pretty good, too, though I wouldn't want to be the person in the middle on a long voyage. But getting in and out is easy thanks to a front passenger's seat that tilts and slides quite far forward to open up quite a large entry way.
The rear seat features a fold down center armrest with cup holders, and it splits 60/40 and folds down to create extra carrying space. This may come in handy, because in a small car like this hauling capacity is at a premium.
The rear side windows don't open – there isn't even a pop open feature – but my tester was equipped with both air conditioning and a power sunroof (with one touch opening), which saved me from venting about the car's ventilation.
My tester also came with power windows and door locks, with keyless entry.
All in all, the Accent is a terrific little car and offers more fun to drive – and more features – than I had expected. Well done, again, Hyundai!