Groovy Gadgets for Gearheads
By Jim Bray
February 5, 2008
Horntones. I don't know if it's the greatest gadget for the car since the turbocharger - or the worst example of a company chasing profits at the expense of public good. One thing I do know is that it made me laugh so hard when I first discoveredit that I just had to share it with you.
You see, there are two things I've always wanted mounted in the front of my car - a public address system with a big amplifier (and a microphone within handy reach of the driver's seat) and a cannon. The P.A. system, of course, would be a way for me to express my never humble opinions of  (and offer helpful suggestions to) other drivers, oblivious pedestrians and bicyclists who think cars have to share the road but they don't. The cannon, of course, would be for when the P.A. system doesn't have the desired effect: if my high caliber "suggestions" don't help, I'd have an even higher "caliber" solution.
Then along came Horntones (www.horntones.com), which does bupkis for my highest caliber aspirations but which could go a long way toward relieving road rage, assuming it doesn't also create more than its share.
The Horntones FX-550 system bills itself as the first mobile audio system to let you augment the sound of your car horn using virtually any MP3 file. It's a way to personalize your - and everyone else's around you - automotive experience, kind of like using personalized ring tones for your cell phone, but taken to the next level of human (or is it inhuman?) interaction.
The $300 system includes a head unit for inside the car, and an amplifier and speaker you install under the hood. The head unit includes 256 megabytes of memory, and a USB port by which you can load your own devilishly clever sounds. It comes pre-programmed with 27 tones, and nine preset buttons with which you can choose from a variety of sounds to inflict on that unsuspecting guy or gal staring stupidly off into space ahead of you. The company has also built in the capability to organize tones into "Themes", each of which can consist of nine tones (one per preset button). Themes include Tailgate Party, Car Show, Raiders, Carpool, Traffic, Politics, Advertisements or whatever.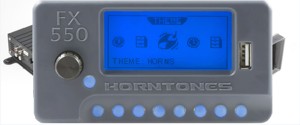 And there's an entrepreneurial use: you could rent out your Horntones setup to the highest bidder, and use the system to extol the virtues of "Brand X" or the specials of the day at "Restaurant Y." You could even use it to proclaim your support for "Candidate Z", dragging the old fashioned bumper sticker into the 21st century - and helping prevent the need for removing the sticker later (and the accompanying risk of getting your car keyed by the forces of tolerance).
Benign uses could include a special sound you can play when you stop by the daycare to pick up the kids someone else is raising for you - so the little dears will know it's you out there waiting for them and not some ex-spouse or stalker.
On the other hand, and this probably won't surprise you, it's the malignant uses that appeal to me - like firing up a train whistle or a fighter jet when the oaf ahead doesn't notice the light has turned green until it's half over.
The company offers clips such as Daffy Duck opining that "You're Despicable", Steve Martin's famous "Excuuuuse Me!", some gaseous bodily orifice emissions (which I imagine will be quite popular) - and even a clip from the movie Full Metal Jacket, where drill sergeant F. Lee Ermey yells "What's Your Major Malfunction, (censored)?"
I love that one, and could see it replacing the one fingered salute - which means that, since drivers will be able to keep both hands on the steering wheel longer rather than having to wave one around until it's noticed by the offender, Horntones could actually be a traffic safety device. Just think of the lives that could be saved!
Or maybe not. But whatever the result, I have to get one of these things. It could keep me off the psychiatrist's couch!
Another interesting gadget for people who drive manual transmissions, but who have trouble remembering which gear you're in is: public transit!
Just kidding. While it's fun to pontificate about how it should be easy to always know which gear you're in, brain poots sometimes happen. And to that end, there's the Indy-Cator which, besides being a great pun, is an aftermarket shift knob that lets you keep track of what gear you're in.
The $220 Indy-Cator is designed to fit manual transmission-equipped cars that don't have reverse gear locking mechanisms. It uses an LCD to give you a visual readout of the gear currently selected. The readout, which is on the top of the knob, is even equipped with a light monitor, so it gets brighter or dimmer depending on the conditions.   
You can learn more about the Indy-Cator at www.indy-cator.com. A version for cars with reverse locking mechanisms, called the Indy-Cator Dash, will be available soon.
Of course if you're watching the Indy-Cator's LCD you aren't watching the road..
Copyright 2008 Jim Bray