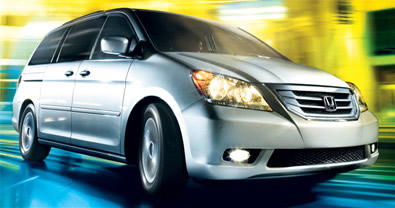 Looking for a Minivan? You Odyssey Honda's!
By Jim Bray
December 8, 2008
It may not be the most glamorous segment of the car biz, but minivans are still popular items with people who need the room and flexibility.
And in this niche, the Honda Odyssey is a fine entry, one of if not the best available.
I took a 2008 Odyssey for a week near the end of its life, the last writer to get it before retirement (the van, not me, alas). And as it turns out, when I was finished with it, it truly was ready for the automotive equivalent of the old folks home which, if it were actually to exist (and other than the difference in brand name), should by all rights be called "the old Volks home". I'll tell you about that later.
In the meantime, my generally staid adventures in the Odyssey were enough to convince me of the van's mettle: it's roomy and efficient – and a lot more fun to drive than I had expected, or that you might think a minivan would be.
Odyssey gets its motivation not only from a happy penchant for profit-making from the good folks at Honda, but from an excellent 3.5-liter, 24 valve, overhead cam, VTEC V-6 engine rated at 244 horses @ 5750 and 240 lb.-ft. of torque @ 5000 rpm. That might not seem like a lot of muscle for a big vehicle such as this, but during my week driving the Odyssey hither and yon (and it was interesting enough to never make that "yon" a "yawn") I never found it wanting. I drove it in about a 50/50 combination of city and highway miles and by the time I was finished I was enjoying it so much I risked being struck by lightning for my heresy of warming up to a minivan.
And I was driving a pretty low end Odyssey, with few options.
Odysseys, which are front wheel drive, come with a five speed automatic transmission with Grade Logic Control. The shift lever is mounted on the dashboard, to the left of the center stack. This was convenient for shifting (of which you don't do a lot, since it's strictly an automatic, with no manual mode), but it got in the way when I reached for the audio system controls. Not a big deal, and it could have been minimized by putting duplicate controls on the steering wheel, but such wasn't to be on my test unit.
Handling is helped by an independent front suspension and a double wishbone rear; there's also power-assisted rack and pinion steering (that feels very good) and, of course, power-assisted four wheel disc brakes with ABS, electronic brake distribution (one brake per wheel, I believe!) and brake assist. Pedal feel, for the brake and the drive-by-wire throttle, is just right.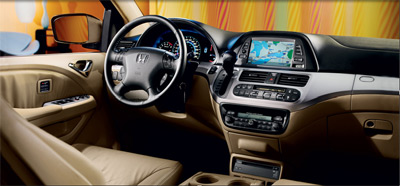 The seating position's just right, too. I gripe often about manually-adjustable seats with which I can never find that lovely sweet spot that can make driving so much more pleasant, but the Odyssey's manual adjustments let me find it easily, keeping my bum and my little legs comfortably close to the tilt/telescoping wheel.
The only flaw in the driving position is that the exterior mirror is mounted a little strangely on the driver's side, a bit close for comfort and creating a bit of a blind spot to the front left.
On the other hand, the many controls, from window and mirror adjustors on the arm rests to the wiper, signal light, audio and HVAC controllers on the column, dashboard and center stack, are all laid out logically and close at hand.
The audio system's fine, the kind of non-audiophile arrangement you might expect from a garden variety minivan, but it has handy MP3 and auxiliary power jacks that let me bring my portable SIRIUS satellite radio unit with me.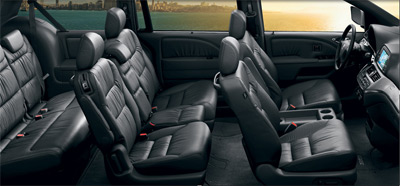 Odyssey is blessed with plenty of storage space, including two pockets in each of the front doors, two glove compartments, a beautiful little space below the HVAC controls, enough cup holders to swallow the entire cup manufacturing industry's annual output. And of course there's seating flexibility enough that you can fold down or remove the center row and split/fold the third row flat into the floor in case you need to bring home that big screen TV you just bought.
The seats are about as comfortable as you'd expect. The first two rows are fine and the rear ("steerage class") will be good enough to hold people you don't love as much as those up front. The seat fabric in my tester seemed of good quality, though I'm no expert on fabric.  
I didn't load the Odyssey with anything large and/or heavy, nor did I fill all of its seats at any one time, but I daresay it would excel at such uses when it comes to everyday living with any minivan.  
You can trim the Odyssey up nicely, too, adding such stuff as leather trim, alloy wheels, automatic HVAC, power moonroof, power sliding doors and tailgate, backup camera, nav system, hands free link, etc.
But even my reasonably unadorned Odyssey was a nice vehicle, pleasant to drive and undoubtedly very nice to live with over the long, er, haul.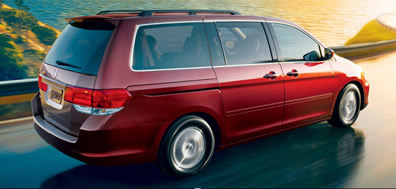 It appears to be a pretty strong vehicle, too, as I discovered on my way to take it back.
When pulling away from a newly green traffic light, my Dark Cherry Pearl Honda Odyssey was transformed suddenly into a "Honda Accordion" when it was rear ended resoundingly by some kid oblivious to the fact there may have been other traffic on the planet at the time.
The good Odyssey was crunched badly – badly enough, I learned later, that Honda ended up writing it off. And yet once the emergency crew pulled the rear bumper off completely and stowed it inside (I guess I did haul something large after all!), the vehicle still drove well enough for me to take it to the body shop without it needing to be towed.
And you shoulda seen the other guy!
The Honda Odyssey starts at $16,255 U.S. /$31,490 Canadian.
Copyright 2008 Jim Bray
TechnoFile.com