Honda's New Entry Level Car a Nice Fit
By Jim Bray
Once upon a time, back in the 1970's, Honda made waves with its entry level car, the Civic. It was a little two door econobox that promised little more than providing an economical way to get around. And it sold.
I had one of those Civics, a 1976 hatchback. I traded in a 1975½ MGB, losing at least a grand on the deal, and considered myself lucky. That Civic ran like a top for 48,000 miles – though it had pretty well rusted away by then – until it announced suddenly that it was retiring and I'd better think about alternate transportation. That left a bit of a bad taste in my mouth.
That was a long, long time ago. Since then, I've come to love Hondas and the Civic itself has evolved steadily, getting bigger, more fully featured, more technologically advanced – and more expensive. This left a hole in the market niche once occupied by the Civic, a place now occupied by such cars as the Toyota Yaris and Hyundai Accent.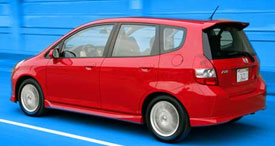 In order to fit into that niche again, Honda had to come up with a new model, something that, when one considers the cars already occupying it, would be a perfect fit.
Hence the Fit, I suppose. If you ask Honda to describe the new vehicle in a nutshell (or just surf by their web site), they'll tell you "The Fit is Fun. The Fit is Clever. The Fit is one amazing car." They also say it features "amazingly big smallness," which is kind of apt.
I don't know about the amazing part, but the Fit is definitely fun and clever and it's a very nice vehicle to boot. It reminded me very much of that old Civic of ages past, but updated with today's technology and with today's market in mind. It also takes advantage of the fact that Japanese cars' durability – including their rust inhibition – has come a long way in the past 30 years, leading me to believe that the Fit should last a lot longer than my old Civic did.
And be darned if the little Fit isn't fun to drive, even when wearing the automatic transmission of my tester!
The front wheel drive Fit's zippy performance comes a 1.5-liter, SOHC, 16 valve, 4 cylinder VTEC engine generating what seems like a measly 109 horsepower @ 5800 rpm and 105 lb. ft of torque @4800. Those specs don't tell the whole story, though, because the car's oomph feels like more. A lot more. I had a Fit right after a week in a Toyota Corolla with its 126 horses and another in the Suzuki SX4 with its 143 (both of which also had automatic transmissions), and the Fit seemed the zippiest of the three.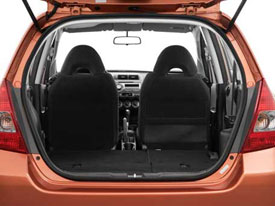 A 5-speed manual transmission comes standard on the Fit but, as mentioned, my LX trim level tester had the optional 5-speed electronically controlled automatic inflicted upon it, though it didn't have the paddle shifters that are available on the Sport model. I bet it would have been even more fun if it had.
The engine's kind of buzzy as it whines up through revs and the tranny feels a little weird in the way it shifts, but it all works fine overall. Let's face it; if you're expecting ultimate refinement you're at the wrong end of the car market.
The Fit's suspension consists of MacPherson struts up front with a torsion beam bum. The 14 inch steel wheels (15 inch alloys are available on the top line model) are accompanied by power-assisted front disc/rear drum brakes (ABS and Electronic Brake Distribution are also standard) and steering is power-assisted rack and pinion with pretty good response. It all Fits together well, helping the Fit fit into – and through – traffic very capably and with good agility.
Inside, there's a straightforward but pleasant cabin with a wonderful greenhouse that provides a great view out. The seats are comfortable for four (a third passenger can be squeezed into the back seat) and the front seats are bolstered pretty well for curves in the road.
Like what you see here? Shop at TechnoFile's TechnoMart!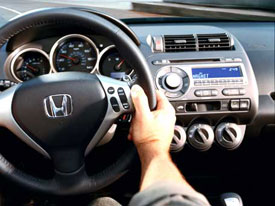 Instrumentation is analog and straightforward, though sparse (there's no temperature gauge, for example, just a light that goes out when the engine warms up), the steering wheel tilts and all the knobs and gewgaws falls well to hand. The audio system's controls are laid out in an unusual circular manner, but they work well – and the head unit's quality is better than I had expected. You can also get an auxiliary input jack for outboard MP3 players.
I did have the dickens of a time setting the clock for Standard Time. There are little labels near radio buttons that give you hints, but they're small and I had to put on my glasses to find them, by which time I'd already given up and checked out the owner's manual anyway.
HVAC controls are simple rotary knobs and I was pleasantly surprised to find that air conditioning is standard.
There's no variable intermittent setting for the front windshield wipers, though you do get an intermittent setting, and the rear wiper/washer has no intermittent setting at all, which I found a bit of a pain when I was driving the Fit on wet/dirty roads that revealed the rear window to be a world class crud collector.
The rear seats split and can be folded flat to create a nice big storage area inside the hatch. If that isn't enough, you can also fold the front passenger seat flat and haul stuff up to seven feet long. The rear seat cushions can also be folded up which, combined with the Fit's high roof, gives enough room to carry a bicycle in the rear compartment.
Naturally, you get the usual complement of cupholders and carrying crannies, including a little container at the front end of the center console that's shaped so it held the paperback book I was reading at the time perfectly. This came in really handy while parked in the Fit, waiting for the lovely Missus to come out of various craft shows where she was looking for ways to stuff the Fit's ample hatch with stuff we didn't need.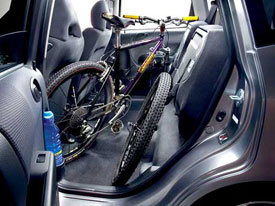 Other convenience items include power windows with driver's window auto down and all but the base model get power door locks and outside mirrors, stuff I would have dreamed of for that '76 Civic. The auto market has, indeed, come a long way.
Safety stuff includes driver and front passenger dual-stage, dual-threshold airbags, driver and front passenger side airbags with passenger seat occupant position detection system and side curtain airbags. You can even get a security system and keyless remote entry, and the top line model offers cruise control.
Of the cars in this market segment that I've driven, which unfortunately is by no means all of them, the Fit was my favorite and is a car I would buy if I were in the market for such a vehicle. It's affordable, reasonably well equipped, and quite fun to drive, even when afflicted with the lower end automatic transmission.
I have a feeling the car will fit nicely in Honda's overall success story.
The Honda Fit starts at $13,850 U.S./$14,980 Canadian. The top line Sport trim level starts at $15,170 U.S./$19,480 Canadian.