Honda CR-V – Reborn with a New Look, New Utility
By Jim Bray
May 23, 2007
In the world of "cute utes," Honda's CR-V has traditionally been one of the least cute. That tradition has been maintained in the new generation SUV.
Whether Honda wanted to include an uglification process in its CR-V makeover or not, the Japanese automaker managed to take what had been quite a boxy vehicle and make it boxy with weird-looking rear side windows. Interesting achievement.
And yet, despite any anxiety over its outward appearance, the CR-V remains a fine vehicle, very nice to drive and undoubtedly lovely to live with. It's very straightforward and performs as advertised – and how can that be a bad thing?
The new CR-V is recognizable immediately, thanks to its evolutionary upgrade, and while those rear side windows do tend to give a bit of a "pinched" appearance, it also tries (and succeeds partially) in giving the thing a bit of a sleeker appearance as well.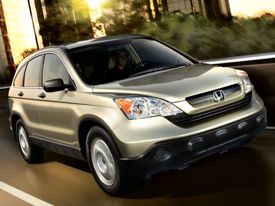 That new body structure is also safer, according to Honda, and helped the vehicle earn five star front and side crash ratings from the National Highway Traffic Safety Administration (NHTSA).
The CR-V gets its motivation from a ULEV-2, 2.4-liter, 16-valve DOHC i-VTEC 4-cylinder engine that's rated at 166 horses @ 5800 rpm and 161 torquey thingys @ 4200 revs. This is reasonable power and is more than enough to move the CR-V from rest efficiently. It's also enough when you get up to highway speeds.
Well, nearly. I took the little beast on a highway circuit that combined multi-lane paved freeway with unpaved back roads and, while driving in cruise control along the highway toward the Rocky Mountains, there was plenty of hunting and pecking from the 5-speed automatic transmission (which Honda says is supposed to prevent hunting and pecking while enhancing engine braking). That was the exception, though, because for the rest of my week with the CR-V I never found its power or torque lacking, and I liked the five speed automatic.
The CR-V's 4-wheel independent suspension with front and rear stabilizer bars, variable power assist rack-and-pinion steering and RealTime 4WD (which automatically sends torque from the basically front-wheel drive CR-V to the rear wheels when needed) provides for a very nice driving feel. It makes the CR-V's ride comfortable and tight enough to provide good handling without becoming jarring, which came in very handy on our off-road jaunt.
The base LX trim level only comes in front wheel drive, by the way.
Brakes are power-assisted ventilated discs up front, with solid rear discs. ABS, Vehicle Stability Assist (VSA) with Traction Control, Brake Assist and a Tire Pressure Monitoring System (TPMS) are all standard.
Inside, you can choose from what Honda describes as "a full range of upscale finishes." My tester included leather-trimmed seats with bun warmers up front, and air conditioning with an air filtration system that came in handy on our dusty back roads. You can also get a satellite-linked navigation system, a rearview camera and a 270-watt, 7-speaker, 6-disc Premium audio system.
The driver's seat is adjusted manually but it's easy to find a good driving position when coupled with the tilt/telescoping steering wheel (which also has audio and cruise controls mounted on it). All the seats are comfortable, though three people might not enjoy a full day in the rear. The rear seats recline a tad, as well as splitting, folding and tumbling forward to open up a large and flat cargo area in the rear.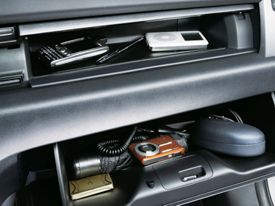 Controls are basic, straightforward, and well laid out. The instrument panel is clean and clear, the HVAC controls are simple and functional, and the audio system (which included a 6 disc CD changer with MP3/WMA capability and an auxiliary jack) sounds better than I had expected – and my tester didn't have the upscale stereo.
The front passenger gets to play with two, stacked, glove compartments that add plenty of storage space beyond the various cup holders and bins. A fold down arm rest in the rear seat offers cup holders for a pair of passengers back there – who sit quite high and get a pretty good view of the outside world. My tester also had a nicely sized sunroof that features automatic, one touch opening and closing.
All four doors open nice and wide to give good clearance when getting in or out.
Other conveniences of my CR-V included power windows (with driver's side one touch up/down), and the ceiling-mounted sunglasses holder even has a little convex "conversation mirror" on it so you can monitor the ankle biters in back.
My tester had the available double-deck cargo space, which really means you get a board-like thing to fit over the "trunk" to create two levels of storage. And the new CR-V has a real tailgate that opens up (easily, too), rather than sideways. This offers better access to the rear storage compartment and doesn't block you from approaching and loading from one side as some of the competitors do.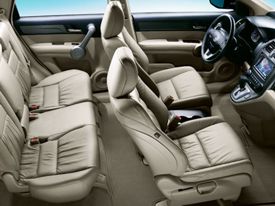 My off road journey took us through the foothills and the Rocky Mountains on roads dusty, bumpy and muddy; when we got back to civilization, the CR-V must have been about an inch thicker than before, thanks to the coating of mud it wore.
But the trip was great! The CR-V proved to be a blast to drive, it was stable and controllable regardless of the road conditions, and it handled the crummy roads beautifully. I wouldn't say we were actually doing serious "four wheeling," but we were on roads that I'd be reluctant to take my sedan on, ones that had definitely seen better days. The CR-V ate up the bumps very nicely, and when we hit some of somewhat deeper gravel, it never wanted to plow or lose its direction.
By the time my week with the CR-V was over, I had forgiven Honda for those side rear windows (which is a pretty nit picky criticism in the first place) and grown to really appreciate this efficient and comfy little cute ute. It's a worthy upgrade to what was a worthy predecessor.
Honda's CR-V starts at $20,600 U.S./$27,700 Cdn. My EX-L trim level model starts at $26,000 U.S./$34,600 Canadian.