Honda Civic Hybrid
By Jim Bray
It isn't as noticeable on the road as Toyota's Prius, but Honda's new Civic hybrid is a fine little vehicle that can save you some gas money if you drive it right.
On the other hand, since it looks mostly like the other versions of the four door Civic, it doesn't make a political statement the same way the Prius does, so if you're looking to get noticed for your social responsibility, this may not be the car for you.
That would be a shame, because this Civic does a nice job of sipping gas while providing a comfortable and efficient ride for a family and its stuff.
Hybrids are interesting beasts and you really don't have to sacrifice anything in the way of comfort, convenience or styling to live with one. I've driven quite a few hybrids over the past few years and have grown to like them quite a bit. Some of them are even pretty hot!
This one isn't, however, but that's not its "persondate".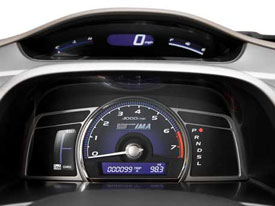 High Tech Stuffed
The Civic hybrid uses Honda's Integrated Motor Assist (IMA) system, which in this case couples a 1.3 liter gas engine with a lightweight, high-output electric motor. Honda claims the combination can deliver an estimated highway fuel consumption of up to 49/51 mpg in U.S. spec or 4.3 L/100 km in Canadian measurements.
Heady claims, those, and very welcome to many during these times of high gasoline prices. Of course you have to learn how to drive a hybrid to come close to achieving those figures (you basically have to drive like a wuss) and you have to pay a premium up front for the hybrid technology's potential to save you gas money down the road – no pun intended.
Here's the poop on Honda's IMA system for this new generation Civic, quoted from Honda's website: " For 2006, the electric motor can propel the car from a stop to speeds up to 35 mph. Together, the motor and engine produce 110 hp @ 6000 rpm, an increase of 17 hp over the previous generation."
The extra horses are a good thing, too. I live in an area of rolling hills, and even starting up with minimal pressure on the gas pedal caused the fuel consumption readout to hit the maximum end of its scale, and still the takeoff was nothing if not leisurely. This is not a car built with the need for speed in mind. But neither is the non-hybrid Civic sedan.
And on the other hand, I drove the Civic hybrid for a week and during that time burned just over half a tank of gas while putting on some 300 miles. Not bad at all.
The Civic hybrid's little four banger features Honda's i-VTEC variable valve timing and a dual-point sequential ignition system that fires two spark plugs per cylinder. The DC electric motor is slim – less than 2.5 inches – and its juice is stored in an eight inch thick battery pack behind the rear seat. This means you can't fold down the rear seat to create additional storage, but the Civic's trunk is pretty big anyway.
It's kind of weird (and kind of neat) experiencing the hybrid's "idle-stop" feature, which turns off the gas engine to save fuel and minimize emissions when you stop, for instance at a red light. Then, as soon as you take your foot off the brake, the engine starts up again, gently.
The power plants are mated to a silky continuously variable transmission (CVT). This is an automatic in that you don't have to shift it like a manual, but unlike a conventional automatic it doesn't have any gears to shift anyway. Instead, the Civic hybrid's CVT uses a metal push-belt running between a pair of variable-width pulleys which it adjusts constantly to the input from your right foot to "provide the most efficient drive ratio possible." CVT's are claimed to provide better fuel economy as well as better acceleration compared with a regular slushbox, or supposedly even a manual tranny. I still like a manual, but CVT's make wonderful automatics even though it seems strange to be running up through the rpm's with no shifting at all.
All this high tech, gas and emissions saving stuff, including its new plastic-resin gas tank, contributes to the Civic hybrid's achieving Advanced Technology Partial Zero-Emission Vehicle (AT-PZEV) status. AT-PZEV rating requires the vehicle in question to be a Super-Ultra-Low-Emission Vehicle (SULEV) with zero-evaporative emissions and a 15-year/150,000-mile warranty on its emissions equipment.
I guess maybe that's worth a little extra at the cash register.
Civic Virtues
Other than the hybrid stuff (most of which you can't see anyway), the Civic hybrid looks more Civic than hybrid, from its outrageously raked windshield to its more controversial (but very functional) double decker dashboard. You do get a cute little spoiler on the trunk lid, aero wheels and hybrid badging, though, so your neighbors will still be impressed by your community spirit.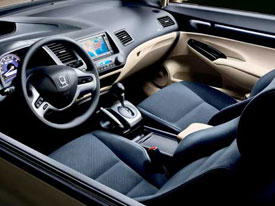 Since at heart this hybrid is a Civic, you also get a front engine/front wheel drive configuration with drive by wire throttle, independent toe control-link strut with stabilizer bar suspension up front and independent double-wishbone with coil springs and stabilizer bar suspension out back. Steering is electric power assist and it has a pretty good feel.
Brakes are power-assisted ventilated discs up front and drums in the rear, with ABS and electronic brake distribution. The Civic hybrid's 15" lightweight alloy wheels wear 195/65 R15 Low Rolling Resistance All-Season Radials.
Inside it's also mostly Civic except for the jazzy-looking hybrid-related info that displays on the dashboard. My tester was pretty plain Jane, but with a real look and feel of quality.
The seats are manually adjustable, but the outside mirrors and windows are power operated and you also get cruise control, automatic air conditioning, keyless entry and intermittent wipers.
I really liked the steering wheel; it's small but thick and feels really good in the hands. It also tilts and telescopes and comes with stereo and cruise control buttons you can reach without moving your hands from the 9 and 3 o'clock positions.
That audio system is no bargain, though. My tester came with an AM/FM/CD system with MP3 and WMA capability, but whether it's the speaker quality or a lightweight amplifier (a weight saving measure?), it doesn't do much to please music lovers.
That's too bad, because I thought the Civic hybrid a tad noisy on the road and it would have been nice to drown out the road rumble that I speculate may be due to dumping some sound deadening material to save weight. The rumble isn't harsh or annoying, just more than I'm used to. There's little wind noise, though, undoubtedly due to the vehicle's aerodynamics.
The seats are comfortable and supportive, everything that should be easily in reach is and everything works as it's meant to. Typical Honda, in other words. For what more could anyone want in a hybrid?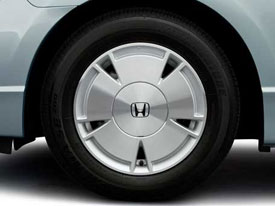 You also get the usual plethora of protection purveyors, including 3-point seatbelts all around, active head restraints, driver and front passenger dual-stage, dual-threshold airbags (SRS), driver and front passenger side airbags with passenger seat occupant position detection system (OPDS), front passenger and rear seat belts with automatic locking retractor (ALR) and emergency locking retractor (ELR) . There are side curtain airbags, too, though it appears no one has come up with a nifty acronym for them yet.
All this stuff makes me wonder how much more weight – and gas – could have been saved if consumers were allowed to choose their level of safety equipment, perhaps opting to gas a couple of bags.
Other instances of angst are definitely of the nit picking variety, such as sun visors that are only comfortable to bring down with the right hand if you're the driver (Why not make it symmetrical and please lefties, too?). The A pillar could be a tad thinner to reveal even more from the otherwise excellent greenhouse, and I wish there were a sunroof, though perhaps that might screw up the aerodynamics and cost gas mileage.
Even though hybrid technology adds to the initial sticker price of a vehicle, the Honda Civic version still comes in at about the price of a loaded non-hybrid Civic, which seems like a reasonable deal if you want a hybrid that's still relatively affordable.
The Civic hybrid starts at $22,150 U.S./$25,950 Canadian.