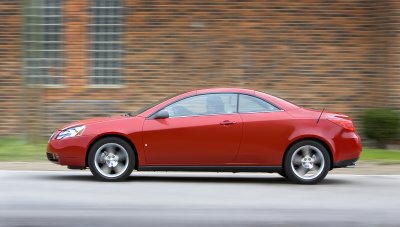 Springtime for GM in Foothills Country
By Jim Bray
May 31, 2008
With the grass finally rizzing in my area, it's safe for companies that make outdoors-oriented stuff to show off some of their latest wares without worrying excessively about getting snowed out.  
And so it was that General Motors invited me and their local fleet and commercial people to spend a beautiful late spring morning with them to get a few quick first impressions of their stuff - a nice way to get caught up with a cross section of GM products with which I had gotten a tad out of touch.
I've driven four GM vehicles so far this year, the Cadillac CTS, Chevy Malibu, Pontiac Vibe and Saturn Astra, and liked what I drove - especially the terrific Caddy and Chevy, so I jumped at the opportunity.
Alas, ten minutes in a vehicle does not an intimate encounter make, but what can you do?
First up was the mid-sized Pontiac G6 convertible - mainly because it was the first day in about a week when it wasn't raining (or threatening snow) and a convertible seemed awfully attractive under the sunny sky. The two door retractable hardtop is pretty nice, too, with comfortable seats, though it isn't as sporty a car as I'd hoped. The G6's optional 3.9 liter V6 only puts out 222 horses, which is more than adequate but pales in comparison with many V6's on the market today, and its four speed automatic transmission seems so 1990's.
But the roof goes down well, with a one-button control that doesn't make you unlock any latches before using it. Opening/closing isn't fast and you have to be stopped before the roof'll obey your wishes, but that blue sky sure looked nice over my head once the top was dropped.
Then it was on to one of the surprises of the day, the Chevy Tahoe Hybrid. This is a big SUV, loaded with just about any creature comfort you can imagine, and its gas-saving technology is really quite remarkable.
The Tahoe hybrid, which GM says was named Green Car of the Year by Green Car Journal, comes with a 6 liter Vortec V8 engine, which is hardly the stuff of fuel economy in the ordinary world. But GM's engineers have not only built in the hybrid technology that lets the vehicle run on electric, gas, or a combination of both, they've also added cylinder deactivation so if you're merely cruising along the gas engine goes from eight to four cylinder mode to save gas even more.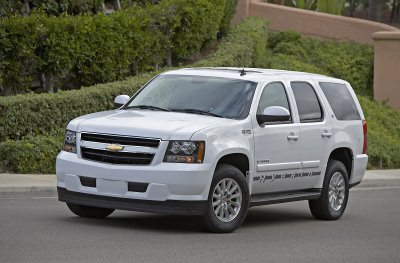 The deactivation/activation is seamless; the only way I could tell is by looking at the readout on the instrument panel. It's neat to watch the central LCD screen, too, which gives the type of graphic gas/electric/combo readout common in hybrids, though it's distracting enough to draw your eyes off the road in front of you. And like other hybrids I've driven, the vehicle is whisper quiet on the road - so much so that before I knew it I had reached a ticketable speed and had to back off lest the day become more expensive than I had planned.
Tahoe's suspension's a tad soft for my taste, but it also has an impressively tight turning circle, which came in handy when pulling an illegal U-turn, after which the V8 came in handy in again.
Tahoe, like some other GM trucks, features a column-mounted shifter, with a manual mode that consists of a plus/minus button on the lever - kind of a "three on the tree" configuration for the new millennium. Other vehicles I drove featured the same system, but with a console-mounted shifter and the placement of the manual shifting button was so subtle (or maybe it was because I was so rushed to get through as many vehicles as possible) that I missed it completely and felt like an idiot when it was pointed out to me.
Continuing the "truckish" theme, I moved on to the Silverado LT one ton Crew Cab 4x4, which is so big I nearly required a block and tackle to lift me in. I'm not a truck guy by any means. I don't drive them often and if I ever have something to haul I either hold onto it until a review truck comes along, or rent one if I can't borrow one.
The 3500 HD label on the Silverado's flanks hinted that this is one heckuva hauler, and it surely is. The one I drove featured the available 6.6 liter Duramax Diesel V8 Turbo engine (with B5 biodiesel compatibility), that cranks out 365 horsepower @ 3200 rpm and a mighty 660 lb.-ft. of torque @ 1600 rpm. The torque comes on like a solid rocket booster; it felt almost as if the truck could drag my house off its foundation if I were silly enough to try.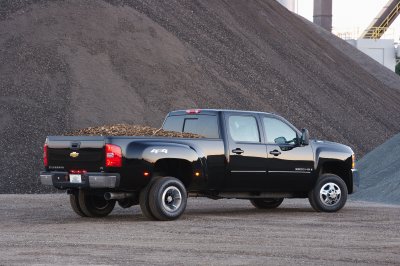 That incredible torque got to the wheels of my sample Silverado via a six speed Allison automatic transmission GM says downshifts automatically when you hit the brakes on long, steep downgrades.
The Silverado also has secondary, convex rear view mirrors mounted below the regular ones outside the cab, and the mirror assemblies are placed so they shouldn't cause much of a blind spot, or slap too many pedestrians.
And if you're into how your vehicle sounds, chances are you'll love the way this beast growls like an angry grizzly.
The GMC Sierra SLT half ton extended cab 4x4 is available with "active fuel management" and my sample could run on ethanol, though a lack of availability prevented us from doing that - so much for the Greenies! It's a comfortable truck, and I thought the button on the ceiling (that opens and closes the middle section of the rear window) may come in very handy if you're just finished a bowl of chili.
 The Buick Enclave CXL is a seven or eight seat luxury all wheel drive SUV that's about as comfortable as a living room - and appears to handle like it, too. The interior is plush and very well equipped, but there isn't a lot of side bolstering on the front seats; when I went hit a reasonably tight onramp it felt as if I were going to be tossed into the door.
I have a feeling the target market isn't going to care as much about any sporting pretensions or lack of same, though; the vehicle seems aimed more at the luxury market, and there's nothing wrong with that. Besides, the Enclave has plenty of company in the "toss you into the door"  field.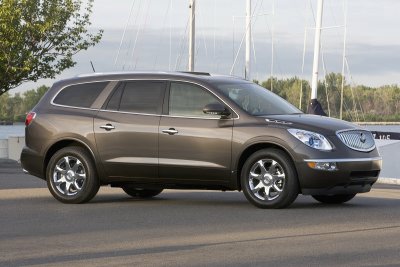 My fully loaded test unit was very nice, indeed, and featured an excellent audio system that plays DVD-Audio discs as well as offering (like many of these vehicles) satellite radio capability. It cuts quite a handsome figure in traffic, and I'm seeing quite a few of them on the road these days.
 One vehicle I had expected to like ended up rubbing me the wrong way: the Pontiac Solstice. After I climbed in I learned that if I wanted to lower the roof (and who wouldn't on a glorious sunny spring day?) I'd have to get out again and jump through a bunch of hoops.
Since I only had a few minutes with the car, I said "to hell with it" and left the roof up, and the visibility is surprisingly good that way. My sample Solstice GXP featured the two liter turbocharged engine that cranks out a very healthy 260 horses, and the car leaps ahead as you'd expect it to with an engine like that.
Unfortunately, the interior is very cramped, seemingly more so than the MX-5, and the ergonomics could be better. The power window controls, for example, are mounted too far back on the arm rest, which forces you to do some contortions. And I couldn't get the seat back reclined enough to be comfortable.
Other than that, Mrs. Lincoln (oops, I guess that should be "Mrs. Cadillac") it was great..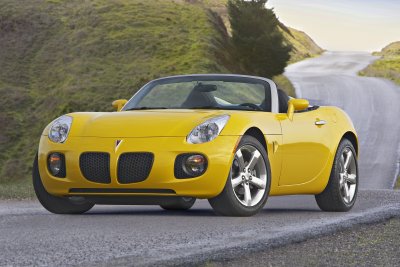 I didn't get a chance to drive the Hummer H3, but it has a really neat back up camera option: instead of the view out back appearing on the conventional LCD screen mounted on the center stack, as is common on many vehicles, this one has its own little LCD that slides out from the rear view mirror. It isn't a big deal, but it lets you use the mirror and the camera at the same time, a handy feature I think I'd like a lot.
A couple of other small things about some members of the fleet also turned my crank. For example, GM mounts the handle that lets you operate the tilt and/or telescoping steering wheel on the left of the column, where it's very easy to find and operate.  And some of the vehicles have adopted  the signal light methodology common on European cars, where a slight push on the lever gives you three blinks (perfect for when you're changing lanes), and a full push turns the signal lights on until they're cancelled automatically or manually.
I love this and miss it when I'm in a test car that doesn't offer it (are you reading this, Japanese manufacturers?).
In all, it was an interesting and eclectic mix of vehicles, and I'm looking forward to spending some more quality time with some.
But it wasn't a perfect session: there was no Corvette to drive. Geez.
Copyright 2008 Jim Bray