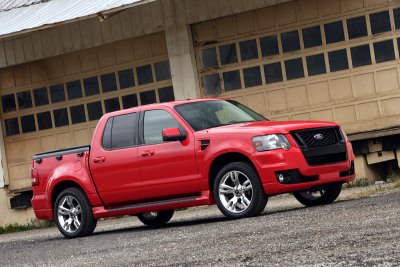 Pickin' and Grinnin'? How about Truckin' and Vannin' 
By Jim Bray
October 1, 2008
There are utility vehicles and there are utility vehicles. Some, like the Ford Explorer Sport Trac are part pickup truck and part SUV. Others, like Ford's Taurus X, are part SUV and part minivan.
Such vehicles are called crossovers today for the most part, undoubtedly because SUV's and pickup trucks have been deemed evil by a gang of vocal busybodies who'd rather see us walk than transport our families and stuff in the manner of our own choosing. But while the term "Crossover" fits well with the Taurus X, the Explorer Sport Trac is at heart an SUV converted into a pickup truck, and it looks and acts like one, too.
The Sport Trac has been around for a while, but for the 2008 year Ford has piled on extra features and a trim package called "Adrenaline", which is the suit of clothes my test vehicle wore. New standard features include a drop-in storage bin with power points (that's electrical power, not Microsoft slide presentation software), a leather wrapped steering wheel, side curtain air bags, fog lamps and a power rear window that came in really handy after we dined Mexican. There are also some new colors available, as well as a voice activated navigation system and Ford's interesting Sync multimedia thingy.
I'm not really a truck guy, so I'm not the best person to be reviewing them, though I try to be fair. And while the Explorer Sport Trac drives like a truck, in that it shudders and flexes over manhole covers and frost heaves – and feels about as aerodynamic as a brick – it's comfortable and reasonably well furnished inside. Not my kind of vehicle, but I can see why people would want one.
The cargo bed is short, which could limit its hauling appeal, but it's covered by a watertight, lockable tonneau. This turns it into a gigantic trunk, though it also makes it interesting trying to get stuff in and out of it when the cover's in place and means that if you want to carry something tall back there you'll have to take off the tonneau and store it somewhere.
I think I'd just rent a truck for the day…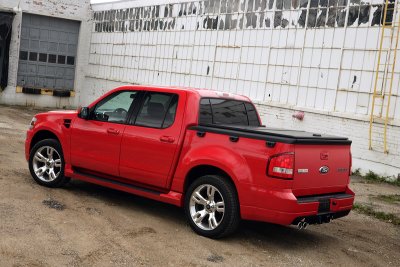 My anything-but-subtle "Colorado Red" Sport Trac featured all wheel drive and came with the optional 4.6 liter, 3-valve V8 engine rated at 292 horsepower @ 5,750 rpm (and 300 foot pounds of torque @ 3950). It was accompanied by a 6 speed automatic transmission whose gear selection lever reminded me of a short baseball bat. Ford says the truck can carry a payload of 1,390 pounds and tow up to 6,800 pounds.
Also available is a four liter, 210 horse/ 254 pound-feet V6, which I would imagine wouldn't be nearly as happy motivating a vehicle that weighs well over two tons. That engine gets a five speed automatic.
Brakes are four wheel discs, with ABS.
Getting in and out of the Sport Trac was surprisingly easy for the diminutive, even without the vehicle's new side step bars. It was child's play to slide the butt across the threshold and onto the generous seats.
Sliding behind the driver's seat reveals a steering wheel that not only feels cheap but was extremely uncomfortable in the hands when I drove at  the nine and three o'clock position; the rear of it was thick and not designed for comfort with the hands at that position. Other than that, it was easy to find a comfortable driving position thanks to the power adjustable seat and pedals.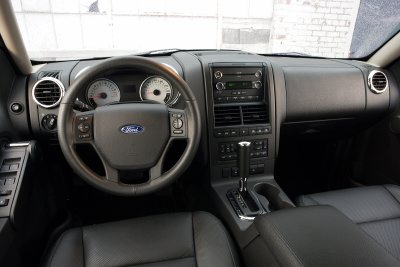 The interior is quite nicely turned out as long as you can get used to the bizarre door handles that are on the front of the arm rests. Instrumentation is analog (enhanced by a digital readout) and straightforward, and the center stack is well laid out. The outside rear view mirrors are big and clear, and mounted low enough to prevent them from creating blind spots up front.
Only the driver's window features one-touch down, and there's no one-touch up; the rear windows retract all the way down, which is nice.
I wished the Sport Trac had parking sensors front and back, because I had the dickens of a time judging how close I was to disaster (or embarrassment) when parking the brute.
Ford includes its Sync system, which I've been growing to like more every time I try it. The system integrated well with my Bluetooth cell phone and handled music I brought on a USB key drive well. The voice recognition also worked very well once its own voice shut up long enough for me to talk; it had a habit of rhyming off possible commands before I'd even uttered a word.
The navigation system worked well, but was a tad out of date because when we travelled to another city it didn't know about the ring road that had been built (neither did we, which made it doubly confusing).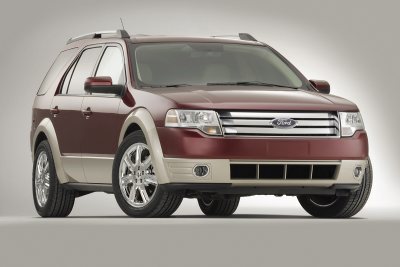 And periodically along the freeway it would instruct us, bizarrely, to continue driving along the highway even when there was nowhere else to go. Maybe it just didn't want us to forget it was there.
Ford's Explorer Sport Trac starts at $24,500 U.S./$27,000 Canadian. My tricked out Adrenaline version featured such options as the navigation system, a heated windshield and trailer towing capability, and came in closer to $37,000 U.S./$47,000 Canadian.
No Bull…
I liked driving the Taurus X a lot more than the Sport Trac, but that's because it's far less of a truck and far more of a car – though it still isn't  completely car-like.
I'm confused by Ford's re-branding strategy: the Five Hundred became the Taurus, which despite many changes still looks quite Five Hundred-like, and then the Freestyle begat the Taurus X, which is somewhat different from the Freestyle but nothing like the Taurus, let alone the Five Hundred. What's next? Will they rename the next generation Mustang the Taurus Sport, re-engineer the Focus as the Taurus Lite and introduce a new Explorer Sport Trac as the Taurus Ranchero?
Who knows? Maybe they'll invent a car with two separate modules and say they Taurus Apart….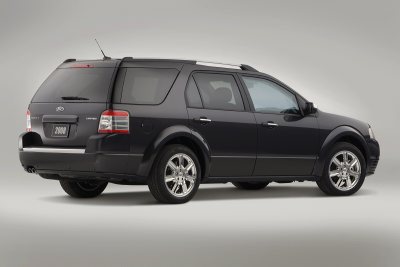 Okay, that's a bad one.
Anyway, the Taurus X is a nice, seven passenger crossover (six in comfort) that hauls people and their stuff much like a minivan does, but without a minivan's height – for better and/or worse, since it also means you probably can't haul that gigantic TV home in its box. It's more like a stretched station wagon than anything. It's a nicer vehicle to drive than the Explorer Sport Trac, unless you need to haul stuff or use your vehicle as a battering ram.
The Taurus X also featured Sync; both vehicles also came equipped with SIRIUS satellite radio, a feature I love.
Taurus X competes with such vehicles as the Chrysler Pacifica. It's comfortable and functional, and pretty decent to drive, with good power and practical seating and hauling abilities. Ford says you can carry stuff up to 10 feet long if you fold down the seats.
Power comes from a 3.5 liter, 24 valve DOHC V6 estimated at 263 horsepower, which is quite adequate for most applications. I never had more than five people in it at once, and the engine pulled us around well.
The transmission is a six speed automatic, with no manual "sport" mode, and it wasn't my favorite example of the species. It seemed at times to shift like a CVT (which doesn't shift) and at other times like an old fashioned slushbox, which means quite jerky.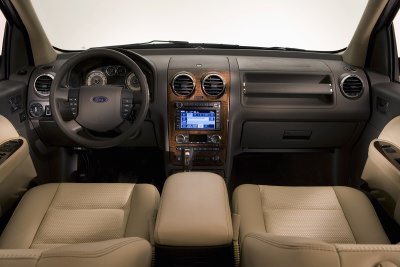 The latter seemed to happen when I tried to drive it spiritedly, so maybe it was just the Taurus X's way of telling me to back off a bit.
My test unit featured all wheel drive and the SYNC system. It also included a navigation system, second row bucket seats that folded down at the touch of a button to give much easier access for the passengers in steerage (the tailgate is also power-operated), and a rear compartment DVD entertainment system.
If you want to operate the DVD player you have to do it from the center row, which means if Mom and/or Dad want to play a music DVD and hear it through the entire vehicle, one of them has to get out of the front, fire up the system in the back, then go back up front. The quality of the LCD video screen is fine, but when it hangs down it blocks most of the driver's view from the rear view mirror.
The two front rows of seats have bun warmers. The panel that holds the light/sunroof controls and sunglasses holder in the ceiling up front hangs down quite low; it doesn't really block the view, but it does make the front feel a tad claustrophobic.
All seats are comfortable, though the driver's seat made it feel as if I were going to be thrown against the door on cloverleafs. The rear bench isn't as comfy as the four buckets, but it's pretty good for a bench. It's also raised higher than first two rows, giving steerage passengers good visibility forward and making them feel more a part of the gang on board.
In the Taurus X brochure I received, Ford brags right on page one about all the chrome it has, which seems like a pretty strange priority. What's worse is that the chrome that surrounds the left and right dashboard vents reflected quite obtrusively into the outside rear view mirrors.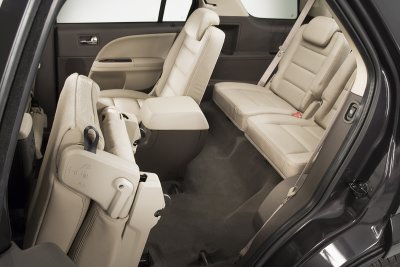 The women I ferried around thought the "Hang on for dear life" handles in the middle row should be back farther, but other than that all the controls, from driver's and center stack to the power window buttons, are nicely at hand.
Standard safety features (Taurus X earned a five star rating in all four government crash tests) include antilock brakes and electronic stability control, dual stage front air bags, side air bags for the front passengers and side curtain air bags for all three rows.
My bottom line impression after a week in the Taurus X is that there's nothing really wrong with it, but I never really felt "at one" with the vehicle. I can see why people who need a little bus would find it appealing, but it just feels a tad "old tech" to me in a world of such vehicles as (not necessarily comparing apples to apples) Mazda's CX-9, the Mercedes R series and the like.  
The Ford Taurus X starts at $27,030 U.S./$32,429 Canadian
Copyright 2008 Jim Bray