Ford's Fusion of Design and Technology May be a Winner
By Jim Bray
Let there be no confusion: Ford is hoping for a profusion of its new Fusion on roads around North America, and judging by the Fusions that are starting to appear on the roads in my neck of the woods they may not be wishing in vain.
The Fusion, new for 2006 and the replacement for the aged Taurus, shares the same basic platform as the terrific Mazda 6 sedan, a car I like a lot. But it doesn't look much like a 6 inside or out; instead, it sports its own skin and demeanor and that's not a bad thing.
It's a pretty straightforward front engine, front wheel drive four door sedan, with an exterior that's at once distinctive and quite attractive in a broad, muscular kind of way. I didn't think much of it when I first saw pictures of the Fusion, but in real life its looks have been growing on me. The front grille still kind of looks like a razor (could there be some cross promotion with Gillette's Fusion here?) and the tail lights are a tad bland, but overall this is quite a handsome vehicle.
Fusion is available in two basic flavors, a four banger and a V6. The four is a 2.3-liter DOHC 16-valve inline unit rated at 160 horses @ 6,500 rpm and 156 lb.-ft. @ 4,000 rpm. My SEL trim level tester had the 3.0-liter DOHC 24-valve Duratec V-6 that cranks out 221 horses @ 6,250 rpm and 205 lb.-ft. of torque @ 4,800 rpm.
The four banger comes standard with a five-speed manual transmission; my V6 tester was equipped with a six speed automatic. It seems fine and it shifts well, though there's no pretend manual setting and you can't tell it's a six speed from the "D" and "L" positions on the shifter.
Steering is power assisted rack and pinion and it's also good, though it can run out of play when you're pulling 90 degrees or more into a parking spot – just like its Mazda6 brother and a couple of other vehicles I've tried.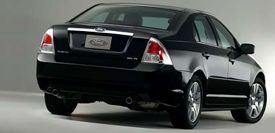 Brakes are four wheel power discs with optional 4-sensor, 3-channel ABS and electronic brake force distribution (EBD). The standard steel wheels are 16 x 6.5-inchers wearing P205/60TR16 tires. My tester had the upgraded 17 x 7-inch aluminum wheels fitted with P225/50VR17 tires.
Ford says Fusion "distinguishes itself in what is the most competitive of vehicle segments with its standout exterior design and engaging driving dynamics." And it's pretty nice to drive, though this is no sports sedan and I didn't have a chance to take it on my favorite twisty bits loop. But after my time behind the wheel, I was left with the impression that the Fusion will perform pretty well under "fun driving" conditions, quite competitively with its target models such as the Accord and Camry.
"Fusion does what you want it to do," says Kerry Baldori, Fusion vehicle engineering manager. "It's light and nimble, with responsive steering, yet it always feels planted."
The Fusion features independent suspension all around, with a multi-link independent rear that Ford says works like a double-wishbone configuration by limiting lateral forces on the springs for more composure.
The suspension tends to be a bit floaty for my taste, but not seriously so and not really any worse than the last generation Toyota Camry (I haven't driven the new Camry yet, so can't comment on it) and others of this class.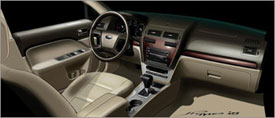 An interesting exterior touch is lights pointing down from the outside mirrors, which I assume will be handy if you're entering or exiting the car at night, and near mud or puddles.
The interior is the Fusion's strongest suit, an attractive and comfortable cabin that sits four nicely and five pretty nicely. The door panels and dashboard are finished with soft-touch composite that are easy on the eye, though a little plastic-looking. Getting in and out from any of the four doors is easy.
The front seats are heated, firm, supportive and well placed. For some reason, however, Ford has chosen to offer the power option only for the seat bottom: if you want to change the tilt of the back rest you have to do it with a typical handle. Seems kind of weird.
But the driving position is just fine, with excellent visibility out of the expansive greenhouse and a good view of the attractive analog gauges with satin-finished bezels. The steering wheel tilts and telescopes and feels good in the hands.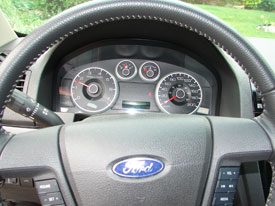 The turn-signal/windshield wiper lever seems positioned a tad, well, differently. It's a bit of a stretch reaching it (at least with my stubby fingers!) and it's raised at an unusual angle that doesn't bring it any closer. I also found it took a bit getting used to the wiper/washer controls being on the left stalk, instead of being on the right of the steering column, but it didn't take long for it to start feeling more natural.
There must be about a million buttons on the steering wheel, to operate the stereo and cruise control, and they're near the center at the bottom so it's a stretch to reach them from the nine and three o'clock hand position on the wheel, but it's still more convenient than having to reach over to the center stack.
That stack holds a lovely analog clock that looks very classy, as well as a stereo that's well worth your ears. My tester came with an AM/FM/MP3 6 disc CD player with very good sound that featured nice, tight bass and clean mids and highs.
Below the stereo are the HVAC controls, a bit of a long reach but not too bad. The HVAC features single zone auto air conditioning whose fan seems to delight in being on "full" until you can't stand the gale any longer and slow it down manually. Then again, it was very hot when I had the Fusion, so that may have contributed to it somewhat.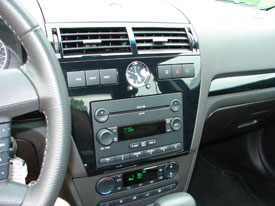 The vents on the dashboard work well, but you have separate adjustments for left/right and up/down aiming, so you can't just grab 'em and move 'em in one step. Again, not a big deal, but a little deal Ford may want to think about for subsequent model years since the process takes a little more concentration than it should from the driver.
The Fusion features good storage in the center console, but the door pockets are small and shallow and I don't think will hold much.
Comfort and convenience thingies include power door locks with remote keyless entry, power and heated mirrors and power windows with a one-touch-down function for the driver.
The back seat cushion gives good thigh support and should be comfortable for longer cruises. It also splits 60/40 and folds down, via a nifty spring assist you can access from the large and flat floored trunk, a really nice touch.
And that 15.8-cubic-foot trunk is plenty roomy, boasts a flat load floor and a low lift-over height.
Safety equipment includes all the usual belts and bags, and my tester included an optional enhanced safety package that includes side curtain airbags up front and an anti-theft perimeter alarm.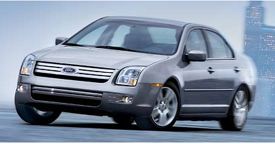 Pricing for the Fusion is very competitive. The base model starts at $17,795 U.S.; the V6 SEL starts at $23,360. The competing Honda Accord starts at $18,225 U.S.; its V6 begins at $24,950. Hyundai's new Sonata starts at $17,895 for the four cylinder model and $20,895 for the V6 and Toyota's new Camry starts at $18,270 and $23,040 for the four and six cylinder models, respectively.
I haven't driven a lot of Fords for many years, though the marque was my favorite back in my formative car nut years of the 1960's. But the Tauruses, Granadas and the like didn't do a lot for me, so it's nice to see the Fusion come along as a car that should be able to compete head to head with the European and Japanese models that have owned this market segment recently.