Ford Sharpens its Focus
By Jim Bray
June 7, 2008
It has just about everything you could ask for, including the kitschy Sync.
Okay, Ford's Sync system isn't really kitschy, as in "cheap and/or tawdry", but sometimes you have to stretch things to come up with a bad enough pun.
Mission accomplished!
Ford's Focus isn't all new, but it's freshened and, according to Ford, features an all-new interior and improved driving dynamics. Updating the car is probably a good idea, because it sits in one of the most competitive niches in the marketplace, going head to head with vehicles such as the Toyota Corolla, Volkswagen Jetta, Hyundai Elantra, Honda Civic and my favorite of the vehicles in this class that I've driven, the Mazda 3.
The exterior is new, too, a look Ford describes as "bold" but which is to my eyes just a little dumpy looking, with weird fake vents on the sides (Ford calls them "appliqués") and assorted creases. At least it doesn't look derivative.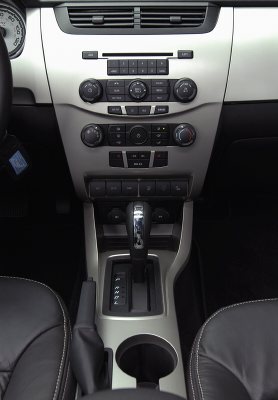 My test Focus was the higher end SES trim level, in four door sedan configuration; a two door coupe is also available. Despite my angst over the car's outward appearance, the beauty of which is always in the eye of the particular beholder, I enjoyed my week with the Focus and came away thinking it offers reasonable performance and value.
"Foci" are powered by a 2.0-liter Duratec dual-overhead-cam (DOHC) inline 4-cylinder engine rated at 140 horsepower that, while not up to setting the world on fire when it comes to brute acceleration, is perfectly adequate for the task at hand; I had no trouble keeping up with traffic as the Focus tooled along comfortably at speeds ranging from rush hour crawl to freeway cruising. Ford says the engine features new air intake and cooling systems to improve efficiency and reduce back-pressure in the exhaust.
The engine gets the power to the front wheels (with very little torque steer) either via the standard five speed manual transmission or a four speed automatic, both of which have revised final drive ratios for better fuel economy (Ford says the car is rated at up to 35 MPG). My test car had the slushbox and it performed as such transmissions are wont: it shifted fine but didn't add any joy to the experience of driving.
Suspension components have been redesigned and retuned for 2008 and feature MacPherson struts up front and an independent multilink buttock. Ford has give the Focus new spring rates, dampers, stabilizer bars, and bushings for 2008 and says the revised chassis settings help improve steering feel and responsiveness over the previous Focus, while some structural changes also help improve handling.  I never drove the previous Focus and so can't comment on the improvements, but this Focus handles well, though it's sprung a little softer than I like.
The brakes, discs up front and (ahem) drums in the rear, feature new aluminum calipers. Pedal feel is fine, neither spongy nor seeming as if you're stepping on a concrete block. ABS is available.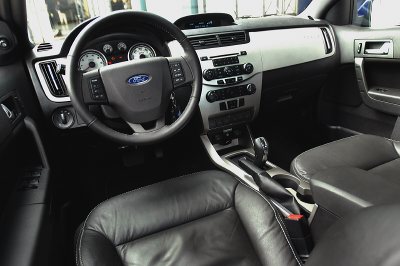 My test unit sported Vista Blue metallic paint outside, and a handsome charcoal leather interior that featured comfortable (as long as you don't plan to race the car into any twisty bits), heated seats up front .
Inside, the Focus is a blend of good and not so good. I liked the overall layout, which is straightforward and easy to use, but things like the "Matte-silver-metallic" finish tended to make it look a tad cheap. And there's a hump in the ceiling, right in front of the (optional) sunroof, where reside the map lights and sunroof controls, but which sticks down into the cabin quite far and helps contribute to a feeling of closeness you probably don't need in a small car.
The steering column tilts but doesn't telescope, but the seating position ended up being just fine for my little bod anyway.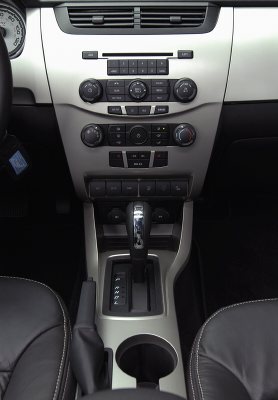 The instrument panel and center stack are laid out well, with straightforward operation and easy to read gauges. My test unit came with the optional Audiophile audio system and Ford/Microsoft's voice-activate Sync system, the latter of which I was really looking forward to try.
Ford says Sync is the only automotive application that offers full hands-free, voice-activated command and control over portable media players and USB storage devices, and they're probably right. More important, the system appears to work as advertised, with very good voice recognition. I don't have a portable media player and so couldn't check out those capabilities, but the system connected to my Bluetooth cell phone beautifully, even to downloading its phone book to the Sync and storing it there, all without me having to crack the manual.
The audio system features redundant controls on the steering wheel and the sound quality is very good, though it could use a little more oomph. It won't play the rather rare DVD-Audio discs, but most vehicles don't. Besides the MP3 player audio input jack, the system also has a USB port.
Only the driver's window has one touch opening (but not closing), but the sunroof features one touch open/close operation, which is always nice.
The rear seat is a little tight on legroom, but quite comfortable for two. There's only one cup holder back there, molded into the rear of the center console, but the seatbelt receptacles are located really well, making it easy to hook yourself in.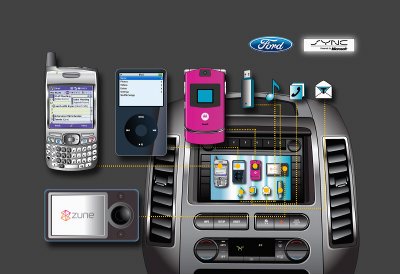 One thing I thought was a bit of an oversight was the lack of ceiling-mounted grab handles inside the cabin, at any position. These can be handy for ingress and egress, let alone for hanging on for dear life; the only such handles are on the doors and the ones up front are too far forward to be useful other than for pulling the door closed.
The trunk is sized reasonably, though the subwoofer intrudes into it. The trunk lid doesn't have a little place inside to grab when closing it, either, so you have to plop it down from the outside and this can get your hands dirty and/or wet depending on the weather and the state of your car's cleanliness. Picky, picky, picky.
The Focus seems like a very good car, though according to some pundits its European counterpart is a much more compelling vehicle, more in spirit with the zoom zoomy Mazda 3.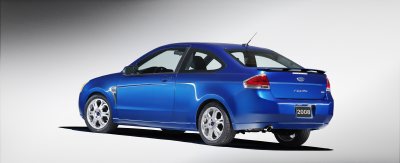 Still, there's nothing really wrong with this Focus, which performed perfectly well in my week of real world driving. There's a lot to like about it, and the Sync option is an interesting wrinkle that lets you keep your hands on the steering wheel instead of fiddling about with the phone and iPod. That's never a bad thing and, though I never tested all its capabilities, Sync seems to work as advertised.
As does the rest of the car.
The Ford Focus sedan starts at $14,755 U.S./$15,999 Canadian. The SES trim level if nt test unit starts at $16,925 U.S./$19,999  Canadian and can be optioned up from there.
Copyright 2008 Jim Bray