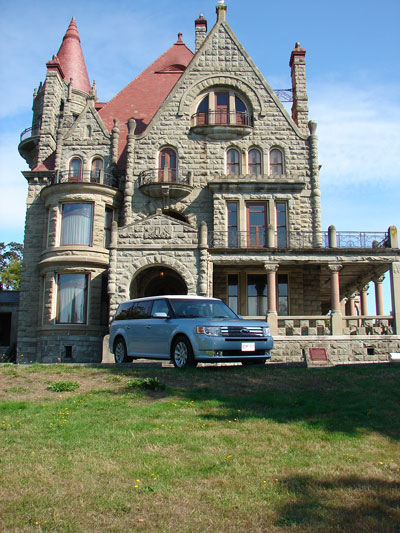 Ford Flexes its Marketing Muscles with New Crossover
By Jim Bray
October 25, 2008
It's big, it's boxy, it's flexible! It's the new Flex, Ford's latest entry into the increasingly crowded crossover market
I took a brand new Flex on a trip across Vancouver Island and the lower mainland of British Columbia, Canada, and it performed well, better, in fact, than I thought it would.
The Flex is possibly the most recognizable vehicle in Ford's stable other than the Mustang. It looks very much like a Mini Cooper blown up to about three times its size – which caused me to call it "The Maxi Cooper" several times during my time with it. It isn't true, however, that in parking lots Minis would swarm it and snuggle up, looking to nurse.
After picking up my light blue test Flex at Vancouver International Airport, we headed for the ferry to Vancouver Island and headed to Qualicum Beach. This would be our staging point for trips to such famous tourist traps as Long Beach, including Tofino and Ucluelet, the incredible forest at Cathedral Grove, and the caves at Horne Lake.
The first thing I noticed about the Flex, besides it looking very much like the box it didn't come in, was its doors. They extend down and round the bottom of the vehicle, looking very much like how a roller coaster train's wheels are held onto the tracks. "Shin busters and rust magnets" is what we thought, though they work well if you need to scrape mud off your shoes before getting in. They could also come close to scraping curbs, though that didn't happen to us.
Ford calls this feature an "integrated rocker panel design, which eliminates the need for customers to step over the rocker panel when getting in and out of the vehicle." I think that's called spin. I've never had trouble with rocker panels, except for when they rusted out on some of the old junkers I owned when I was a kid. On the other hand, you can get your pants muddy when the rocker panel's muddy, so maybe this is just what the doctor ordered.
Another selling point is the available  refrigerator between the second row seats. Ford says it'll hold seven cans (for those times when you just HAVE to drink and drive!), but that's about all it holds. We bought a foot long and six inch Subway sandwiches and two bottled drinks and the fridge wouldn't hold it all. We ended up only putting the pops in the fridge and left the sandwiches on the middle row seat; the six inch and the drinks would have fit, but we didn't want the foot long to feel discriminated against.
The fridge has settings that correspond to 'cool' and 'really cool' and it works fine, but remember: it only works then the ignition has been turned on (for obvious reasons) so it'll act more like a standard cooler than a fridge when you shut off the ignition – not that there's anything wrong with that.
I couldn't figure out why the fridge's top is hinged at the front, opening from the rear. This may be great if you're in the third row seat (and can reach the fridge), but it makes for an awkward reach for front and center row passengers.
The seats are comfortable and supportive and the second row folds forward, via power operation, to allow easier access to the third row. They go back up manually, though, and a couple of my passengers had trouble getting them to do that. The third row is also quite comfortable and it's raised for better view forward. The rear seats fold flat into the floor for extra storage and when they're up they create a neat cavity that's great for storage as well.
My Flex came with panoramic roofs that are really quite cool. While there's a conventional sunroof up front, the center row seats each have a ribbon of "glass" above them and the third row has a large panel – and retractable blinds keep you from getting too fried when the sun gets oppressive.
The first major side trip was to Tofino, on the west coast of Vancouver Island beyond the famous Long Beach. There's only one real road you can take to get there, the marvelous Highway 4 (Pacific Coast Highway) and it's one of the best driving roads I've experienced. If you enjoy a spirited ride, you owe it to yourself to head across this hundred mile or so route; there are long curves, tight curves, hills, valleys, a few long straights – in short, it's an excellent mountain drive and very nearly driver's heaven.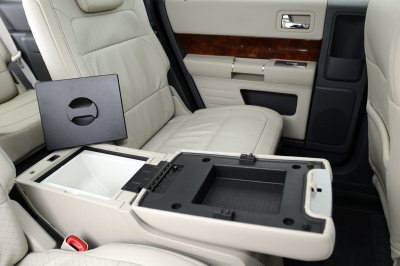 What prevents it from being driver's heaven is traffic. There aren't a lot of passing areas, so you might find yourself stuck behind a logging truck or, as in our case, an oaf in a Corolla who paid no attention to the many pull outs where slow pokes are urged to let "fast pokes" by.
The Flex did an adequate job of passing these people. Its 3.5 liter V6 engine (262 hp @ 6,250 rpm, 248 lb.-ft. of torque @ 4,500 rpm) had enough poop for passing, but the six speed automatic had a bad habit of zipping back up through the gears again once it downshifted for the pass, making the pass more "interesting" than it should have been. This may be a gas saving measure, but there's a time for gas saving and a time for get up and go, and when you're out in the oncoming lane trying to pass a slower vehicle is no time for the car to go all green on you.
Once you've smiled your way across the miles of that highway you enter Pacific Rim National park and head past Long Beach, the longest stretch of sand on Vancouver Island's west coast (hence its name). Long Beach attracts surfers (though the water looked mighty cold the day we were there!) and vacationers from all over.
Tofino used to be a lumber and fishing town but now it's mostly a tourist trap and a darn fine one. The area includes sandy beaches, stands of huge, old-growth cedars and a seascape populated with lovely lush green islands. My wife discovered an abundance of gift shops there, much to my chagrin.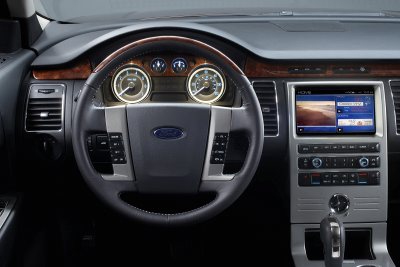 It rained on this trip, which gave me a chance to check out the Flex's rear wiper. It worked fine, but it's offset to the passenger side and doesn't clear nearly as much window as it could if Ford would move it two or three inches toward the driver's side. As it is, it cleaned the area behind the rear seat passenger's head beautifully, but left too much of the remaining area unwiped.
The Flex also took us to Coombs, where the Old Country Market is famed for having goats on the roof (maybe the food they sell is baaa-d), Horne Lake, where you have to drive some 20 miles up a dirt road to access some pretty cool caves  (you'll need lighting, which you can rent, to see much beyond the entrance), and the AWD Flex handled the much less than perfect road well.
Victoria is British Columbia's capital and has all the government-related stuff you'd expect, from a classy-looking Legislature to dumb speed limits. We toured around for a few days, visiting sights including the Lieutenant Governor's mansion, Craigdarroch Castle and innumerable other gift shops, giving me a chance to get a feel for the Flex in an urban environment.
I had trouble parking the Flex well, whether it was parallel or angle parking. The rear parking sensor came in very handy in preventing me from backing into things, but I pined for a front sensor as well.
Passengers got annoyed with the auto door lock feature; passenger doors would refuse to open until the driver's door was open unless they unlocked them manually. Fortunately, I could shut this "feature" off, which cause the complaints to drop to a more manageable level.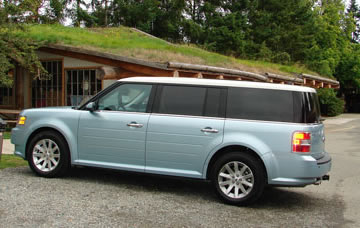 The comfortable driver's seat is power adjusted (the front passenger seat bottom is also powered), the steering wheel tilts (but doesn't telescope) and the pedals are adjustable. Yet despite all that Flex-ibility, I never found the perfect driving position over my nearly two weeks with the Flex. Perhaps if the steering wheel telescoped…
My test unit also featured two memory settings for the driver's seat, which came in really handy while on my quest for the perfect position; I could store a default position and play around with others as I drove. Ford deserves kudos for allowing the driver to set the seat memory while the vehicle is moving; some of the competition requires you to stop and put the vehicle into Park before you can save memory positions, which is really, really dumb.
Despite the Flex' glove compartment being typically Ford small, there are plenty of other storage spaces, enough to satisfy most people who don't operate delivery companies. And Ford throws in a tire repair kit that sits in back and which has a Velcro strip on it to keep it from becoming airborne at the first curve.
The Sony audio system was surprisingly good. It included all the features you'd want, including SYNC and SIRIUS satellite radio and the sound quality was better than I expected. You also get USB and MP3 player jacks and a power supply in the center console up front.
Convenience and safety features include automatic headlights, outside mirror controls that are nicely close at hand, windshield washers that have a nice wide spray and do an excellent job of hosing down the glass when some oaf tosses dirt onto your windshield.
From Victoria we ferried the Ford back to Vancouver for a trip to Whistler, home of the Alpine events of the 2010 Olympic Winter Games.
The Whistler highway is undergoing extreme upgrades that are taking it from a terrific two lane mountain highway to what may become a terrific four lane mountain highway.  This was another opportunity to test the Flex's mettle and once again it surprised me with its capabilities. This is definitely no sports car, but it handled far better than I had expected, thanks undoubtedly to my model's all wheel drive, independent rear suspension and a good set of P235/60 18 inch Goodyears.  
Again, passing could be a tad iffy on two lane roads, but the Flex made short work of slow traffic whenever a passing lane showed up. And all the while, the Flex had good steering and brake pedal feel and, all things considered including the stuff I found annoying, it was a nice vehicle to drive.
Speaking of annoying stuff, or maybe just plain unusual, the Flex features Ford's new "capless fuel system." This is just as it sounds: open the fuel filler door and there's no cap over the hole; you just stick in the gas nozzle and go for it.
Ford says this "eliminates the likelihood of forgetting to put the gas cap back on after fueling, (and) saves time by doing away with unscrewing and replacing a fuel filler cap." Ford also claims the capless fuel filler provides "a much better seal than a cap, cutting down the emissions of smog-forming vapours."
Maybe, but it seems like a silly place to innovate – and also seems like an invitation to siphon. The way I see it, if you can't handle a gas cap you shouldn't be driving.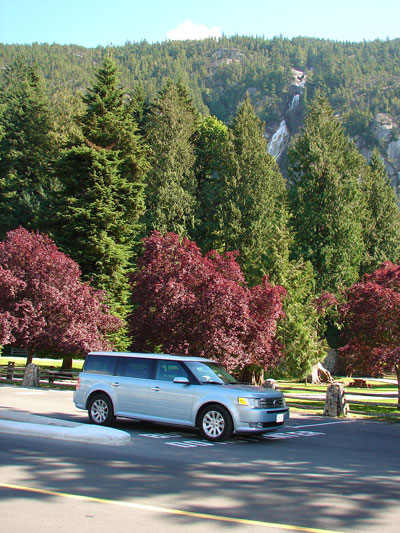 Safety features include AdvanceTrac traction control with Roll Stability Control, dual-stage driver and front passenger air bags, thorax side air bags for the front seat occupants, safety belt pretensioners, seat weight sensing system for the passenger seat and crash severity sensing.
You also get Ford's exclusive Safety Canopy side curtain air bag, which is designed to protect occupants in all three rows, Ford's BeltMinder safety belt reminder for driver and front passenger (an obtrusive alarm that drove me nuts). You can avail yourself of a rear back-up camera, too, though the audible sensors of my test unit worked well enough that I never pined for a camera.  
Wherever we went, the Flex got an amazing number of looks from passersby. I think a lot of this is from the vehicle's newness, but some looks seemed a tad incredulous, undoubtedly at the vehicle's "Maxi Cooper" styling.
My time with the Flex gave me a good opportunity to get a feel for the vehicle and despite everything about it that annoyed me – weird rocker panels, tiny fridge, capless gas tank and warning bells that seem ubiquitous – I came away liking the vehicle for its "Flex-ibility" and driving dynamics. It's no sports car, nor does it pretend to be, but as a family utility vehicle, it does a nice job.
Now if only they could file off some of those edges….
The Ford Flex starts at $28,295 U.S./$34,999 Canadian.
Copyright 2008 Jim Bray
TechnoFile.com