Easy to Dodge This Nitro
By Jim Bray
June 13, 2007
Maybe it's me, but I just didn't get this vehicle. In fact, it rubbed me the wrong way in nearly every way.
And yet, when I searched the Internet to learn how widespread my opinion may be, I seemed to be a voice in the wilderness among an automotive press that appears to think the Nitro is a step in the right direction for Dodge. Oh, well. I used to be the only one in step when I marched on parade in the militia many years ago, too.
The new for 2007 Nitro SUV is based on a stretched version of the Jeep Liberty (which I thought was pretty good) and is being billed by the manufacturer as a vehicle that'll give you an "adrenaline rush" when you connect with it. "With its powerful stance, chiseled lines and unmistakable Dodge crosshair grille, it'll definitely get you noticed."
Well, if getting noticed is all you want out of life, then maybe you'll love the Nitro, with its "baby Hummer-wannabe" looks and admittedly great-sounding exhaust note. But I found it one of the most annoying vehicles I've driven – not that I've come anywhere close to driving all the world's most annoying vehicles, I'm sure.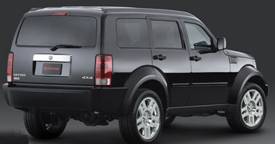 Why? It started right off the bat, when I first opened the door and climbed up into the Nitro's cabin. I'm not a big guy; heck, on a good day I might reach 5'7", yet while trying to enter the Nitro's driver's seat I'd smack my head against the top of the door frame every time, until I began ducking instinctively, like an abused child, as a defense mechanism. And you have to push a big button on the exterior handle to open the doors, a real atavism.
Then there's the driver's seat, in which I could never find a comfortable position regardless of its power operation and the presence of an adjustable steering wheel. I couldn't get the seat low enough for my stubby little legs, nor could I get it close enough for the gas pedal to be within reasonable reach. Yet the brake was plenty close. And in corners it felt as if I were about to be tossed into the door, or across the console. I was grateful for the shoulder belts.
The front head rests are intrusive, too.
My SLT trim level Nitro came with the smaller 3.7 liter V6 engine and it was fine. Rated at 210 hp @ 5200 rpm and 235 lb-ft of torque @ 4000 rpm, it manages to propel the vehicle along fairly well, though I'm sure the R/T's standard 4.0L V6's 255 hp and 265 lb-ft of torque would be even better. I loved the exhaust note, but is that really the best selling point for a utility vehicle?
The V6 was tied to a four speed automatic (a 6-speed manual is available on the entry level Nitro) and it shifted okay. It wasn't as smooth as the trannies of many other SUV's I've driven, but it felt in keeping with the rest of the experience.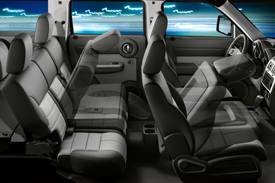 My tester also featured part-time four wheel drive, with a single-speed transfer case (that means there's no low-range setting for those planning to do really hard-core off-roading). It splits the power evenly between the front and rear when you crank the console-mounted switch, and it came in handy during the mild off-roading we did, taming some twitch on gravely sections of "roadway".
The Nitro's bouncy suspension, independent up front with a solid axle five link rear, is quite rubbery and gave the feeling that we were going to flip over like a turtle every time we hit a relatively tight corner or curve. I was glad there was plenty of headroom inside the cabin or, were it not for the seatbelts, we would surely have bounced right out the nicely sized, one touch open/close sunroof.
My tester's 17 inch wheels featured disc brakes with ABS all around; they worked fine, with good pedal feel. Nitro also features an electronic stability program and all-speed traction control.
We loaded up the rear cargo area at one point with some heavy stuff and the vehicle felt a lot more at peace with its existence on the road after that. Except for the law of inertia the Nitro felt much more stable in curves.
Speaking of rear storage, Nitro features a tailgate that opens upward instead of sideways (a good thing) and an interesting LOAD 'N GO sliding cargo floor thingy back there that seems like a good idea – unless you have lighter stuff stored on it already, at which point it tends to fall into the space left by the sliding floor when it slides out. This means you have to climb into the back seat and lean into the rear to re-mount the stuff before you can slide the thing back in again.
The rear seat reclines and splits/folds 65/35 per cent, and the front passenger seat folds flat as well to increase your hauling space.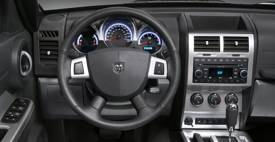 The instrument panel is straightforward and the cool blue electroluminescent gauges are easy to read. The steering wheel feels fine and includes all the ancillary controls you'd expect. The power-assisted rack and pinion steering itself, however, is vague.
The center stack's HVAC and audio controls are well laid out and easy to use, and the AM/FM/CD/MP3/MWA audio system (with auxiliary input jack on the faceplate) rocks. An upgraded "MyGIG" system featuring SIRIUS satellite radio, touch screen navigation and hard drive audio storage is also available.
The center console is big and features a large storage bin. But Dodge has mounted the transmission selector on the passenger side of it, which made for a long reach for my stubby little tentacles. There's a little storage bin where the selector should be, and it's undoubtedly perfect for an MP3 player, but I'd rather be able to reach the gears.
Foot room is at a premium front and rear. There's no foot rest for the driver, and those in the rear seat find their feet moved together by a weird, hump-like thing that extends from the transmission tunnel.
The "A" pillars between the windshield and the front side windows are quite thick and, combined with outside rear view mirrors that are mounted too high, create huge blind spots that could facilitate the running down of pedestrians.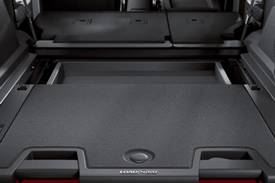 Okay, there was something for me to like…
The windshield wipers/washers do a good job of hosing down and wiping the windshield, which came in handy when things got wet and muddy on our off road excursion.
There's adequate storage space inside, though only barely. The glove compartment is shallow, despite a big and promising door, and the little storage pockets in the rear doors are too small to put in anything larger than the little digital voice recorder I use for note taking – but they're so designed that if I had been silly enough to put it in there I'd probably never have gotten it out again.
Rear seat passengers also found the arm rests frustrating. Rest your arm on one and, because the power window control button sticks up too far, like as not you'll start lowering the window accidentally.
Rear seat passengers also complained about the rear seats, the cushions of which are short and don't offer good thigh support.
Naturally, you get the usual convenience and safety features that are common today, such as keyless entry, power locks and windows, and the normal assortment of belts and bags.
Beauty is in the eye of the beholder. Therefore I always try to find good things to say about a vehicle and have never gone out of my way to trash a particular model or marque. But compared with other "small SUV's" I've driven, I can find little to recommend about the Nitro other than the fact that it's a North American design and that's important to some people.
Judging by domestic auto sales, however, this seems important to fewer people every year, and it may be that vehicles such as the Nitro are responsible for this unfortunate fact.
The Dodge Nitro starts at $19,885 U.S. ($23,490 Canadian) for the base SE model. The SLT starts at $25,420US ($30,090 Canadian).