Dodge Durango Limited - Powerful and Plush
By Jim Bray
It's big and brawny, yet comfy and civilized. And though I think it lost something aesthetic in its super sizing from the original Durango, this current version is a heckuva SUV.
Redesigned in 2004, the Durango now also offers DaimlerChrysler's Multi-Displacement feature in its big, 5.7 liter Hemi V8. This shuts down four of the engine's cylinders when you have no pressing need for the extra oomph of the V8, such as when you're cruising on the freeway. It's supposed to give you better gas mileage, and perhaps it does.
The process is seamless; I never could tell if I was running a four banger or a Hemi V8, though the way I drive I wouldn't be surprised if all the cylinders were on duty all the time. It's called "The Curse of the Lead-footed Writer"….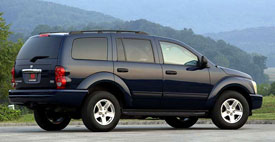 More Power? Or Less?
The Hemi cranks out 335 horsepower @ 5400 rpm and 370 lb-ft of torque @ 4200 rpm, and it's more than sufficient to propel this big and heavy beast along quite nicely, thank you.
If your needs are a little less robust, you can get the Durango with its standard 3.7-Liter Magnum V6 engine rated at 210 horsepower @ 5,200 rpm and 235 lb-ft of torque @ 4,000 rpm, which is undoubtedly adequate for many, if not most, purposes.
Dodge also splits the difference, offering a Magnum 4.7-liter V8 engine that produces 235 horses @ 4,500 rpm and 300 lb-ft of torque @ 3,600 rpm, which is undoubtedly oodles of oomph as well.
My Hemi-equipped Limited trim tester came with a 5-speed automatic transmission that shifts smoothly and well.
Durango's heavy duty suspension is independent up front with a live axle rear end, heavy duty shocks and stabilizer bars front and rear. It feels pretty soft but, fortunately, it isn't too boat-like. Add its power rack-and-pinion steering and disc brakes with ABS all around and you have an SUV that, while obviously truck-like in its handling and overall driving, is still pleasant to drive and steers and stops well.
My tester was also equipped for towing; Dodge claims the Durango has the best in class towing capability (8850 pounds) and best in class payload (up to 1,780 lbs.).
The beast rides on 18 inch wheels wearing Goodyear Wrangler SRA – P265/60R18 M&S tires.
The Story Inside….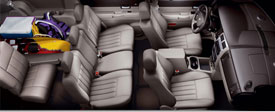 Durango features a very comfortable cabin in which to passenge, with a first rate interior – at least in my upgraded test unit. Each of the three rows (the third row is optional on other trim levels) is roomy and the third row is surprisingly easy to access, thanks to efficiently-folding second row seats that also recline. Folding of both rows of rear seats is easy and opens up plenty of space for hauling stuff.
My tester featured the premium, leather-trimmed front buckets. The driver's seat features 8-way power adjustment with memory and the front passenger gets treated to 4-way power adjustment. Alas, I found my (regrettably ample) bum got tired all-too-quickly in the driver's seat. Fortunately, it didn't fall asleep and start snoring….
Power also controls just about everything else in the Durango, including 6" x 9" heated power multi-functional fold-away outside mirrors that automatically dim to minimize glare from the headlights of vehicles following you. Even the gas and brake pedals are power adjusted, though thanks to the power seat and tilt steering wheel I had no trouble finding a great driving position without using "pedal power" and didn't have to use them other than to try them out, for scientific purposes.
The controls are well laid out; everything's where it should be, including audio system controls that are mounted on the rear of the steering wheel, kind of like you'd find with paddle shifters.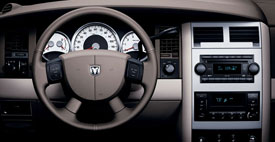 Speaking of audio, the stereo system is very good. It features an AM/FM stereo radio (SIRIUS Satellite Service-ready, with a year's service provided by SIRIUS) with an in-Dash 6-Disc CD/MP3 Player. Dodge says the amp puts out a total power of 368 watts, which is plenty, while the head unit provides 12 AM and 12 FM station presets, the usual seek-and-scan features, and balance/fader speaker controls. The tunes play out through eight premium Alpine speakers including a Subwoofer. Bass is tight and clean, mids and highs sound very musical and not shrill, and the system's ergonomics are good overall.
My tester also had a rear compartment DVD entertainment system with a 7-inch LCD screen that's adequate for the job, though it won't win any home theater awards. The sound from the DVD can run through the main stereo, and the overall system is operated by a small remote control that docks up under the screen when it folds up, which is a nice and handy touch.
The automatic climate control works well and features rear compartment air conditioning and heating.
Convenience features include automatic headlamps, keyless entry, variable intermittent wiper/washers front and rear, and a nifty power tailgate option that's extremely handy when you're approaching with arms full of stuff. And running boards make it a lot easier for short people to haul their posteriors aboard.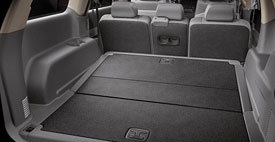 Safety equipment abounds, including front multistage advanced air bags that sense how severe an impact is and inflate accordingly, with different levels of force. Dodge's electronic stability program combines the ABS brakes, traction control and a stability system to help decide when and how to apply the brakes to one or more wheels, or when to reduce engine torque under less than optimal driving situations.
As one would expect, the Durango is ready to go as far off road as your nerve will allow. My nerve allowed me to take it onto a recently-graded gravel road, but if you're made of sterner stuff you'll undoubtedly enjoy taking advantage of the vehicle's all-wheel-drive (AWD) electronic shift transfer cases accessed via a rotary knob near the steering wheel. It includes an AWD setting as well as offering four wheel drive lock and low range options.
The Dodge Durango starts at $29,295 U.S./$43,820 Canadian for the basic model, with the Limited starting at $36,130 U.S./50,770 Cdn. Those are pretty serious chunks of change, but on the other hand, the Durango's a pretty serious chunk of big SUV.