Dodge Dakota Deigns to Drink Differently
By Jim Bray
February 14, 2008
Talk about making a fuel of yourself. The Dodge Dakota midsized pickup is a heavy duty beast that for 2008 is capable of driving right past the gas pump - and straight to the ethanol one.
It's called Flex Fuel, a no charge bit of flexibility that'll let you burn E85 - assuming you can find it. If you can't, well Dodge says the Dakota gives better "conventional" gas mileage this year anyway, so I guess it's a win-win scenario.
My test unit was an Inferno Red 2008 Dodge Dakota SXT Magnum with the optional 4.7-liter V8 engine (featuring two spark plugs per cylinder). It puts 302 horsepower (a 31 percent increase) and 329 lb.-ft. of torque (13 percent more) onto the road.
Standard equipment is a 3.7-liter Magnum V6 producing 210 horsepower and 235 lb.-ft. of torque.
Transmissions include a six-speed manual (standard on all V6-equipped Dakota models except the Laramie), a four-speed automatic with overdrive (available with the V6 engine) and the five-speed automatic (available on V8 models) of my sample unit. The latter tranny has a load/haul mode for when you're bringing Big Stuff home from the mall.
The 4x4 Dakota features electronic, shift on the fly (button or zipper?) part time four wheel drive, and it works well.
I got sick shortly after picking up the Dakota, so didn't have much chance to get a feel for how it drives, but I can say with confidence that it drives like a truck. Therefore, it has a heavy front end and a light rear end that, when the bed is empty, tends to wiggle around a bit if you aren't paying attention. This is more a truck thing than a Dakota thing, of course.
The last generation Dakota looked more like a scaled down version of the big Dodge Ram than the new one does, and to me that's a good thing. That doesn't mean the truck doesn't look aggressive, though. It just isn't as "in your face" as the last one.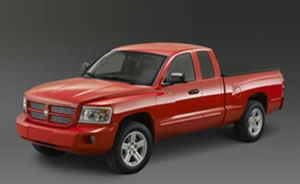 Part of the reason is the Dakota's newly styled hood, grille and front fascia (the latter of which now incorporates fog lamps), fenders and headlamps. Other exterior changes include a protective surface on top of the cargo box sides (my test unit also had an optional bed liner), and built-in cargo-box utility rails.
Inside is a new instrument panel, center console, a collapsible and removable under seat cargo management system (in the Crew Cab) and an extra storage space above the glove box. The center console includes cup holders with modular inserts for different sized cups and a  pullout bin for your electronics.
It's a comfortable cabin, with plenty of room up front and seats that would undoubtedly be comfortable for the long haul. My Crew Cab 4x4 had four doors; the rear seat was comfortable for two, a tad tight for three, and you may want to ensure you stick the tall people (or anyone wearing a ten gallon hat) up front.
You can also fold down the rear seat to create additional storage space.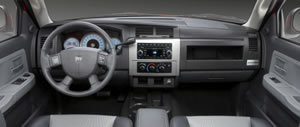 The seats in my test unit were the optional premium cloth ("YES Essentials") buckets up front. They come with bun warmers and the driver's seat has power adjustment except for the seat back (why not there, too?).
Instruments are straightforward and everything's close at hand. This is good, because the steering wheel only had cruise control buttons on it, so you have to actually reach across to the stereo to adjust it. Horrors!
Speaking of stereos, my test unit didn't have Dodge's optional MyGIG Multimedia Infotainment System, but the stereo rocked anyway. Not only was the sound of the single disc CD/MP3 AM/FM system laudable, but it also came with (optional) SIRIUS satellite radio that's built in seamlessly. I love it when car companies do that.
The only drawback was that, since the truck didn't have an LCD screen, the SIRIUS display was a tad truncated, but nothing that I couldn't live with. It's still easy to use and I'd rather have a smaller display than no satellite radio.
I liked the sun visors, a really minor point but one that struck me. These ones, despite being rather, well, cheap-looking and feeling (This is a utility vehicle, after all), and with no vanity mirrors, extend closer to the A Pillar than they do in many vehicles, blocking the sun more effectively.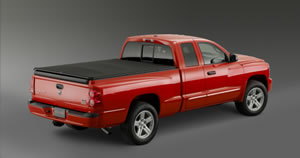 My Dakota had no grab handles on the ceiling in the rear seat (just on the arm rests). This might make holding on for dear life a little more challenging if you're out in particularly bouncy terrain - but that's speculation on my part since I spent most of my week with the truck looking at it parked outside my house while blowing my nose, taking medication and generally feeling sorry for myself.
Safety equipment includes Advanced multi-stage air bags, ABS for the rear drum brakes (four wheel discs are available), electronic brake force distribution (EBD), an energy-absorbing steering column and knee bolsters.
The Dodge Dakota SXT starts at $25,890 U.S./$33,395 Canadian
Copyright 2008, Jim Bray