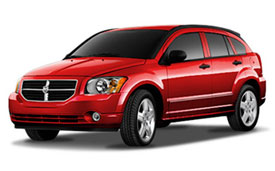 Dodge Caliber SXT – a Little Wagon That Can?
By Jim Bray
The Neon is dead and Dodge has come up with a car to replace it that's of a whole different caliber.
Or a different character, anyway.
The Dodge Caliber is a roomy and economical little wagon that appears to focus on "user friendliness", which is probably just what many people are looking for.
And from the way the Caliber is being marketed, Dodge seems to be aiming it at the youth market – though I'm confident the fine folks at DaimlerChrysler are willing to take anyone's money….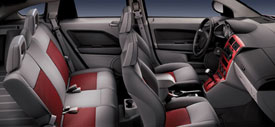 Dodge's website describes the Caliber like this: "…a totally new way to roll that redefines everything a compact car should be. Packed with more punch from a world-class lineup of new engines. More edge from a sculpted hard body that swaggers with style. And more smarts from radical new features that prove our designers know how to rock."
I could really care less if designers know how to rock as long as they create a compelling car, but it takes guts to move from a popular, straightforward sedan like the Neon to a wagon. Dodge has been taking plenty of chances lately with cars such as the Magnum wagon and the four door Charger, so the Caliber isn't unprecedented. And its chiseled exterior styling (Dodge calls it "square-shouldered") does make it look a little like a scaled down Magnum, though it doesn't look as mean as the Magnum. In fact, to these eyes, that sculptured hard body looks a tad dumpy. But what do I know?
The Caliber offers plenty of interesting stuff, such as illuminated cup holders and a cool (as in refrigerated, not trendy – yet!) air conditioned glove compartment with depressions designed to hold water bottles or, dare I say it, beer cans.

The front seats are pretty comfortable; we drove the Caliber all day through the mountains without getting numb bum, and the rear seats are pretty good, too, at least for commuting or fairly short jaunts. Longer trips with three in the back may strain relationships, but this is common with small cars.
Strangely, while the Caliber offers a more than adequate greenhouse, and generous headroom, the car felt a tad closed in. I don't know how Dodge's rockin' designers managed that!
And speaking of rocking, the audio system definitely does. It's a Boston Acoustics system featuring an AM/FM/CD changer with auxiliary input jack, MP3 play capability and – get this – pull down speakers in the liftgate you can use wherever you want to annoy the neighbors – beach, tailgate party, campground, you name it.
I wish Dodge/Boston Acoustics would make the head unit a tad easier to use: to store a radio station preset you have to press "memory" and then the preset instead of just holding down the preset. And to load/eject a CD you have to tell the player which disc slot you want to use, which means you have to keep track of them.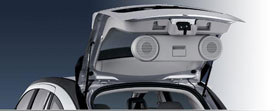 On the other hand, I suppose it's nice being able to choose which particular disc to "discgorge," but I'd rather keep my hands on the steering wheel and my eyes on the road.
Speaking of hands on the wheel, the steering wheel is very comfortable in the hands and offers ancillary controls for the audio system.
The car is also a model of flexibility. The 60/40 split rear seats fold flat to open up a cavernous storage area. The pass through from the hatch is a tad narrow, but once you're in there's oodles of space. And the hatch floor is covered with a removable and washable "ultrafloor" for when things get muddy.
Exterior colors (which in my tester's trim level were repeated on some interior surfaces) come with cool names such as my tester's Inferno Red Crystal (that's "Inferno", not "Infernal") and Sunburst Orange Pearl. I had to laugh; it reminded me of colors like "Original Cinnamon" and "Thanks Vermilion" that were offered on a competing company's cars long ago.
Entry Level Power….

Dodge makes three engines available: 1.8, 2.0 and 2.4 liter four cylinders with double overhead cams, four valves per cylinder and dual Variable Valve Timing (VVT). All can be mated to a continuously variable transmission that eschews traditional gears in favor of pulleys and belts. I'm starting to really like CVT's, which are designed to optimize power and efficiency at the same time. They seem weird because they never shift, but they work well.
My test Caliber came with the middle engine, the 2.0 liter four banger. It's rated at a decent 158 horsepower @ 6400 rpm and 141 lb-ft of torque @ 5000 rpm, yet as with the greenhouse, Dodge has managed to make it feel like less. I don't mean you can't keep up with traffic, or even pass when necessary, because you can – easily – but the car didn't feel as peppy as one would think from the specs.
But it does have fold down speakers on the tailgate!
On the other hand, the engine is smooth and quiet and the Caliber turned in respectable gas mileage. It handles well, too; it's no sports car and it doesn't pretend to be, but its independent suspension handles curves nicely and the ride is smooth without being flaccid. Steering is power-assisted rack and pinion, a tad numb, and the my tester's brakes (discs up front and drums on the rear wheels) featured ABS.
Caliber is also available in an all wheel drive version and if you opt for the base engine you can get a five speed manual transmission instead of the CVT.
The Dodge Caliber starts at about $14,000 U.S./$16,000 Canadian and goes up to $23,000 U.S./$24,000 Canadian and beyond.