Chevrolet Crafts a Winner with New Malibu
By Jim Bray
April 10, 2008
Its name has been around for decades, but it seems like decades since the Malibu moniker was applied to a really interesting and compelling car. But it has now: Chevy's Malibu is a car that deserves respect.
Based on GM's global midsize platform, the new Malibu is more than three inches longer than the old model, with a six inch longer wheelbase and a "wheels-at-the-corners stance" that helps contribute to a very nice driving experience. 
The exterior is the car's weakest link, and it isn't very weak. From the "Chevy-screaming" front end, past the more than adequate greenhouse to the short deck, the car exudes confidence and agility. The car's sides are clean and free of the tacky stuck on plastic things that have plagued some GM product in the past, though they're also a tad reminiscent of the Ford Fusion, and its fanny features what the manufacturer says are "Corvette cues that connect to Chevrolet's rich performance heritage." Uh huh.
This is no Corvette, of course, but it's no performance slouch, either, at least in the more upscale configuration of the version with which I spent a week. My LTZ-trim unit featured the 252 horsepower 3.6 liter DOHC V-6 with variable valve timing mated to a six-speed automatic transmission with "paddle shifter-compatibles" on the steering wheel.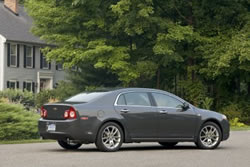 The base car gets a 169 horsepower 2.4 liter Ecotec DOHC four-cylinder engine with a four speed automatic. There's also a hybrid version that uses an electric motor/generator mated to a 2.4 liter Ecotec VVT four-cylinder engine and four-speed transmission.
I imagine the four banger and hybrid offer more than adequate performance, but I really enjoyed the six and its extra horses. Despite having more torque steer than I like, the car gets up and goes very well and more power that what it offers already would only gild the lily.
The Malibu's shoulders are slung via MacPherson struts with aluminum L-shaped control arms and a direct-acting 22-mm hollow stabilizer bar. In LTZ livery its hips wear a four-link independent suspension with monotube shocks, dual-rate mini-block coil springs and a direct-acting 20-mm solid stabilizer bar; the more "garden variety" models feature a four-link independent rear with twin-tube gas shocks and a slightly smaller stabilizer bar.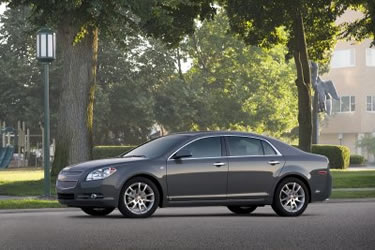 It's tuned just a smidgen softly for my taste, but balances sport with comfort very well overall; I liked driving this car very much.
Steering is rack-and-pinion, with electric power on the four cylinder models and hydraulic power assist on the V6. Wheel feel is just fine.
One thing that doesn't feel just fine is the brake pedal. Malibu features four wheel disc brakes with four channel ABS and, while the stopping power is perfectly adequate, pressing on the pedal felt like stepping on a concrete block.
Inside, the Malibu is roomy and comfortable, with a nicely-designed cockpit that exudes quality. My test car had an attractive two tone cocoa/medium cashmere trim with some fake wood accents.
The front seats are comfortable and luxurious, featuring two-tone heated leather buckets with leather inserts and accent piping. The driver's seat is adjustable eight ways via power (and the pedals are also power-adjustable); the passenger has to make do with six way power adjustments. The rear seat is very nice for two, a tad tight for three, and splits/folds 60/40 to facilitate stuffing long packages into the unfortunately tight trunk that we managed to fill up with only two medium/large suitcases and two carry ons.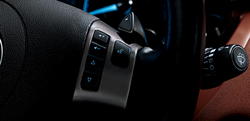 The LTZ' instrument panel features an attractive gauge cluster that includes speedometer, engine temperature, fuel and tachometer. The signal light indicators can be blocked by the speedometer needle if you happen to be at the right speed while signaling, but that's typical of my quibbles about the Malibu: a few small things that don't matter a lot but which could have been thought out better.
Ditto for the control buttons on the steering wheel: they work fine but they're small and a long reach for my stubby fingers.
I loved the paddle shifters. The paddles behind the wheel on either side down shift, with up shifts accomplished by front-mounted buttons. It's logical and works well, though once again I found the up shifters a tad far away. I also had trouble remembering that the up shift control wasn't rear-mounted, as they are in most paddle-shifting cars I've driven, which caused me to down shift several times when I meant to up shift. 'Twas quite embarrassing.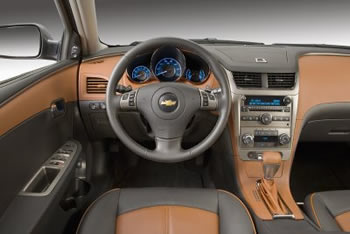 It wouldn't take long to get used to this particular configuration, though, and it actually makes more sense than sticking the up and down shift controllers behind the wheel, one on either side, the way most manufacturers do it: it lets you shift up or down with either hand, which can come in very handy when you're cornering.
The manual mode came in handy when we had a sudden snow storm that caused many drivers to leave their brains at home. The Malibu handled the slippery roads with aplomb, the manual shifting eliminating the need for the traction control system to wake up and interfere with the joys of winter driving, torque steer from the front wheel drive configuration notwithstanding. 
The windshield wipers are of the speed sensitive variable intermittent type, and the washers do a nice job of hosing down the glass.
My test unit included the premium sound system (standard in the LTZ, optional otherwise) which includes a 210 watt amplifier and eight speakers (including a pair of subs) powering the AM/FM six-disc, MP3-capable CD player with auxiliary audio input jack, Radio Data System (RDS) and XM satellite radio head unit.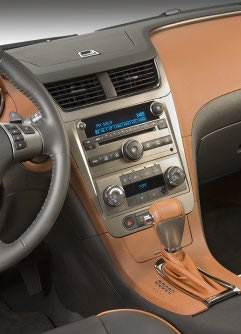 Chevy gives you up to six sets of six radio station presets and you can scroll through XM displays of artist, title, channel, genre, etc. It's a very well thought out system that also happens to sound good, with clean bass and no hint of shrillness.
You also get amenities such as power windows (with driver's side auto up and down), power outside mirrors (the driver's can dim automatically as well) and door locks, cruise control, tilt/telescoping steering wheel, automatic headlights and a year of OnStar service.
The LTZ's HVAC system features an automatic setting, but it's only single zone, so the front seat passengers may have to slug it out to see whose preferred temperature wins. My wife's did in our case.
The LTZ also comes standard with a remote starting feature, which is wonderful on cold winter days.
My test unit had the optional power sunroof, though it's a tad small and you can't open or close it with one touch of the button; it also featured a rear seat power center and manually-deployed rear window shade.
Safety features include a bevy of belts and bags, including dual-stage frontal air bags, head-curtain side-impact air bags for all outboard seating positions and front seat-mounted, side-impact thorax air bags. StabiliTrak stability control is standard on LT and LTZ models.
GM has struggled in recent years, but this new Malibu is a clear indication that "The General" can still turn out a compelling and competitive vehicle. If you're looking for something in the Camry/Accord/Fusion/Passat niche, this car should be on your "check it out" list as well.
The 2008 Malibu starts at $19,995 U.S./$22,995 Canadian for the LS trim level. The LTZ starts at $27,445 U.S./ $33,610 Canadian.
Copyright 2008 Jim Bray