BMW's Big "SAV" Gets Bigger
By Jim Bray
March 9, 2007
It may look like an SUV, but according to BMW, the X5 isn't one of those evil SUV's: rather, it's an SAV – a Sport Activity Vehicle.
Are we arguing semantics? Does it mean the X5 has no utility? Did "SAV" just focus test well? Or is BMW just trying to market the vehicle without it getting tagged as evil by the gang of busy bodies on a jihad to rid the earth of such scourges, regardless of whether or not people want them?
I have no idea. Heck, if it were me, I'd market it as an EVIL SUV, just to tweak the zealots – but that's just me.
Anyway, BMW's big SAV, the X5 (the company also makes the smaller X3), has just received a makeover, moving the vehicle up and out in size and capabilities – and utility (so there!). The new model has grown in length and width, allowing BMW to now offer an optional third row of seats; yet to look at the X5 casually it doesn't appear that much different than the original model.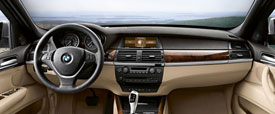 And that's fine – this has always been a handsome SUV, er SAV, and the original model still looks up to date despite its age. But BMW obviously found some things it thought needed changing to keep the vehicle up to date in a very competitive marketplace. And they've undoubtedly succeeded, if my quick preview drive of the X5 is any indication.
Probably the most obvious is the addition of that optional row of rear seats, which can be folded flat into the floor when not in use. They're the typical "Hobbits only" type, in that they're suitable for kids or small adults and probably not for a trip of more than a couple of hours, but they work.
This X5 feels very much like a BMW, which of course is a good thing. BMW's are a blast to drive and, while with the X5 you never forget you're in an SUV (sorry, SAV), you also never forget you're in a BMW, and that's just fine for the most part.
My tester had the 3.0 liter dual overhead cam (DOHC), 24-valve inline 260-horsepower 6-cylinder engine, with BMW's Valvetronic and Double-VANOS steplessly variable valve timing. It's rated at 260 horses at 6600 rpm and 225 lb-ft of torque at 2750.
I was surprised to find that the six offered more than adequate power for urban driving. Pickup is just fine, it's easy to accelerate to freeway speeds or beyond, and passing is accomplished easily.
A 4.8 liter V8 is also available, if you're willing to spend the extra cash for purchasing the vehicle and the extra gasoline you'll go through.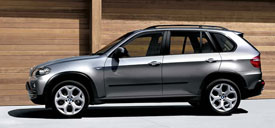 Speaking of gas, there's a fuel usage gauge on the instrument panel that seems like a pretty silly thing to put into a BMW, let alone a big vehicle such as this. I don't know about you, but I can't imagine anyone buying a BMW for its gas mileage – after all, BMw isn't known for building the "ultimate sipping machine"….
The engine puts its power to the wheels through a six speed automatic transmissions that's more like a joystick than a traditional gear selector. It also has a manual mode and shifts are very smooth using either method. There's also an electronic parking brake.
By using wheel speed sensors, BMW's xDrive all wheel drive controls the amount of oomph going to the front and rear wheels. It's biased to the rear during good driving conditions, sending power forward as its robotic brain deems necessary.
The X5 also comes standard with Dynamic Stability Control (DSC), including Brake Fade Compensation, Dynamic Traction Control (DTC), Dynamic Brake Control and Hill Descent Control (HDC). These electronic nannies combine to help keep you safe when the rubber threatens to no longer meet the road.
Brakes are anti-lock ventilated discs all around, with electronic front/rear proportioning. They're a tad grabby, but only a tad. Steering is speed-sensitive power assisted (and feels great). The headlights are Xenon Adaptive with an auto-leveling feature, and you also get intermittent, rain-sensing windshield wipers (with adjustable and speed-sensitive wiping intervals) and a windshield-washer system with heated washer jets (that apparently froze shortly after I received the vehicle, and doesn't that just figure?) as well as a rear window wiper/washer with adjustable wiping intervals.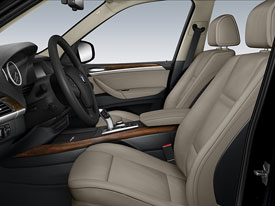 Inside, the X5 is all BMW, including that dratted iDrive cursor control system for the vehicle's electronics. To be fair, either they're constantly improving the iDrive or I'm getting more used to it because I found this version the easiest yet to figure out – though I'd still rather have buttons and knobs.
Fortunately, you do get enough buttons and knobs to accomplish most of the functions you'll use most often, so you can ignore iDrive for the most part once you've done some initial configuration.
I loved the panoramic Moonroof , a two-piece extravaganza that opens up big enough to drop a Mini Cooper through. Either half can be tilted up and, when it's open, a wind deflector minimizes turbulence. Or that's what BMW says. In practice, if you slide it all the way back and drive at about 50 mph or more, you get a "whup, whup, whup" noise that sounds like someone's about to land a Huey on the roof. If you close it half way (which still leaves a pretty big opening), it's much better.
One thing that really rubbed me the wrong way was the running boards which, while making it easier to get in/out, also collect slush, snow and ice – making then quite slippery and getting your pants legs dirty.
But all in all, this is a heckuva vehicle.
The BMW X5 3.0i starts at MSRP $45,900 US. /$61,900 Cdn. Adding options such as the third row of seats, parking distance sensor, 20 way power adjustable front seats, the Panorama sunroof and a lot more of available stuff can raise the sticker to well over $60 grand U.S./$80K Canadian.