BMW 3 Series Coupe - a Turbocharged Turn-on
By Jim Bray
February 13, 2007
It's been a while since anyone referred to a BMW as being drop-dead gorgeous, but one look at the 335i coupe shows the German automaker hasn't lost its ability to design a real looker.
BMW has taken its share of abuse over the past few years for the overall "rumpiness" of its current generation 7 and 5 series sedans; even the otherwise lovely 3 series sedan's weakest link is its rear end, though it's the best of the bunch. But this new sedan is even better: it's low, long, sleek, and just plain beautiful from stem to stern and beam to beam. Even its bum!
And, even more important, it's an exhilarating car to drive!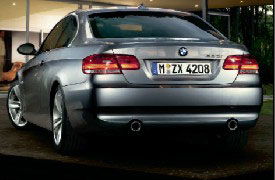 The 335 replaces last year's 330 sedans and the coupe is all new for 2007. If I were lucky enough to consider buying one of these cars I'd probably opt for the sedan, because I like the convenience of four doors, but that would be a case of my head overruling my heart - choosing the practical alternative when what I really want is that super-sultry two door temptress.
The 335's feature BMW's 3.0-liter dual overhead cam, 24-valve inline 6-cylinder engine with twin-turbos and Double VANOS steplessly variable valve timing. Adding the turbos, each of which supplies three cylinders with compressed air and operates virtually seamlessly, brings prodigious poop: 300 stallions @ 5800 rpm and 300 lb-ft of torque from 1400-5000 rpm.
Compare this with the '06 models' 255 horsepower @ 6600 and 220 lb-ft. of torque @ 2750. When you fire up this lovely-sounding engine and press the pedal the upgrade really hits home.
When discussing turbocharging, the subject of turbo lag generally comes up. And so it should; every turbocharged car I've driven to date exhibits it to varying degrees, including ones that claim to have eliminated lag. But the 335 by is the closest in my experience to having no turbo lag at all. In fact, I had to check the specifications to be sure that had a turbo at all – it's that good.
This is a seriously fast car. When I took it on my favorite back road loop, on a perfect day for driving, the BMW and I were cruising happily along a long, straight stretch of highway where you can see for miles and there's rarely any traffic. We were cruising along at what I thought was a quick, but hardly excessive, speed. Then I took a quick glance at the speedometer and discovered that I was actually tooling along a rate that would have meant a steep fine if I had been unlucky enough to be caught at that moment. It was both exhilarating and sobering.
This is obviously a car to be taken seriously.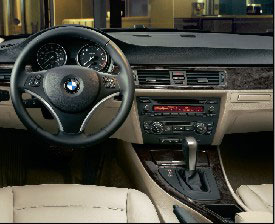 My test 335i coupe came with BMW's six speed manual transmission, and it's one of the best manuals I've shifted. Gear changes are virtually perfect, with short throws and a slick feel to the lever. Couple that to a nice, light clutch, and the stickaolic will be as close to automotive heaven as possible.
BMW will indulge you if you prefer an automatic (you can even get paddle shifters, the best way to play with an automatic), but this stick is such a peach it seems like a waste of driving enjoyment to opt for the auto. But to each his own.
Besides being fast, the 335i coupe also handles like a typical BMW, which is undoubtedly no surprise. The 3 features double pivot type front and five link rear suspension with anti-roll bars and twin-tube gas pressure shock absorbers, and this translates into cat-like reflexes that makes the car feel like a slot car racer.
For the driver, the leather-wrapped steering wheel feels wonderful and the speed-sensitive variable assist power steering points the car exactly where you want it to go, immediately. The driver's control is aided by such electronic nannies as dynamic stability control, start-off assistant, and dynamic traction control.
Bleeding off the coupe's blistering speed are four wheel ventilated antilock disc brakes with dynamic brake control, and they stop very well – though I found them just a tad grabby.
The ride is a wee bit stiff, in BMW tradition – revealing what's obviously a sport-oriented suspension rather than a luxury-oriented one. Such is the price one pays for this type of car, and it is definitely not too high a price.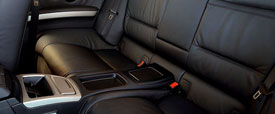 Inside is a typical BMW 3 series interior and all that entails both good and bad. It's 90 per cent good, fortunately, and the 10 per cent that rubbed me the wrong way (chiefly the audio controls) is still easy enough to live with.
My main gripe is that the controls on the audio head unit are quite incoherent. The plethora of buttons is labeled poorly, and the display was almost invisible when I wore my polarized sunglasses. Fortunately, audio controls are duplicated on the steering wheel they work fine for most use.
The audio system's quality is first rate, with plenty of thundering power. There's no DVD-Audio capability, but that's more the rule than the exception in the automotive world.
Instrumentation is analog and straightforward, with a couple of small digital displays between the speedometer and the tachometer that give readouts for a variety of functions.
The seats are terrific, nicely bolstered for cornering and comfortable on the bum for long distances. And get this slick and handy little touch: BMW has installed little robotic arms that extend from the rear compartment and hand you the shoulder belt. When you click the belt into position around you, the arms retract into near invisibility again.
This might seem like gadgets for gadgets sake, but it is actually an extremely thoughtful feature: not only does it make it much easier for front passengers to get at the shoulder belts but, because the shoulder belts aren't hanging in the way of rear seat passengers as they get in, it's easier for them to enter or exit the car as well. Very slick, and it works well.
The rear seats are also surprisingly comfortable, but remember, this is definitely a two plus two: thanks to a center console, there's no place for a third person back there. I had plenty of headroom when I rode back there, but that's hardly real test: I can wear a ten gallon hat in a Mini Cooper. But the headroom should be adequate for most people, especially if you aren't doing a cross-country jaunt.
Speaking of room, I was amazed at how big the trunk is. How spacious is it? It's so spacious, I could see the 3 coupe being popular with "hit people" who need to spirit away the bodies of their victims very quickly.
Okay, maybe not quite that big, but it's certainly cavernous enough for real world use.
The only other quibble I had, and this is really minor, is that streetlights reflected in the top of the windshield while I was driving at night, which I found a little distracting.
On the other hand there's a very nice sunroof that opens quite wide, and the excellent self-leveling headlights do a great job of illuminating the road ahead when you drive at night. And of course BMW includes safety equipment in spades.
It's hard to not love the 3 series for its combination of driving fun and coddling, and with the addition of the twin turbochargers to BMW's famous in-line six cylinder engine, the 335i is even more rewarding.
The BMW 335i Coupe starts at $40,600 U.S./$51,600 Canadian.