Audi Q7 - Large, Luxurious, Lovely
By Jim Bray
November 27, 2007
German automaker Audi is famous for making all wheel drive vehicles you can take off-road. They've been rally champions and their Allroad models, though not true SUV's, split the difference between station wagon and SUV very well.
The Allroad has gone to automotive heaven, at least for the present, and now Audi's SUV standard is carried by the Q7, a fully fledged luxury SUV. It's a fine vehicle, as I discovered during a week of living with it.
Luxury Cruiser.
The Q7 is a big vehicle that, not surprisingly, looks and feels big. It's imposing and muscular, right from the big Audi schnoz and directional head lights to its sweeping, wraparound and power-operated tail gate. That doesn't mean it drives like a bus, though. The Audi gets the job done with smoothness, comfort and competence.
My test unit had the 4.2 liter FSI direct injection V8 version, which puts out 350 horses and 325 lb-ft of torque - more than adequate specifications (a 280 horsepower 3.6 liter FSI V6 is also available). Its transmission was a six speed Tiptronic, with a Sport mode included besides the manual mode. My tester had no steering wheel-mounted shifting controls (paddles are optional), but shifting manually via the console-mounted lever works fine. It just isn't as cool.
And of course an Audi SUV wouldn't be complete without the company's famous quattro  full time all wheel drive, a system that has been around for a quarter century. It can direct up to 65 per cent of the power to the front or up to 85 per cent to the rear wheels and if an axle starts to spin, the electronic different lock (EDL) applies the appropriate brake.
I didn't take the Q7 into the wilds, but its performance on and off pavement was superb.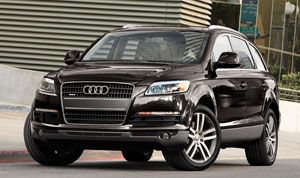 Audi slings the beast with a double wishbone suspension all around, with anti-roll bars, seemingly tuned for comfort but not at the expense of road feel or handling. You can choose from a variety of settings, from automatic to comfort to dynamic. Compared to the dynamic setting, which enhanced the driving feel quite a bit, the comfort setting felt a little flaccid for my tastes - but we aren't talking mind numbing softness like you can find in some big sedans.
Inside is a cabin befitting nobility. My tester featured two rows of bucket seats and a third row bench that's one of the best I've tried. I still wouldn't want to take a long trip back there, but other than the typical lack of headroom it's pretty good.
But those first two rows are the type of seat I'd like to see in my home theater; they're comfortable and supportive and you can drive all day without fatigue. All four of the individual seats in my tester were heated and, while the second row isn't power adjusted, the seats recline and there's a nice arm rest between them that hovers over a storage box.
The instrument panel is clean and efficient, with a digital display in the center. The steering wheel feels great, and it has easy-to-use ancillary controls for the audio and other features.
The fly in the ointment, as usual with the Audis I've driven, is their advanced MMI (multi-media interface), which uses a cursor control-like knob and about a thousand buttons surrounding it to control the audio and navigation systems as well as sundry other aspects of the car (including one time settings for interfaces, lighting, etc.). I hated it as much as I hated BMW's iDrive system when I tried it; both systems accomplish the same basic things in the same basically annoying way.
Audi and BMW should take a look at how Porsche designs its controls, with simplicity paramount (granted you can control more stuff in the Audi and BMW, but do you really need to?).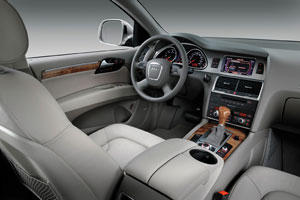 On the other hand, the Q7 has one of the greatest (optional) sunroofs on the planet. My tester's was a double length design that opened right back to the center row - and even added a third, tilting roof for the lonely souls riding back in the hatch.
Audi uses a mesh wind blocker up front, which seemed to help tame the "whoof whoof whoof" noise that's so headache-inducing with some sunroofs. It does a good job of catching bugs, too. The Q7 also features double sun visors up front (you can swing one to cover the side window and still have one up front), and manually retractable mesh blinds for the middle side windows.
The greenhouse is very good, and the Q7's side mirrors are nice and big, but very high -they can block your view of pedestrians in crosswalks. But they also include a blind spot warning system that uses radar sensors in the rear bumper and lights on the mirrors to warn you if a vehicle is beside and slightly behind you. I'd rather just pay attention to what's going on around me than rely on a robot, but to each his own.
The Audi's stereo system offers excellent audio quality once you figure out how to use it, with plenty of power and very transparent sound. And the automatic HVAC offers four zones, two up front and two for the center row.
The only thing missing is a wet bar.
The Audi also has rain sensing wipers, though it didn't rain while I had it.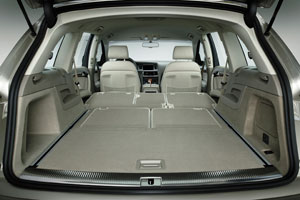 I noticed the luggage cover in the back of the Q7 tends to get caught in the third row shoulder belts when you're extending it across the storage compartment, but that's merely a nit.
The Audi's keyless entry/smart key works really well. If you have the fob in your pocket or purse, the car will unlock when you approach it (and you can set it to open all four doors at once if you like - it's one of those damn MMI settings). To lock it again, you just press the black button on any outside door handle.
Audi has installed separate engine start and stop buttons on the center console, which seems kind of redundant, but it's nice not having to use a key.
I place a lot of importance in the "fun to drive" quotient of a vehicle, whether it be a lower end car like the Hyundai Accent or Mazda 3 or a high end cruiser such as the Q7. This is probably the only area (other than the MMI) where the Audi is less than top notch. I drove a Porsche Cayenne S the week before I got in the Q7, and there's no comparison between them when it comes to driving enjoyment: the Porsche wins hands down.
On the other hand, there's something to be said about being treated like a king, and the Q7 coddles wonderfully. You feel like a million bucks when you drive this big beastie. And it's an extremely competent vehicle to boot, which is nothing to sneeze at.
The Audi Q7 V8 Premium starts at $58,600 U.S. ($77,600 Canadian). You can option it up from there if you so desire.