Audi's S Models Perform at Classic Track Event
By Jim Bray
Stirling Moss. Jackie Stewart. Mario Andretti. Jim Clark. Richard Petty.
These legendary racers have all topped the podium at Mosport, the legendary Canadian race track that, like Watkins Glen in the U.S., hosted F1 and Indy Cars years ago.
The challenging track is still busy, and on a rainy day in early October the 2.5 mile road course saw a gaggle of media types participating in the Canadian introduction of Audi's 2007 model line, including the exciting new S8 and S6.
Audi won the 2006 24 hours of Le Mans with a diesel – an engine type associated more commonly with good gas mileage and stinky black exhaust than with racing championships. Needless to say, the company feels it's on a roll and I was looking forward to getting a chance to try their flagships, conventionally powered or not.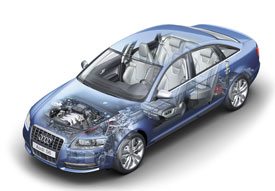 Unfortunately, Parent Nature precluded us from really putting the cars through their paces; the rain and wet track made it impractical to push even Quattro-equipped thoroughbreds to anything approaching their limits lest we risk wiping out these very expensive vehicles.
Still, even though I only experienced one wet lap in each of the S8 and S6, it was enough to convince me that these cars would be an absolute blast to guide through some nice twisty bits on a fine day.
Audi's S designation is analogous to BMW's "M" moniker or Mercedes Benz' AMG, in that they're performance versions of their "mainstream" cars. In the S8 and S6, this means the inclusion of a V10 engine that not only goes like heck, but which sounds absolutely glorious while going like heck.
Before the event, the only Audi I had driven was a current generation A8 L, the stretched version of their "non-S-ified" flagship sedan. It's a lovely beast that I referred to as "a fast and luxurious car that'll please the well-heeled enthusiast and the hedonist at the same time." My only real complaint was the MMI (Multi-Media Interface) that made such normally simple operations as tuning the radio into a bigger deal that necessary.
But, more importantly, the big sedan drove like a smaller sedan, with flat and neutral handling that belied its bulk and effortless power from its 4.2 liter V8.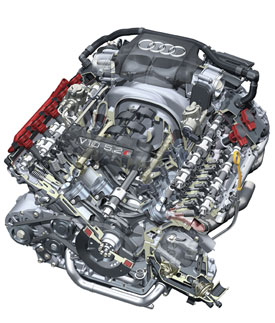 Imagine that car enhanced by a 5.2 liter V10 pumping 450 horses and 397 lb-ft of torque through all four wheels via an adaptive sport air suspension. Imagine a Big Sedan that zips from a dead stop to 60 mph (according to Audi's figures) in five seconds flat.
Then imagine being allowed to take this beast onto a classic race track! Driving rain, and one measly lap, notwithstanding, it was a rush.
The S6 was even more fun because I remembered to try its transmission's manual mode via paddle shifters on the steering wheel that give you extra control while letting you keep your hands on the wheel, where they belong.
The S6 shares the 5.2 liter V10, but it "only" puts out 435 horses (the torque is the same) and ambles to 60 in 5.1 seconds. It also sports (pun intended) an S-specific suspension and Audi's Quattro drive with 40/60 split central differential.
I didn't get a chance to drive the S4 Cabriolet, but I drove the A4 version on a country roads circuit Audi had set up for us and, though it seems a tad cramped compared to the A6 it's still lovely to drive, and with the top up it's hard to tell that it's a convertible at all from the inside.
Besides the S series cars, I loved driving the A6 Avant, the wagon version of the A6. I don't know why wagons have this "anti-cachet" compared with sedans, but the Avant is a great car to drive, with the added benefit of being able to carry stuff.
Audi makes some of the nicest interiors and, since that's where the owner and his/her family will spend their quality time, that's a more important consideration than an exciting exterior (not that the cars are slouches in that department, either, prominent proboscis notwithstanding). The A6's front seats are extremely comfortable, the control/instrument layout is intuitive (I suspect the MMI won't be intuitive, but I didn't have a chance to try it), and the whole package reeks of quality.
"My" A6 Avant was also equipped with those delightful paddle shifters, a feature I'm really starting to love. And though they didn't come in as handy on the country roads as the S6's did on the track, they still added to the driving enjoyment.
Audi is offering a lot of new or enhanced stuff on its 2007 line, from upgraded audio to more energetic engines. Here's a quick list of some highlights:
A3: Standard on the 3.2 version and optional on the 2.0 T, the new "S line" package includes more aggressive front and rear fascias, optional performance tires and a sportier interior.
A4/S4: A sunroof is now standard on all A4/S4 Quattros, the 3.2 liter V6 version gets a 3-spoke steering wheel with paddles, and all S4's (which come with a 4.2 V8 producing 340 hp and 302 lb-ft of torque that should do 0-60 in about 5.3 seconds with the six-speed manual transmission) have Audi's signature Quattro all-wheel drive.
A6: all now get a driver information display; a rear view camera is optional and the S line package can include pearl metallic interior trim on the instrument panel, and new 19 inch wheels.
A8: The 4.2 V8 engine now cranks out 350 horses (up from 335), a rear view camera, satellite radio antenna and new 20 inch wheels are optional. And a great Bang & Olufsen sound system featuring 14 speakers and cranking out 1,000+ watts is also available as an option; it doesn't play DVD-A or SACD discs, though.
The Q7 SUV is a new for '07 model and although Audi proclaims it as the performance SUV, I didn't think it was as much fun as the Porsche Cayenne S I got to drive for two weeks. On the other hand, I only had the Q7 for about 20 minutes, so that's probably not a fair comparison. The Q7's available with either the 4.2 liter V8 FSI engine developing 350 horses and 325 lb-ft of torque or a 3.6 liter V6 that puts out 280/265 respectively.
I have a feeling Audi is going to do very well with this line up.