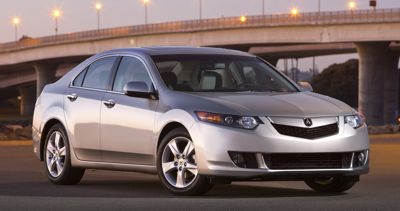 TSX – Acura's Bad Boy Goes Good
By Jim Bray
August 23, 2008
It sports a new set of clothes and a grown up demeanor, but is the TSX still Acura's bad boy, the little sedan with attitude?
I'm not sure. After driving it for a week, my impression of Acura's 2009 TSX is that the TSX I loved so much may have lost some of  its soul in the process of maturing.
Don't get me wrong. The TSX is still a very nice car. Like its pre-metamorphic self, it's based on the European Accord and I like it better than the Accord sold in North America currently (not that any Accord is a slouch). But the wonderful little sedan that was as obedient and anxious to please as a precocious puppy has become a sedan that, while still fun to drive, focuses as much on its luxury and technology as it does on the driving experience.
Despite that, Acura says the second-generation 2009 TSX is more performance oriented than before, besides being larger and "more agile". So what do I know?
The new TSX is recognizable as such, but it's longer and wider now and it looks it. It also looks lower, displaying an aggressive stance. The new grille makes it look a bit like a Saturn, unfortunately, though – fortunately – that's where the resemblance ends. The rest of the car looks like TSX V2.0, which is how it should be, a modern TSX that still means business despite its funny-looking door handles.
Motivating the TSX is a new 2.4 liter in-line 4-cylinder engine that produces 201 hp and 172 lb-ft of torque (with the manual transmission that, sadly, my test unit didn't have). Acura says the new TSX gets its useable power across a much wider rpm range than before, while the extra five per cent of torque "further strengthens the engine's pulling power at middle rpm levels".  
You can choose from two transmissions: the standard six speed close-ratio manual (with performance-oriented ratios for 2nd through 6th), and the optional Sequential SportShift 5-speed automatic with a new lock-up torque converter assembly that can operate "manually" via steering-wheel mounted paddle shifters.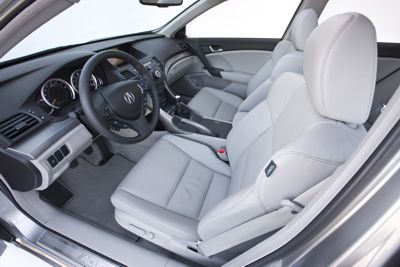 I remember the six speed stick fondly from my times behind the wheel of the old TSX. Its short throws and light clutch provided a beautiful way to bond with the frisky critter. I was really looking forward to flicking it around again.
Alas, the five speed automatic-equipped TSX didn't feel nearly as peppy as I remember the old TSX being, specifications and paddle shifters notwithstanding, and the car as a whole wasn't as much fun. I was really disappointed.
Now, I've read other reviews where they had the manual shifter and they've loved the new TSX, so maybe that's what the doctor should order when putting down his cash.
The new TSX comes with an excellent array of standard equipment, including a sunroof and power passenger seat (the driver's seat, of course, is also powered), a new folding key with remote entry, and a premium 7-speaker sound system with CD, AM/FM and Bluetooth HandsFreeLink cellular phone interface. Acura also throws in a HomeLink remote control system and a dash-mounted electronic compass.
My test unit had the up-market ELS premium audio system I've grown to love in other Acuras. Part of the Technology Package, it not only plays my DVD-Audio discs in gorgeous 5.1 surround sound, but it features oodles of oomph and good speakers that combine to make it sound better than many home audio systems I've heard.  I still think the TL's is the best iteration of this outstanding system, but the TSX' is no slouch.
The seats are comfortable, instrumentation is attractive and straightforward, and everything appears to work as advertised – which is a good thing since there's so much stuff crammed into the car.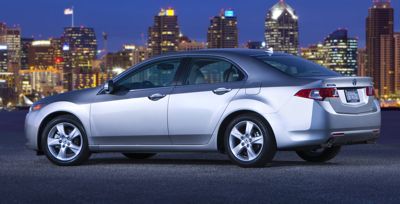 Or mostly. One thing that isn't as straightforward is Acura's insistence on having you use voice control to do such tasks as pairing your Bluetooth cell phone. The voice recognition works well, but I didn't think much of being forced to use it (and to need the owner's manual to figure that out).
The center stack is attractive, but features about a gazillion buttons and a big, cursor control thingy for choosing many of the car's abundant settings (which would have been a good place to put the Bluetooth pairing stuff). But there are far too many buttons and controls.
This is a trend I've noticed with some Honda/Acura entries lately, specifically the Accord, MDX, RL and now the TSX. These are all wonderful vehicles and I could be happy living with any of them, but they're getting excessively complex.
Honda/Acura has chosen to follow the likes of BMW, Audi, Mercedes and Infiniti by trying to tame the intricacy inevitable in today's upscale cars with a knob-like "stationary mouse" except that, unlike the Germans, Honda/Acura also leaves enough buttons to choke a horse, which makes the center stack cluttered.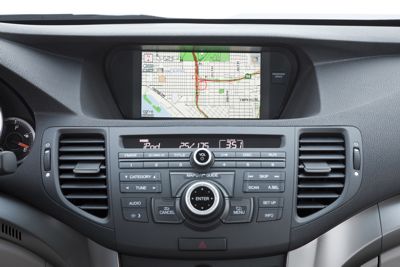 Oh, for a magic touch screen which, when programmed properly with a simple and intuitive interface, gives you the best of both worlds. This is how Lexus, Ford and GM do it, and it's wonderful – especially if you own shares in the company that makes Windex.
Such a touch screen wouldn't work in the TSX and some other cars suffering from "mouseitis", because the LCD is mounted up high on the dash where the driver can't get at it – but where (on the plus side) it's nicely in view when you're using the navigation system.
Anyway, the TSX' seats are comfortable for long trips, though rear seat passengers will notice there isn't a lot of room to slide their feet under the front seats (there's plenty of knee room, though). My sample featured the optional heated leather upholstery with driver's seat memory.
The rear seat splits and folds for extra storage.
The outside mirror controls are located nicely at hand on the door, where you can adjust them right from your preferred driving position, the attainment of which is also facilitated by a tilt/telescope steering wheel.
Despite my whining about TSX's from days gone by, driving the car is still a pleasant experience. The steering is light and efficient and the car handles nicely.  The four wheel independent suspension (double wishbone up front, with a multi-link bum), offers a nice balance between sportiness and luxury, never rocking your kidneys nor causing you to nod off.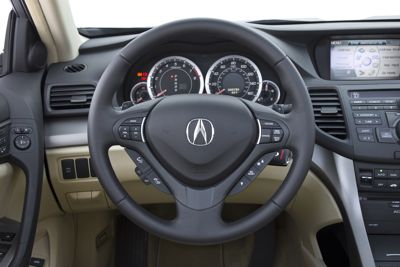 The all-disc brakes feel just fine and stop the car straight and true. Also included are the usual electronic nannies such as traction control and antilock braking.
One annoying aspect of the TSX is its default habit of locking the doors automatically when you start off, but not unlocking them again when you stop, forcing you to do it manually before you can open the doors.  
On the other hand, the rear windows fold down almost completely inside the doors, which is always nice when you want to let the wind ruffle your hair. 
There's also a bunch of passive safety features, including dual-stage, dual-threshold front airbags, new dual-chamber front seat side airbags, and side curtain airbags. And TSX gets an Active Headrest Restrain System for the first time.
This is a car that tears me apart. I still like it, mostly. It's comfortable, luxurious, with plenty of toys and offers a decent fun to drive quotient – and I imagine the six speed version is even better. But I'd rather have the previous TSX for the outrageous sense of glee you get while driving it; it was about as much fun as I've had in a front wheel drive sedan.
The Acura TSX starts at $28,960 US/$32,900.00 Canadian.
Copyright 2008 Jim Bray