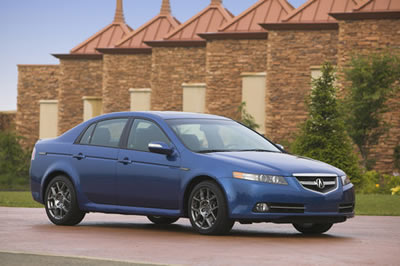 Acura TL Type S - Luxury Sport That Can Deafen
By Jim Bray
May 14, 2008
You could call the 2008 Acura TL Type-S "a TL with more a-PL".
Or you could just say this "near luxury" sports sedan ups the ante over the garden variety TL by adding more power and some chassis upgrades to an already compelling package.
The current generation TL, introduced for the 2004 model year, is getting a little old compared with some of its closest competition, cars Acura identifies as the Lexus IS 350, Infiniti G37, Audi A4, BMW 3 Series and Mercedes-Benz C-class. It's still a darn fine ride, though, the only real downer being its continued reliance on a front wheel drive configuration that tends to make tromping on the gas pedal a tad more, well, "interesting" than it could be.
And that's not "interesting" in a good way. The TL Type-S comes with a 3.5 liter VTEC V-6 that produces 286 hp @ 6200 rpm and 257 lb-ft of torque @ 5000 rpm. This is lovely stuff, but you'd better hang on when you put the spurs to her, lest you find yourself heading for the shoulder or the oncoming lane thanks to prodigious torque steer.
It isn't as scary as the Mazdaspeed 3's torque steer, but it's enough to make me opine that it's time the TL lost its front wheel drive configuration, perhaps in favor of Acura's SH-AWD "super handling all wheel drive" system.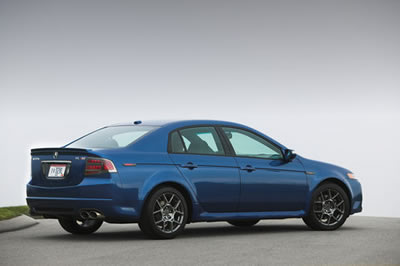 Anyway, despite that bit of skittishness, and steering that feels a tad heavy for my taste, the TL is still a very nice car. It goes like the blazes, is comfortable and luxurious, and features one of the best audio systems I've experienced in a vehicle.
Getting those 286 horses to the front wheels is a 5-speed automatic transmission with Sequential SportShift and Grade Logic Control - and marvelous steering wheel-mounted paddle shifters that can make an automatic transmission so interesting. Acura says the Sequential SportShift feature is programmed to "provide smooth downshifts by "blipping" the throttle between gears, matching revs and significantly improving overall driving smoothness." It does seem to work, though shifts didn't seem as quick as on some auto/manuals.
Optional on the Type-S is a close-ratio 6-speed manual transmission (a manual is optional?) coupled to a limited-slip differential. I'd have loved to try this, but the automatic was still fun.
The Type-S also features a re-tuned suspension (double-wishbone up front with a 5-link independent bum), Brembo disc brakes with Electronic Brake force Distribution (EBD), Brake Assist, an anti-lock braking system (ABS), and 4-channel Vehicle Stability Assist (VSA) with Traction Control System (TCS). You also get lovely 10-spoke wheels finished in what Acura calls "Dark Euro Silver."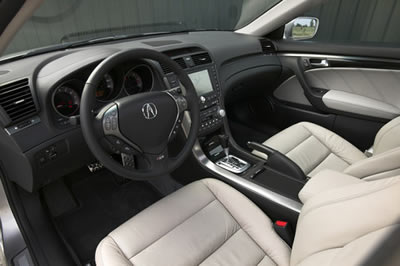 Steering is torque-sensing, variable power-assisted rack and pinion and, as mentioned, it's a tad heavy, but that doesn't mean the TL doesn't go where you want to; it just isn't quite as happy acceding to your wishes as some vehicles.
Little has changed on the TL's aggressive exterior for 2008, other than a larger grille opening and re-styled lower fascia that incorporates fog lights. Shelling out the extra coin for the Type-S gets you special badging, an even more aggressive front fascia, black chrome trim, and a quad exhaust system the folks at Midas will undoubtedly appreciate when it comes time to replace it.
Inside, the TL Type-S is comfortable, luxurious and efficient. The Type-S gets red interior lighting, fake carbon fiber trim, and Type-S logos to differentiate it from the more pedestrian (hey, a car can be a pedestrian!) TL
The leather, power-operated front seats are wonderfully comfortable and the rear seat is roomy enough for three people to take a reasonable trip without activating the passenger whine module. Also standard are a 6-disc DVD-Audio system and keyless entry with a One Touch Start system (on models with an automatic transmission) that means you can just turn the key and let go rather than holding it on "Start" till it catches. A Start/Stop button would be nicer, though.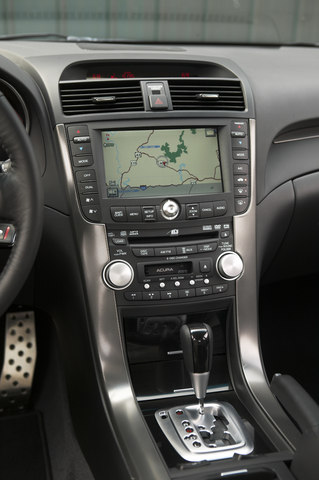 Acura includes two keys with the TL and each fob can be linked to one of two driver profiles that can use the seat memory function automatically to position the driver's seat and outside mirrors to match the particular profile. Not only that, but it can also set the automatic climate control, radio presets, and customizable memory functions available via the Multi-Info Display.
Thank goodness it doesn't offer to take over the driving duties!
The high tech goodies also include Bluetooth connectivity and, new for '08, the addition of WMA and MP3 digital file playback capability, Dolby Pro Logic II decoding, and speed-sensitive volume compensation to the audio system.
The Type-S also comes with the Acura Navigation System with voice recognition and rear view camera, as well as Active Noise Cancellation that reduces low frequency exhaust noise via two microphones in the ceiling: the mics capture low frequencies entering the cabin and send them to the Active Noise Cancellation unit in the dash, which creates a reverse phase audio signal that emanates from the door-mounted speakers and the subwoofer. Acura says it reduces low-frequency "booming" by 17 decibels.
Not in my case, though, thanks to that glorious audio system.  Acura says the ELS 6-disc CD, DVD-Audio, dts and Dolby Pro Logic II system delivers "sound resolution that's 500 times higher than conventional CD audio". They're undoubtedly referring to the DVD-Audio capability of the system, and it's definitely first rate. It took all of the discs I threw at it and played them through the eight speaker system with wonderful fidelity and, unlike one competitor's DVD-A-based system, without stripping out any of the music.
The system rocks, with gorgeous sound and as much power as you could want: if I owned this car I'd be deaf in a month.  But boy, would I have a smile on my face!
Heck, it even plays cassettes!
The TL also comes with XM Satellite radio, though my test unit didn't have it activated, as well as an MP3 player jack in the center armrest storage bin, where it's nicely out of the way and you can coil up most of the excess cable.
The Acura TL starts at $33,725 U.S./$42,500 Canadian. The Type-S starts at $38,225 U.S./$46,300 Canadian.
The TL Type-S is a fine car in a niche populated by fine cars. Acura definitely has the luxury, comfort and technology parts down pat, but the company's continued reliance on front wheel drive when its competition is made up increasingly by rear and/or all wheel drive vehicles is its Achilles heel.
Copyright 2008 Jim Bray